Meet Rihanna's Four Men of the Apocalypse on W's September Cover
The former Hood by Air and Fenty x Puma models open up about their experience on set: "In that moment, Rihanna was like her own little planet," said Hirakish.
---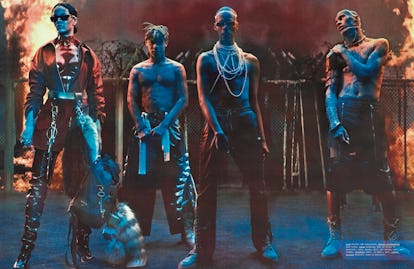 Photographs by Steven Klein, Styled by Edward Enninful
Based on the post-apocalyptic photos Steven Klein took for W magazine's September cover shoot with Rihanna, one can imagine how out-of-this-world it was to be on set that day. Just ask twenty-somethings Hirakish, Sunny, Chucky, and Deion Smith — the four men who were cast to flank Rihanna as the last woman on earth.
"In that moment, Rihanna was like her own little planet." Hirakish said, as he reflected on the shoot from the 34th floor of the World Trade Center, gazing down at the streets below. "This is Rihanna's view," he declared.
Hirakish, 22, is best-known in the fashion universe for sprinting down the Hood by Air Fall 2016 runway in high-heeled boots. Then, he was a fresh-faced arrival from New Orleans' Ninth Ward, where he had lived just six months earlier.
When he arrived for the Rihanna shoot, the post-apocalyptic theme made sense. "I feel like the shoot is about people being left behind and not being attached to the new world," he said. "I'm not talking New World Order or illuminati or nothin', I'm talking about a new world where we transcend genres, class, and race."
Like with many of Rihanna's fans, each of these men attested to feeling a certain gravitational pull towards the pop star. Deion Smith, 22, who has been modeling since 2014 and walked in Rihanna's Fenty x Puma show, connected to her unapologetic boldness. "That's what makes a person a true savage," he said.
Sunny, 25, who has also walked for Hood by Air and recently modeled in the Yeezy fashion show, said Rihanna has a presence similar to that of the late Aaliyah. "I wonder what music might have been like if they both made music at the same time," he said.
And Chucky, 27, the third Hood by Air model in the group, has a real cosmic connection with the singer, as they share the same birthday.
Not just anyone can stand next to Rihanna and still hold their own though, and these four men were cast not only for their looks, but also their presence and personality. "I'm not a model or a muse; fuck that shit," said Hirakish, who also calls himself a performance and musical artist. "To be a muse is to be amused. I'm not amused by being a muse. A muse doesn't say anything. I was already this person before I met Shayne Oliver."
"I want models to be recognized for their natural beauty and character; not because of what social status they have," echoed Deion Smith.
All the models — who actually don't like being labeled as such — agreed that if the fashion industry wants to survive, it needs to celebrate individuals.
As the cover shoot depicts, trends may come and go, but its the individuals who may be the last ones standing.
Rihanna: Baddest Bitch of the Post-Apocalypse in W's September Cover
Cartier tiara, earrings, and necklace; Rihanna's own cuff earring and chain necklace (throughout). Hair by Yusef for Leonor Greyl Hair Care at Factory Downtown; makeup and tattoos by Pat McGrath Labs; manicures by Maria Salandra for Chanel at Fr8me.com. Set design by Stefan Beckman at Exposure NY.

Photographs by Steven Klein, Styled by Edward Enninful
Rihanna wears a Gareth Pugh coat and headpiece; Bordelle bra, harness, and briefs; Mugler Archive arm piece; Lynn Ban rings (right hand, throughout); Manolo Blahnik boots. On models, from left (throughout): Craig Green trousers; Chrishabana mouthpiece; Patrick Ian Hartley collar; Una Burke Leather arm brace. Hood by Air pants; Ben-Amun by Isaac Manevitz necklaces; model's own sunglasses and ring. Hood by Air shorts; Falconiere mask; (from top) Jennifer Fisher necklace, Chrome Hearts necklace; Rob Goodwin shoulder harness; Una Burke Leather arm brace. Rothco boots (on all models).

Photographs by Steven Klein, Styled by Edward Enninful
Maison Margiela Haute Couture created by John Galliano especially for Rihanna cape; Jennifer Fisher earrings; Rachel Freire neck piece; Fannie Schiavoni bustier; Prada belt, Key chains, agenda, and boots; (left hand) Fallon rings; her own harness.

Photographs by Steven Klein, Styled by Edward Enninful
Loewe dress, corset, and cuffs (left wrist); Jennifer Fisher earrings; Jennifer Fisher x Net-A-Porter choker; (right wrist, from top) Nina Runsdorf bracelet, Loewe cuffs; (left hand) Jovana Djuric rings; Christopher Kane mesh sack.

Photographs by Steven Klein, Styled by Edward Enninful
Prada jacket, corsets, belt, key chains, keys, charms, agenda, tights, backpack, bag, furs, and boots; Cartier necklace; Jennifer Fisher hoop earring (worn as belt charm, top right); Jovana Djuric pendant necklace (worn as belt charm, bottom, middle). Beauty note: Make a bold statement with givenchy Le rouge lipstick in heroic red.

Photographs by Steven Klein, Styled by Edward Enninful
Fenty Puma by Rihanna jacket, corset, and pants; Cartier necklace; Maison Margiela boots. On model, left: Hood by Air pants; General Eyewear goggles; Alexander Wang belt (around neck); Lost Art necklaces (on arm); Rachel Freire belt; models's own earrings.

Photographs by Steven Klein, Styled by Edward Enninful
Hood by Air Atelier dress; E.L.F Zhou London bodysuit; Jennifer Fisher body chain; (left hand) Chrishabana rings; David Samuel Menkes Custom Leatherwear vintage boots.

Photographs by Steven Klein, Styled by Edward Enninful
Dior peacoat and sunglasses; Marina Hoermanseder body piece; Prada backpack, bag (attached to backpack), furs, agenda, belt, key chains, keys, and charms; Vetements boots. On Model, left: Lauren Klassen necklace (worn as bracelet).

Photographs by Steven Klein, Styled by Edward Enninful
Rihanna wears Proenza Schouler dress; Jennifer Fisher earrings; Manuel Albarran face plate, bra, and leg pieces; Lynn Ban finger rings. On model: Hood by Air shorts; Falconiere mask; (from top) Jennifer Fishernecklace, Chrome Hearts necklace; Una Burke Leather arm brace; Rothko boots.

Producers: Anastasia Suchkov and Marcus Ward for North Six Productions; Digital Technician: Tadaaki Shibuya; Photography Assistants: Alex Lockett, Mark Luckasavage, Austin Kennedy, Tim Shin, Willy Ward, Adam Kaniowski; Fashion Assistants: Ryann Foulke, Dena Giannini; Hair Assistant: Naphia White; Set Design Assistants: Michael O'Connor, Yoni Zonszein, Nick Kozmin, Jamen Whitelock; Production Assistants: Manuel Somoza, Ryan Blythe, Stephen Hutchinson; special thanks to pier 59 studios

Photographs by Steven Klein, Styled by Edward Enninful
Cartier tiara, earrings, and necklace.

Rihanna's hair by Yusef for Leonor Greyl Hair Care at Factory Downtown; male models' hair by Amy Farid for Bumble and bumble at Kate Ryan Inc.; makeup and tattoos by Pat McGrath Labs; manicures by Maria Salandra for Chanel at Fr8me.com. Set design by Stefan Beckman at Exposure NY. Models: Deion Smith at Red model management; Chucky (aka Byron), Hirakish, and Sunny.

Photographs by Steven Klein, Styled by Edward Enninful