Meet the It Girls of Prague Fashion Week
Follow these 6 style setters now and you won't regret it.
---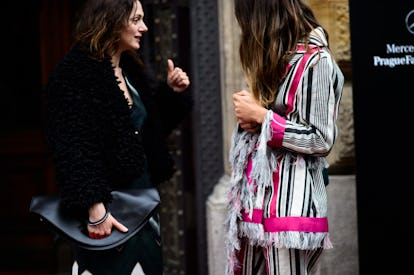 Adam Katz Sinding
The Czech fashion set loves championing local designers. At Mercedes-Benz Prague Fashion Week in September, the pack of editors, bloggers, and stylists attending shows at shows (all of which took place inside a parking garage) were wearing Czech brands like La Formela, Chatty, and Miro Sabo. Though there were some exceptions, most of the editors, bloggers and stylists paired their looks with sneakers – a must for handling Prague's unforgiving cobblestone streets. (Needless to say–it's a look worth taking note of for New York's upcoming fashion week.)
Of all these chic trendsetters–there were a handful who truly stood out. From an up-and-coming designer to fashion production sister act, meet the fashion-forward It Girls of Prague.
Adela Chloe Mazankova Instagram handle: @adelachloe The personal style blogger chronicles looks and daily life at her website the-aesthet.com. Her mix of high/low, chic DIY, and personal musings are sweet and personable – the fact that all text is in Czech and English is reason enough to click.
Sylvia Haupt Kozonova Instagram handle: @silviavdhaupt. The fashion editor is the co-founder of Fashion MAP, the largest digital fashion platform in the Czech and Slovak Republics. She just spent a few months in Chicago (Prague's sister city) to launch a pop-up shop featuring all Czech designers.
Eliska Chomistekova Instagram handle: @elis_ka The fashion blogger-turned-stylist posts her own ensembles, and also reports on international fashion week like Paris Haute Couture.
Paulina Matova Instagram handle: @paulinemma Paulina is one half of the duo behind It's Ok Sister, a photography, styling and production studio that she launched with her sister in 2014. She handles photography and post-production, and her work has been featured in Elle Czech Republic and on Vice, and she's collaborated with Dior and H&M on fashion projects. With her shock of pink hair, she was impossible to miss at Mercedes-Benz Prague Fashion Week.
Kaa Glo Matova Instagram handle: @Kaaglo The other half of the Ok Sister production team, Kaa does production and styling for their agency's projects. For fashion week, her style was a mix of hometown designers and gothic black and white. She is also a fan of second hand, eco and ethical clothing.
Martina Spetlova Instagram handle: @martinaspetlova The fashion designer now calls London home, but she still shows her collections in Prague. She's known for weaving colorful leathers together to form beautiful bombers and asymmetrical skirts. Her wares are now being stocked at Selfridges in London, and she is surely designer on the rise.
See the standout street style stars of the Afropunk Festival: