Meet the Next Big K-Pop Boyband, NCT 127
In only four months, they've gained hundreds of thousands of followers and topped the charts in South Korea.
---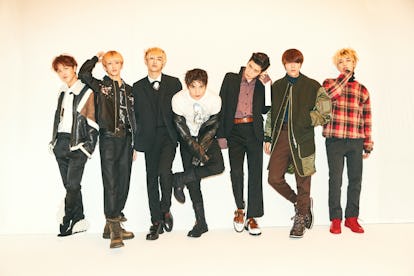 Mok Jungwook, styled by Fwanwook Jung. Photo Editor: Biel Parklee. Hair by Hyunji Kang at Agency Garten, makeup Jo Yeon Won at Agency Garten.
I knew the blood types of seven members of the Korean boyband NCT 127 before even meeting them at Seoul Fashion Week this fall. All it took was a quick Google search, and I was instantly complicit in the intense fandom that surrounds K-Pop stars in South Korea.
Tae Yong is type-O and is the lead singer and dancer of NCT 127, which stands for "Neo Culture Technology" and the longitude of Seoul. Taeil is the oldest member at the ripe age of 22, and Haechan, who is 16-years-old, is the youngest. In-between there's Yuta, Jae Hyun, Winwin, and Mark, who as his name suggests, was born in Vancouver, Canada. Together, they debuted under S.M. Entertainment in July of 2016. And in only four months, they've gained hundreds of thousands of followers, with their pop-meets-hip hop singles topping the Billboard charts in South Korea.
Like most K-Pop groups, NCT 127 spends every minute together either practicing, studying in school, or playing games at the house where they all live. Because of this rigorous and intimate regimen, they've developed a brother-like bond.
"Taeil takes care of Haechan and I because we're the youngest members of the group," said Mark. "Instead of telling us what to do, he listens to us."
While sitting in a huddle with the seven of them, the adrenaline and showmanship that comes with young boys just getting to know each other was both palpable and contagious. They each went around the room gushing about how they support one another, as well as their myriad talents and positive qualities. Naturally, there was also much joking around and jeering, with Mark, for example, saying Taeyong seemed like an anime character when they first met.
It being so early in their careers, the members of NCT 127 are still sizing each other up and honing their different looks and sounds. When it comes to their American popular culture inspirations, Mark loves Justin Bieber while Haechan admires Michael Jackson. Tae Yong likes the girl group Fifth Harmony and Justin Timberlake, and Jaehyun has been listening to Usher's new album. Taeil, on the other hand, isn't so much about American pop idols, preferring Stevie Wonder, whom he declared was "one of the greatest songwriters in the world."
And while some NCT 127 members are more outgoing than others, and each has his own taste in music and clothes, together they are a synced unit, which is apparent on stage and even when they played a casual game of rock-paper-scissors on set. One minute, they're goofing off in a corner, and they next they're breaking into a perfectly choreographed routine to their new hit single, "Fire Truck," which involves jumping and twirling and breakdancing at the same time. Plus hair flips.
At the end of a long day of shooting, when they couldn't get the opening cue right for this particular abbreviated dance number (which I begged them to do with no prior notice), they worked together for a solid 10 minutes until they got it right. It was clear in this moment that they chose the life of a K-Pop stardom not for the fame or girls, or to live the life of Justin Bieber — performing for an audience is what makes them come to life. That and playing video games.