Meet the Skin Care Expert Beloved By Jessica Alba and Kim Kardashian
Los Angeles facialist Shani Darden also counts Suki Waterhouse, Emily Ratajkowski and Chrissy Teigen as clients.
---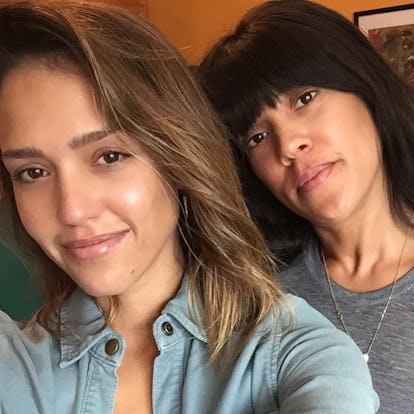 Courtesy of @shanidarden
Her bond with Jessica Alba may have put Los Angeles skin care expert Shani Darden on the map, but there's a reason why clients like Chrissy Teigen, Suki Waterhouse and Emily Ratajkowski rave about Darden – namely, her amazing hands and chill vibe. But when Kim Kardashian called out Darden's signature retinol serum on social media earlier this year, her claim to fame skyrocketed. "When I saw that she Snapchatted it, I burst into tears," admits Darden of the KK love. Here, she talks anti-aging, celebrity clients, and her own beauty routine.
How did you and Jessica Alba meet? I worked at Kinara spa in Los Angeles, and she got booked with me. It's actually really weird. We didn't talk at all for quite a long time. And then she became pregnant with Honor, her first child, and I got pregnant after. And we still didn't talk. Right before she was ready to give birth, I was about six months pregnant, and I still hadn't told her. So one day I said, "I just want to let you know, I'm pregnant and I won't be here when you get back." And the whole thing changed. We became best friends, she loved sharing anything to do with kids. She showed me her stretch marks. Then after she had Honor, she started inviting me to baby things. And that's how it went down.
How did you get into the business? I moved to L.A. from Plattsburgh, NY to, apparently, become a model. I kept getting music videos, but I didn't even know how to dance. The weird thing with the skin care is that you know early on whether you're skilled at it or not. My friends back at home die over this now. They always say, "You've been doing this since we were kids!" It's true; I was making masks, I was super into skin care very young, but I didn't realize this until later. Anyway, after the videos, I kept working as a receptionist at spas. Then I went to school for massage first, then to school to be an aesthetician, and I realized it was what I was supposed to do.
You found your home. Yeah, it's weird because I make fun of people who say that, but it's actually true.
What's big in LA now? What are you constantly having to tell clients to stop doing? Oh god. Too much filler and stuff; it's huge here.
Still? Yeah. I like lasers a lot but I think that everyone is so obsessed with machines now. It's all about machines and a lot of times I feel that I don't even know if they actually see a change after using some of them, but people just love the idea of it. But we're just over-doing it, especially lasers for pigment. And I'm not saying you shouldn't use a laser; I've actually had two treatments done by Dr. Ourian and it was amazing, but I do it once a year, not it every three months. That's too much.
Wait. Isn't he the guy who does the Kardashians and Jen Atkin? Yes. He's AMAZING with pigmentation. I could never take that away from him. I don't know why other docs don't get it as well as him, though. But I've had mine done twice and it's taken away every spot.
I think also that maybe doctors allow patients to keep coming and coming, but you can just overdo it. The reason why I started getting laser treatment by him was that I had it done by someone else and it made my brown spots worse, so now I'm kind of stuck in it, because once you do it, you're in it. When people say, "I have really bad pigmentation. Should I start getting laser?" I always say, "You know what? You're taking a chance. It can go wrong." But I will say if you're going to get laser for pigmentation, go to Dr. Orion. But he's not cheap.
Well, everything in moderation. Yeah. It's crazy because I'm not a big traveler, but I have been flying back to New York a lot lately and it's such a difference how people look on both coasts. It's so make believe here, how much we do.
Where do you give your treatments? I have an office behind my house in West Hollywood, and that's where I see clients. I used to work at a lot of different places, but Jessica was the one who had me move here. I was doing a lot of house calls and now I'm trying to find another space, but people really like it here. There's no receptionist, they don't' have to talk to anyone. It's just me, and people really like that.
I get that. And you know, I'm kind of the same way. I'm a weirdo and I hate going to a spa where I'll be calculating in my mind how much I'm going to spend in the end. Like, I need to have a plan when the woman comes out and says, "Would you like to buy this?" and I think, "Ok, I'm going to buy only two things." So I think it's a nice thing that people don't have to worry about any of that. They just come. Sometimes we don't even talk.
How many products in your line now? Right now, I only have the Retinol, but I just finished with three more. I sell at quite a few smaller places, but typically on my website.
What are the top five important things to do for our skin? Cleanse, sunscreen, use an antiaging product. I personally want everyone in the world to be on retinol but there are some who can't. And exfoliate and hydrate.
Exfoliate with what? I personally like an at-home peel once a week. I'm not a big scrub fan, but it depends. Some people with really sensitive skin might use a washcloth or Clarisonic once a week.
Do you have a favorite at-home peel? I love Dr. Dennis Gross's Alpha Beta Peel. I've never found a better peel. I'll usually have people start with original strength then go to his extra strength. I've been using his stuff for a really long time but those peel pads are my life.
What's your favorite sunscreen? Control Corrective Oil-free SPF. It's the best sunscreen, but it doesn't feel like a sunscreen. I had given it to Kim Kardashian, and not only did she put it on her app, but she did this whole thing on Instagram. I called the company and asked them, "Did you get more orders?" They said, "Yes! Thank you!" So, I said, "You might want to send her something…" So they sent it to me to send to her. It was two bottles of sunscreen and t-shirt.
Oh my god. I couldn't imagine how many orders they got! She didn't just Snapchat it, she put it everywhere! She said it was her favorite sunscreen! She also Snapchatted my Retinol. I didn't know she'd done it, but I had so many people contact me. I cried, I thought my life changed. I thought "I'm going to buy five houses!" I couldn't believe it. It was the biggest thing ever.
Did your life change? I didn't buy five houses, but still, it changed my life. I felt really cool for like five minutes.
What do you use on your skin? IS Clinical is one of my favorite brands. I use their Cleansing Complex and for moisturizer, I typically I use Dr. Gross HydraPure Oil-Free. I have several that I sell from different lines, but his is pretty much my go-to. At night, I use my Retinol.
What's your first beauty memory? I remember my mom wanting to take me to a dermatologist when I was younger. I was probably in fifth grade. We didn't have a dermatologist in Plattsburgh, so she brought me to Burlington, VT. I remember being so excited about it.
Did you have bad skin as a kid? I had different phases where I'd get a bunch of rashes, and I remember one acne phase. I was obsessed with treating it. It was a whole thing. My friends would come over to my house and I'd have toothpaste on a pimple, which is basically burning a hole in your face.
What was your worst beauty blunder? Getting my first relaxer in my hair in fifth or sixth grade. Because I was in such a small town, they didn't have people who did black hair there. So this woman did it who didn't really know how. I loved it. I thought I was Whitney Houston, shaking my hair like hers. I had a sleepover that night and I woke up to my friend Erin Meyer hysterically laughing at me. My hair had fallen out. I had no hair on the front of my head. After that, I had one little piece of hair that stayed in the front and I would just curl that. I wouldn't even cut it off; I would just curl it. I just kept that curl for a long time. It took a while to grow back, too.
What's in your purse right now? Sunscreen, lip balm. My favorite lip balm got discontinued so I bought them all off Ebay. It was Soft Lips with SPF 50. It was a balm, but it was like a gloss. The greatest thing in the world and now it's gone. I switch around from one by Beauty Counter and Honest. I need one that has a gloss. Since I don't wear makeup, I need that little gloss on my lips.
Who gives you facials? I usually do it myself. I used to go to different aestheticians and now the majority of them will not see me, which is really stupid.
Trade secrets? Yeah, I guess. For instance, one facialist I wanted to see wouldn't. She said, "It's too competitive," and I said "I'm not going to steal your moves. I just want a facial." So typically I do it myself, though I prefer not to. I recently went to Nurse Jamie. A lot of people love her.
Did you? I did love her. I thought she had a great personality and I see why other people are into her. She's one of those who has every machine for every part of your body.
Are you a healthy eater? I am. I'm not eating as much and staying away from so many carbs and staying away from sugar. I'm a no-carb kind of eater. I see a really great nutritionist out here, Kelly Leveque. I got her from Jessica [Alba]. She actually sees a lot of celebrities, and she really knows her stuff. She's so cool, she'll check in with me. She'll ask how's it been the last couple days. I didn't know she's as cool as she is until after I went on Instagram. What I liked about her is one of my friends who sees her said you just have to be honest. Don't lie to her. I told her I'm never going to give up wine and we just need to know that right away. So she'll just make suggestions like, switch to this instead of this.
And now you're working with Beauty Beneath, the UK supplements for skin, which are coming to the States next week. Have you always been into taking supplements? Yeah, supplements are already such a big thing in L.A. Everyone's always taken them. There's one company that has a drink you take for your skin, but it doesn't have as many effective ingredients in it as Beauty Beneath does. There are already so many supplements out that are for skin, hair and nails, but to have one specifically just for skin is genius.
Do you have any food weaknesses? Gummy bears.
Favorite makeup brands? I'm not a huge makeup person. I usually just use what someone gives it to me. I use either Laura Mercier Tinted SPF or the one from Honest, and that's the one I use when I'm going out because it gives really good coverage. Nars blush, Charlotte Tilbury mascara. If I'm going out, I'll put more eye makeup on. Rosie Huntington Whitely gave her makeup to me, but it's only sold at Marks & Spencer. Not in the states yet.
If you could pick only one go-to beauty product, would it be your Retinol Reform? Of course. I kind of bathe in it. I literally can see the difference if I haven't used it for a few days. I love mine, but I'm just a fan of people using retinol, in general. But a prescription can take so long for your skin to get used to, and you go thru so much downtime and that can be so much for people. And it does thin your skin, and with a prescription it thins it faster, which most people don't want. But when I see older women who've used it forever, you can see the difference between their face and their neck. It literally slows the aging process.
What are you currently obsessed with? Probably Micro-current. I did a collaboration with Nuface, but there are so many great at-home handheld ones that give you an instant lift. When I first started, I had the rep come and do it on my face. Then I went home, and when I was washing my face later, I thought, Did I have filler? It made such a difference. You just have to actually use it. If it sits in your drawer, it won't work.
Yeah, compliance. Ok, who would you love to treat who you haven't? I have a couple names but if I said them, I'd look stupid, so I'll say Oprah. And that's okay because I have no connection to her, but I do worship her.
Watch W's most popular videos here: