Meet the Underground Designers Doing New York Fashion Week Their Own Way
Four labels that are showing off the official CFDA-sanctioned calendar this season, everywhere from in a club to on a boat. "We all sort of hate fashion," said designer Patric DiCaprio of Vaquera.
---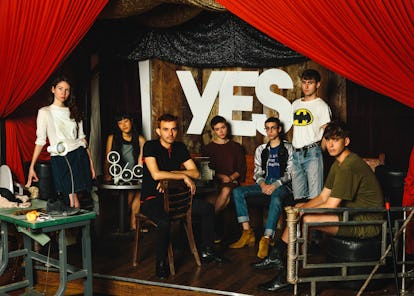 Siyoung Song. Produced by Biel Parklee. Photography Assistant: Soo Kyung Jung.
It says something about the formulaic nature of the New York Fashion Week calendar that when Marc Jacobs announced he was showing at 2 p.m. this September, it made waves. Until this season, his grand finale at 6 p.m. sharp was just one of the things that you could readily depend on when it comes to show season in the city, from designers filling their signature slots at sprawling venues like Skylight Moynihan Station to show-goers checking in with QR codes after peacocking for the hordes of photographers outside.
That well oiled machine is starting to see some shake-ups, and beneath it, an even less choreographed layer is emerging: An ever-growing number of designers showing off the official CFDA calendar, ranging from frustrated pros going DIY to teens without a stitch of formal training. Whether they work in their studios full-time or after shifts at thrift stores, they show their designs, made in-house or in the Garment District, everywhere from churches to clubs, and on everyone from agency-signed models to their own friends.
It's a wave coming on the heels of unconventional brands like Telfar, Hood By Air, and most defiantly by Eckhaus Latta, whose founders Mike Eckhaus and Zoe Latta encouraged a host of designers making their own way this season.
There's Gauntlett Cheng, whose principals, Esther Gauntlett and Jenny Cheng, met while interning at Eckhaus, and then there's Patric DiCaprio, another intern who is now the brains behind Vaquera. He operates that label with David Moses, who was part of what was known as Moses Gauntlett Cheng before Moses broke off to join DiCaprio last season. For her part, Cheng used to share her sewing machines with 19-year-old Vejas Kruszewski, who shared similar help backstage as 21-year-old Shan Huq. Together, they have inadvertently formed a sort of underground community, and while Huq and Kruszewski are both showing in Paris this season – the latter to keep up with the fanfare he's found since getting shortlisted for the LVMH Prize – the brands back home are ready to stand on their own.
Matthew Adams Dolan
Matthew Adams Dolan never wanted to be a designer with his own label, but Rihanna intervened: She wore a look from his graduate collection at Parsons in i-D, and before he knew it, amid a flurry of emails and phone calls, Opening Ceremony was carrying the entirety of the collection exclusively. That was just over a year ago, and these days, Dolan runs his namesake label out of a studio on the waterfront in TriBeCa, where he's wont to wear the powder blue Fenty slides RiRi gifted him personally. She, along with names like Lady Gaga, have taken a liking to his sportswear and denim homages to American heritage – a theme Dolan landed on after living everywhere from Sydney to Switzerland to southern Japan. "The main thing about moving around so much is, as an outsider, you're given the vantage point to look at people and see how people act," he said. "People aren't scared of jeans, and that sort of familiarity people have means you can do a lot of things with it." This season, that means statement pieces like a fraying bomber made of denim strips, which local kids in South Carolina, where Dolan sources most of his materials, will wear for a film screened during New York Fashion Week in place of a runway show. Even after ten years of higher education, including an international studies degree, Dolan, 29, is still wrapping his head around doing things his way, and at this stage, prefers look-books and behind the scenes zines to staging a full-on show. "I want to make sure there's a big takeaway," he said of taking things slow.
Gauntlett Cheng
"We always design based on things we're going through in our lives, things we personally feel and are stressing out," Esther Gauntlett said of how she and Jenny Cheng find inspiration for their label, Gauntlett Cheng. So when the pair emerged from a disheartening sales meeting earlier this year, they simply made a collection out of it, unleashing their financial frustrations by putting together a show that's "basically a corporate party gone wrong." Cheng, 26, knits for big-name brands like Calvin Klein, and Gauntlett, 27, works at Aesop, but even with their day jobs, both still find time to head into the studio every day – the very same one that used to house Eckhaus Latta, where the pair, along with David Moses, first met. Moses left to design for Vaquera last season, prompting a name change from Moses Gauntlett Cheng to Gauntlett Cheng, and now, it seems, Gauntlett and Cheng have been more in tandem than ever – and they are making a lot more bikinis. This season's are complete with suiting details like lapels, and will be shown alongside tailored pieces that actually could function as office attire on a boat docked on the Hudson. After showing with VFiles and Milk Studios, the pair was eager to get back on the open road: Their second show, for example, which Cheng says was truest to their brand, took place in her boyfriend's RV in a Chinatown garage. Still, even in the official venues, they did things on their own terms, casting mostly friends who were free to pick out their own looks. And while Gauntlett and Cheng like to keep things in the family, they're more than happy to get outside help with production: They're now working with a factory in the Garment District, though Cheng and a helping hand from Craigslist still do the knits in-house. "It's a paradox – we both want to be able to support ourselves off this, but you have to dedicate seven days a week to this to get to that kind of stage, but we can't afford that," Gauntlett said. In the meantime, their days jobs are definitely proving good fodder for inspiration.
Vaquera
A church, a Chinese restaurant, and a subway platform: It's almost impossible to talk about Vaquera without first addressing the brand's unexpected taste in show venues. "And that's cool, that was our past, and we don't regret it," said Patric DiCaprio, 26, who founded Vaquera in 2014 after moving to New York from Alabama. Now, though, he's ready to "glamp it up": Designers Bryn Taubensee, also 26, and David Moses, 22, formerly of Moses Gauntlett Cheng, are now also on board, and for their second collection together, the trio is paring things down to a white-walled runway space, letting the clothes speak for themselves. But even with a new Williamsburg studio, a producer, and the stylist Emma Wyman, its usual fare of "weird kooky shit" has hardly been forgotten: Casting, like at Eckhaus Latta, the label where DiCaprio and Moses met, is still made up of mostly friends – downtown and Brooklyn types that the three seem awash in, if Moses's monthly party series Glam and tens of thousands of followers are any indication. And the clothes, a mix of '90s and Elizabethan/Victorian style stocked everywhere from Tokyo to Opening Ceremony, still definitely have a sense of humor. "We all sort of hate fashion," DiCaprio insisted, pointing to the industry's predilection for taking itself too seriously. But Vaquera also set its sights on getting as big as possible, which means balancing out appeasing buyers and maintaining the DIY nature at its core – making impromptu changes to garments inspired by a 100-page Google Slides inspiration presentations, for example, or sourcing their fabrics from places like Taubensee's mom's local Jo-Ann Fabric in Indiana. "We're not like, 'Oh god, we're selling out,' but 'Let's turn it up and take it to the next level,'" DiCaprio said of the brand's new direction. "Last season was New York – [Now] let's take on the world."
LRS Studio
"Our AC broke, and it was like, do we get a new one, or do we put the money toward the collection?" Raul Solis said with a laugh inside his studio, which also doubles as his apartment, across the street from a public pool in Bed-Stuy, Brooklyn. Don't let that fool you: As "broke" as Solis may be, that same space has also hosted frequent visits from names like Caroline Polachek and it has been the breeding ground for designs worn by everyone from Rose McGowan to Lady Gaga. Solis might take inspiration from clubbing, acid trips, and poisonous caterpillars, but the 31-year-old designer has a serious side when it comes to business: His pieces retail up to $5,000, and this season, he's starting to double down on product – save for a few bondage concept pieces and a red embossed ostrich leather coat, each piece can easily be thrown in the washing machine. It's a return of sorts – though definitely on his own terms – to the industry where he started: Solis spent eight years designing jeans for 7 For All Mankind in L.A. before moving to New York and getting scouted by Proenza Schouler to helm their denim line. After four years, though, Solis was just about done with the material, and made his own collection simply to have something in his portfolio that wasn't blue. To his surprise, it started getting pulled for editorials, and he's now up to his fourth. "I'm here again, I'm broke, and I can't stop now," he said. Whereas last season was a mix of quilted mattress coverings, pillowcase dresses, and blanket coats, this time, it's all about going out, with an after-party immediately following his show in a club on the Lower East Side. Solis might not have much time for dancing anymore, but he's finding ways to stay true to his roots in other ways, too – the thigh-high electric blue cowboy boots, made in his native Mexico, will no doubt be a hit on the dance floor.
Four Labels Doing New York Fashion Week Their Own Way
Matthew Adams Dolan Fall 2016.
Matthew Adams Dolan Fall 2016.
Matthew Adams Dolan Fall 2016.
Moses Gauntlett Cheng Fall 2016.
Moses Gauntlett Cheng Fall 2016.
Moses Gauntlett Cheng Fall 2016.
Watch W's most popular videos here: