Meet the Witches of Instagram
Fall 2016 is the season of the witch. Here are 10 women who fully embody the magical look and lifestyle.
---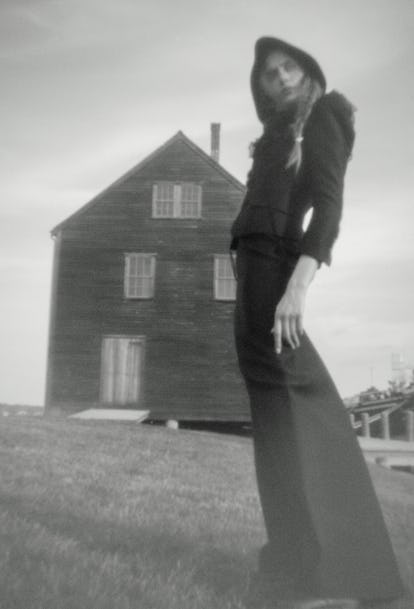 Photographs by Inez and Vinoodh, Styled by Edward Enninful
Last September, the trend forecasting publication K-Hole, which first predicted normcore, declared that 2016 would be the year of magical thinking, or "Chaos Magic." These are dark and desperate times, they explained, and we want to believe that a power exists beyond politicians, the police, and computer programers. In other words, we need you, witches.
"Chaos Magic creates realities which are temporary and subjective," the pamphlet reads. "It's not a tool for changing others — it's a tool for changing yourself."
There are simple ways to incorporate magic into our daily lives. K-Hole even suggested the act of "ghosting" via text message as an act of disappearance. But there's also this self-help or cleansing route, with the acquisition of crystals, candles, and incense. You can also leave it to the "professionals" by getting your palms read or even having a polaroid picture taken of your mood, like magical ladies Petra Collins and Tavi Gevinson. And if you're not into any of this hocus pocus, fashion is an easy way to at least dress the part.
In W magazine's Salem spread in the September issue, the magical world of witchcraft reaches its fashion apex. The trend was all over the Fall 2016 runways with Marc Jacobs' gothic collection, Valentino's capes and long black dresses, and Alexander Wang's mixture of chains and lace.
"Fuck someone wearing Chanel; stare at the label while you're c–ming, and you'll become Karl Lagerfeld," said K-Hole of the practice of worshipping brands. "Chaos Magic, like branding, is desire doomed to be commercial."
Women like Rachel Howe of Small Spells and Bri Luna a.k.a. "The Hoodwich" have capitalized on our recent fasciation with magic and witchcraft by selling tarot cards, crystals, sage bundles, and plenty of candles. Collectives like The Witches of Bushwick also embrace the all-female aspect of witch covens, reclaiming what eventually dammed the witches of Salem. And of course, there's Jaden and Willow Smith, who are bringing the message of magic to the masses.
If you're not yet a believer, let the magical K-hole of Instagram compel you.