Meet Yana Peel, the Audacious Canadian Who's Transforming London's Famed Serpentine Galleries
The new Serpentine CEO is trying to make the longtime contemporary art institution into a groundbreaking cultural powerhouse.
---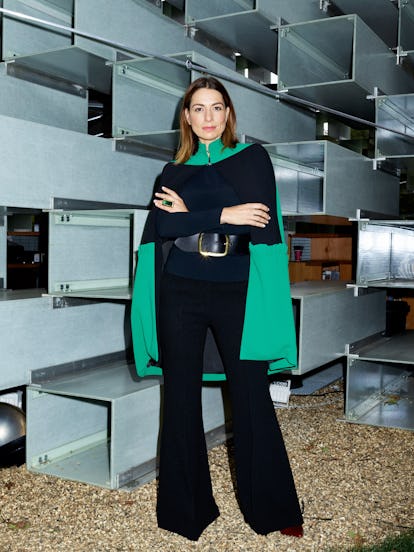 Photograph by Frederike Helwig, Styled by Gianluca Longo; digital technician: Tanya Houghton; photography assistant: Annemarie Wadlow
Yana Peel has always seen opportunity in improbable pairings. In London in the early aughts, she was working as a trader at Goldman Sachs when she joined the Serpentine Galleries' fundraising council. It increasingly frustrated her that the artists she knew never seemed to spend time with patrons or collectors, except at openings. "I saw that there was a gap between the people with the resources and the people who were translating the most important questions and ideas of the day into visual art," she told me.
We were sitting in the kitchen of her house overlooking Hyde Park, home to the Serpentine, one of London's most prized public venues for bold contemporary art, where Peel, 42, took the reins as CEO in July. She was recalling the impetus for cofounding the Outset Contemporary Art Fund, a pre-Kickstarter crowd-funding organization begun in 2003 that invented new models of arts patronage in the U.K. In what has become a widely copied initiative, Outset provided insider access to artist studios, curator confabs, and the like, while using membership fees to bankroll museum acquisitions and the creation of new works. Its launch event was a dinner party at the home of the English starchitect Sir Norman Foster and his wife, the publisher and curator Lady Elena Foster. Peel devised the seating plan for the 50 guests, who were drawn from the worlds of art, finance, and tech that she inhabits. "I thought, How wonderful would it be if I put the artist Grayson Perry next to Sir Ronald Cohen?" she said, referring to one of England's most famous cross-dressers and the private-equity titan. The evening and concept both proved a hit: Within six years, Outset had acquired about 100 works from the Frieze art fair on behalf of the Tate Collection and raised funds for Turner Prize winner and director Steve McQueen's 2009 exhibition in the British Pavilion of the Venice Biennale. As it happens, Perry will be the subject of a sprawling show at the Serpentine this June, titled "The Most Popular Art Exhibition Ever!" Plans call for the artist, known for his eccentric ceramics and feminine garb, to ride his bike daily through Hyde Park.
The day I met Peel, she had just flown in from a family holiday on Ibiza to attend the Serpentine summer party, a key date on the London social calendar, joining revelers including Perry, Kate Moss, Naomi Campbell, and the architect Bjarke Ingels, who designed this year's temporary outdoor pavilion. Peel would not officially replace longtime director Julia Peyton-Jones for a few weeks, but for months she'd been in constant conversation with "Hugh-O," as she calls Hans Ulrich Obrist, the Serpentine's rock-star artistic director, whose rapid-fire speech and intellectual wanderlust match her own. The two text and e-mail at all hours and share a drawer in their museum offices facing Kensington Gardens that is filled with energy bars and packets of an elixir both claim staves off jet lag. Alongside Obrist, Peel will oversee exhibitions in two galleries—the Serpentine and Serpentine Sackler—and the summer pavilion program, which in its early years provided Frank Gehry and Zaha Hadid their first opportunities to build in England.
Peel was a close friend of Hadid's, who died this past March—she choked up as she recalled the day she phoned the architect to tell her she was taking the Serpentine job and how Hadid had said, "There must be no end to experimentation." Not that Peel needed that advice. "She's like an idea explosion," Obrist says. "She really crosses fields with such ease and brings them together." Obrist and Peel decided that a fitting tribute to the woman who designed the swooping, birdlike extension of the Sackler would be an intimate show of her ink drawings and paintings. This little-known body of work opens on December 8. "Zaha was such an important friend and the voice of just amazing hilarity," Peel said. "She would stand at a podium and say, 'This is a terrible podium! Give me another one!' "
It was Michael Bloomberg who, in 2015, recruited Peel to the Serpentine board, which he chairs, seeing in her the ideal mix of ­deal-maker and disruptor. The two had met in Hong Kong, where Peel lived for seven years with her husband, Stephen, 50, a private-equity pioneer, and their two children, now 6 and 11. There, Peel initiated provocative debates as a cofounder of Intelligence Squared Asia ("The Art World Is a Boys' Club" was one) and became the co-chair of one of Hong Kong's most important contemporary art spaces, Para Site. Then in 2012 she was hired as CEO of Intelligence Squared, a forum for live debate, taking it out of bankruptcy. She agreed to run the Serpentine, she told me, with the proviso that she could make it more inclusive, global, and a "safe space for unsafe ideas." Two months into her tenure, she brought Lynette Yiadom-Boakye, an artist of Ghanaian descent, and the Tanzanian-born British architect David Adjaye onto the board. The Serpentine's stellar reputation owes something to Obrist's pace-setting exhibition program, with shows devoted to the likes of Elaine Sturtevant, Etel Adnan, Mark Leckey, and, most recently, Turner Prize nominee Helen Marten. But it also has lingering upper-crust associations: Princess Diana was a supporter and famously cut a glam figure at its 1994 summer gala on the same night that Prince Charles confessed his adultery on television. "We're in the most privileged part of London, and there's a perception that it's a place for people to celebrate pavilions with Champagne," Peel acknowledged. "In the wake of Brexit, there needs to be a focus on being more inclusive across Britain and more responsive to the role that artists can play in asking questions about urgent issues. We should see ourselves as a think tank or cultural hub."
Peel has a throaty laugh and a vigorous manner. Her style, says her friend the fashion designer Duro Olowu, runs to "chic and fun, with a bit of an edge." The pair got acquainted when she visited his eclectic store in Mayfair. "We talked more about art and politics than clothes," Olowu recalls. Given Peel's ability to connect worlds, it's fitting that her David Gill–designed town house once belonged to the salonista Lady Jean Hamilton—who was painted by John Singer Sargent and was a patron of the Omega Workshops, founded by members of the Bloomsbury Group. After the building became derelict following World War II, it was taken over by the Royal Society of Literature. Last December, Peel hosted a reunion at home, and "an amazing cornucopia of people came through," she said, mentioning the authors Ian McEwan, Tom Stoppard, and J.K. Rowling. The dining table easily fits 20, and there are works by the Chinese dissident artist Ai Weiwei and the African-American artists Mark Bradford and Sam Gilliam scattered throughout the house.
In 2015, when Peel's husband quit his firm to earn a master's in global affairs from Yale University, Peel audited courses there on American history and on black artists in popular culture. "I'm interested in artists who are dealing with the politics of the time," she explained. These days, Stephen, a former Olympic rower for Great Britain, is a visiting fellow at the University of Oxford and works in public policy and philanthropy. "Now he's more radical than I am. I love it!" Peel said.
Born in St. Petersburg, Russia, to a family immersed in literature and the arts, Peel was raised in Toronto, where her father worked as an engineer and her mother was part of a new generation of Russian women who "went crazy for fashion—like Gaultier cone bras." At McGill University, where Peel studied Russian literature and humanities, Canadian Prime Minister Justin Trudeau was a classmate ("I can still picture him in his Timberland boots"), and Peel produced fashion drag balls to benefit AIDS research. "Montreal in the early '90s was a great place to cultivate that kind of creative energy; Guy Laliberté was expanding Cirque du Soleil. You could make anything happen," Peel recalled. She went on to study at the London School of Economics and Political Science before landing at Goldman Sachs, where she worked primarily with Israeli tech companies.
Not coincidentally, what she now wants to see happen at the Serpentine is greater innovation in the application of technology. For a while, she and Obrist were obsessed with robots and virtual reality, and they talk excitedly about the digital commissions coming from the German artist Hito Steyerl and others. Artists, of course, are "really jonesing for more tech," she said. She and Obrist are brainstorming ways to "create a hub of technology and innovation leaders so that we can go to artists and say, 'What do you need?' What can we give artists that's not the walls of a commercial gallery? I think technology is part of that offering, debate is part of that, a global audience is part of that. We can create this platform where you're open-source. I don't want the walls around us. Let's share great things so that others don't have to keep reinventing the wheel."
Watch W's most popular videos here: