Exclusive Song Premiere: Listen to "Low Blows," Meg Mac's First Single Off Her Debut Album
The Aussie singer-songwriter, who toured with D'Angelo, offers the first listen of her upcoming debut album.
---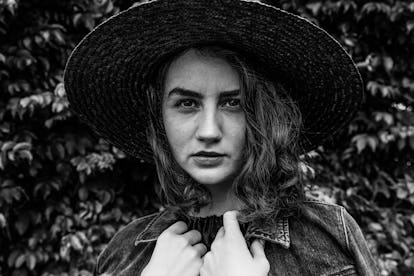 Rambo
"I don't really like conflict," the singer Meg Mac confessed recently. "I don't ever really like to speak up or create drama. I like everything to be calm." But that passivity had started to catch up with her one weekend evening in 2015, so she decided to write a song about it.
Premiering exclusively on W, "Low Blows" is a pep talk to herself that Mac wrote that evening in her bedroom in Melbourne while listening to the world shuffle by outside her window. "I was at home and I could hear people outside having fun," she said, "and I distinctly remember feeling very sorry for myself. I feel like everyone has that time where you're alone and you can hear everyone else being fine, and you're like, I'm not fine."
The track begins somberly: "You're coming round too late, I've taken off my face," she sings, lamenting her loneliness. But, as we approach the chorus, Mac repeats to herself, "Low blows, man up; it's all good, man up." It traces a similar trajectory to the songs on Mac's debut album Low Blows, of which "Low Blows" is just the first preview—from low to a high, a pump-up jam directed at herself.
But she wasn't sure "Low Blows" would work at first — she wrote the simple, repetitive piano line that now braces the rest of the track and layered her vocals over the top. It lacked real momentum until she went into the studio. Then, recording in Fort Worth, Texas, she added drums, driving it along; on the first listen back after mixing and mastering, "Low Blows" instantly jumped out to Mac and her whole team. They had their lead single.
She recounted all this over the phone from Calabasas — Kardashian territory, I noted. "I know!" she said. "I didn't know that, and then, I was trying to catch up with my friends and I told them where I'm staying, and they're like, 'Who are you, a Kardashian?'" She has spent considerable time in the United States these past couple of years, first embarking on a national tour with D'Angelo in 2015 and writing towards her new record all the while.
But Mac is still based in Melbourne, and, as she tells it, she'd like you "to feel almost like you're at my house and I'm singing my songs and telling you a story," she said of her upcoming record. She paused, pondering the image. "But that would be weird."