Megan Thee Stallion and Beyoncé Just Saved Your Quarantine with a "Savage" Remix
The song that launched the TikTok trend of the year has been given a major upgrade, thanks to some bars by Beyoncé.
---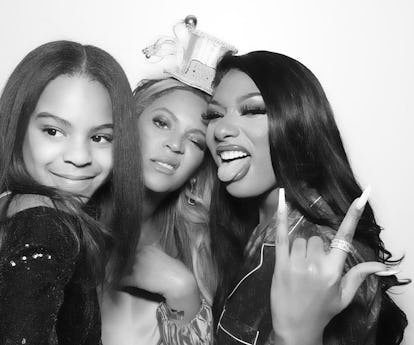 Photo courtesy of Megan Thee Stallion.
The wishes of Megan Thee Stallion, and presumably thousands of others, have finally come true: a Beyoncé remix of "Savage" is very real, and it has finally arrived for all of our listening pleasure.
The Houston natives hopped on the track that launched the TikTok trend of the year and dropped the song on all streaming platforms. (Tidal, of course, got first dibs.)
The remix itself is essentially an entirely new song, with the exception of the chorus which has remained the same. The rest of the verses, however, are all brand new, with rapping from both Megan Thee Stallion and Beyoncé.
Now, you know Beyoncé can't help herself when it comes to rapping. She's been lauded for her bars in the past, and her rhymes about "Demon Time," OnlyFans, TikTok, and a cute shoutout to her mom, Ms. Tina Knowles-Lawson, is sure to bring Beyoncé Thee Rapper to a new level of appreciation from her critics and fans alike.
Megan Thee Stallion teased the idea of a potential Beyoncé collaboration, and has been known to fangirl over her fellow Houstonian. When Beyoncé gifted Megan with an Ivy Park set, and the two musicians finally posed together in a photo booth with Blue Ivy on New Year's Eve, people really started to piece together the reality of an actual remix in the works.
Finally, those dreams actually did come true. Megan Thee Stallion's YouTube page provides an official visualizer for the "Savage" remix, leaving room for the imagination to conjure up what a possible music video with Beyoncé could look like.
In addition to the Beyoncé remix of "Savage," Doja Cat and Nicki Minaj have also teased a remix of "Say So," because one remix of a TikTok phenomenon isn't enough when you're in quarantine.
Related: How Cara Delevingne Came to Provide Backup Vocals on Fiona Apple's New Album