Megan Thee Stallion's 'Freaky Girls' Will Hold You Over Until the SZA Album
It's the feature on "Good News" we all deserve.
---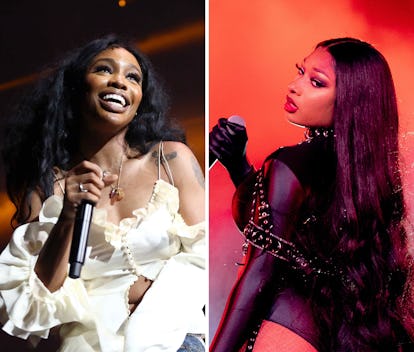 Photographed by Getty Images.
Megan Thee Stallion released her debut album Good News last night, much to the mania and excitement of hotties worldwide. Given MTS's meteoric rise, it might be somewhat surprising to remember that Tina Snow, Fever, and Suga were EPs/mixtapes. But Good News still holds the same rapid-fire flow, bars, and attitude Megan Thee Stallion is known for—and which gained her an extensive fan base in the first place.
Another thing the Houston, Texas rapper is known to do: collaborate unselfishly. And on Good News—which features frequent cohorts Juicy J (he produced on Fever and lent his hand for a number of tracks on Good News too) Da Baby, and, of course, Beyoncé on the "Savage Remix,"—there were some more unexpected additions to the mix. Enter Big Sean and 2 Chainz on "Go Crazy," Lil Durk for the trap-infused "Movie" and SZA, which Megan enlisted for "Freaky Girls."
The rapper had previously hinted at a SZA feature during an interview with Zane Lowe in January. "I'm not gonna lie, my friend SZA, she pulled up on me in the studio because we have a song that's gonna be on my album too and it was so fire making that song with her," she said.
The product, a G-funk track with a bassline straight out of the Bay Area, is yet another song from the album produced by Juicy J. Word is that Megan Thee Stallion is broadening her horizons on producers even more—in that same interview with Lowe, she said she'd locked herself in a studio for "four days," recording with Pharrell.
The collaboration between SZA and Meg left Twitter ablaze, even days before the song had dropped.
Meg's inclination toward collaboration harkens back to Missy Elliott's late '90s-early Aughts behavior—when the Virginia rapper was tapping everyone from Fantasia to Da Brat and Tweet in addition to the Beyoncés and Christina Aguilerias of the world to feature on her songs. It's exciting to see a musician reach the mainstream (and huge fame) while showing love to the people she's working with along the way. The last thing we expected was a link-up between the highly emotional Scorpio queen SZA and the Real Hot Girl herself. But it's happened, and the result is a true highlight. At the very least, it's something to hold us over until SZA finally releases her next album.