Are Meghan and Harry Reviving Princess Diana's PR Strategy?
By reportedly authorizing a forthcoming biography, Meghan and Harry might be taking a page straight from Princess Diana's book.
---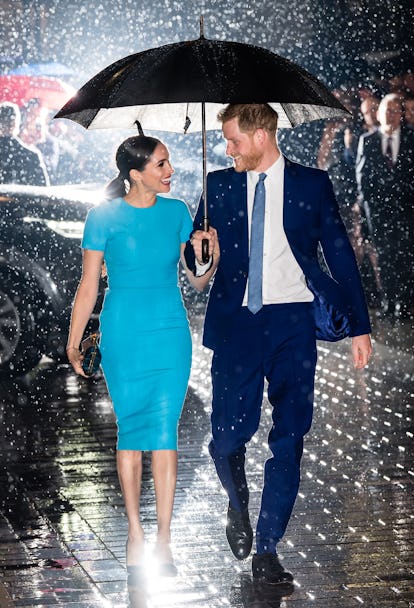 If anyone knows the importance of looking at the royal family's past in order to make some personal changes for the future, it's Prince Harry and Meghan Markle.
The details of their formerly clandestine romance, eventual wedding and birth of a baby boy, has fed the rumor mill for years now, but when they followed that up with their unprecedented motion to quit the royal family and move to Los Angeles, things got even more heated for the Sussexes.
In April, rumblings of a royal biography concerning Megxit began to surface, but it has now been confirmed. Finding Freedom: Harry, Meghan, and the Making of a Modern Royal Family, a biography written by Omid Scobie and Carolyn Durand, will reportedly chronicle the "true story" of Meghan and Harry's exit from the royal family.
While the official description of Finding Freedom does not purport to contain interviews from the former royals themselves, it does promise "unique access and written with the participation of those closest to the couple." Deadline also reports that Meghan and Harry have cooperated with Harper Collins and gave an interview to the authors just before leaving the United Kingdom.
Of course their representatives deny any involvement in the publication of a tell-all, but let's say they did collaborate. The first thing one might wonder is, "Why would they?"
Well, in order to understand such a strategic move, we have to go all the way back to 1992, when a reporter named Andrew Morton published a tell-all about Princess Diana and her divorce from Prince Charles. DIANA: Her True Story made waves throughout the press, and was candid enough that many believed there must have been no approval from Diana herself. However, she quickly admitted to authorizing Morton's publication of the tell-all and that her friends and family cooperated for interviews.
After Prince Diana's death in 1997, he updated the book with transcripts of tape recordings she made five to six years prior, which angered Buckingham Palace and the Spencer family.
So, in order to avoid such a fiasco, it appears as if Meghan and Harry figured they might as well be up front with the royal biographer, and cooperate with the publisher.
Whether or not Meghan and Harry actually did cooperate with the authors in order to authorize Finding Freedom remains to be confirmed, but the book has been listed for pre-order on Amazon with an August release date, so we know it is indeed real.
Related: The Dress Princess Diana Wore While Dancing With John Travolta Is Up For Sale