Meghan Markle Was Not Sent Anthrax, But Still Faces Very Real Threats
The powder may have turned out to be harmless, but the threats and discrimination she's been facing are undeniably very real.
---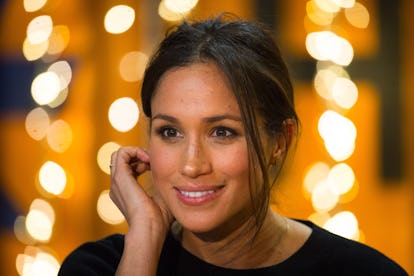 Dominic Lipinski/WPA Pool/Getty Images
Meghan Markle may have married Prince Harry just yet, but she already has 24-hour protection from Kensington Palace.
This came in handy on February 12, when a letter addressed to Markle and Prince Harry was discovered to contain white powder. Royal mail handlers immediately called the Metropolitan Police's counter-terrorism command in, and eventually sent the package off to St. James Palace. As it turned out, the powder wasn't actually anthrax, but the threat is nonetheless very real and very unsettling—particularly because it was delivered inside of a letter that the Evening Standard said contained a "racist message."
Markle is, by all accounts, perfectly lovely—even the Queen's corgis are fans—making any type of criticism of Prince Harry's fiancé come as a bit of a surprise. But since Markle is also biracial, she's had to deal with unfounded discrimination nonetheless: the letter marks the second personal, high-profile occasion in just two months.
Take a Look at Meghan Markle's Style Through The Years:
The first public instance came late last year, when Markle joined the queen for her annual pre-Christmas lunch, which was also attended by around 50 members of the royal family—including Princess Michael of Kent, the wife of the Queen's first cousin, who wore a racist brooch for the occasion.
Princess Michael, who, at another time, reportedly told a group of black diners in New York to "go back to the colonies," apologized for wearing the brooch via a spokesperson the next day, saying she was "very sorry and distressed that it has caused offense." While she's apparently worn the the piece of blackamoor jewelry—which typically depicts black bodies as exotic nobles and servants, and promotes the idea of racial conquest—"many times before," she hopefully will not do so in the future.
Related: Meghan Markle's Christmas Lunch With the Queen Was Attended By a Racist-Brooch-Wearing Princess