Meghan Markle Will Give Her First Post-Wedding Interview in a Queen Elizabeth II Documentary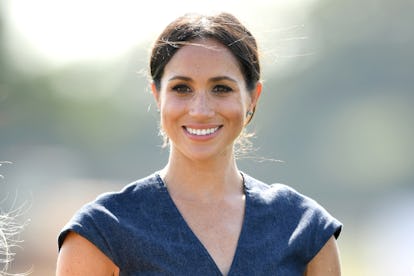 Karwai Tang/Getty Images
The last televised interview Meghan Markle gave was to the BBC in November, shortly after she and Prince Harry announced their engagement. Since then, while interest in the newly titled Duchess of Sussex has exponentially increased, she and the palace have kept their lips tightly zipped, releasing tidbits of information to her clamoring fans only through tersely worded official press releases. This week, however, the Daily Mail reports that, for the first time in almost a year, Meghan has once again gone face-to-face with a reporter. The interview will air next month, as part of ITV's Queen Elizabeth II-focused docuseries, Queen of the World, and will mark the auspicious occasion of Meghan's official post-wedding, post-BBC interview—and post-Suits return to television.
The docuseries is reportedly centered on Queen Elizabeth's efforts throughout her 66 years in power to cultivate and expand the Commonwealth. Besides Meghan, Prince Harry, Prince Charles, Prince William, Princess Anne, and Sophie, Countess of Wessex, the queen's daughter-in-law, have also given interviews to ITV. Harry was appointed a Commonwealth youth ambassador by his grandmother back in April; at the time, he said that his then-fiancée was "hugely excited" to join him in his work in the position.
"The Queen is the most well-travelled monarch in history and it's been fascinating to see how she has passed on her experience to the younger generations of the royal family," said Nicolas Kent, executive producer of the two-part series, per the Daily Mail. Kent also referenced Meghan and Harry's upcoming tour of Australia, New Zealand, Fiji, and Tonga. "With the Duke and Duchess of Sussex about to embark on their first Commonwealth Tour to Australia, New Zealand, and the Pacific exactly 65 years after the Queen's first Commonwealth Tour, this series could not be more timely," he said.
According to ITV, in Markle's interview, she speaks about "her wedding dress and her early interactions with the Commonwealth, which means so much to her grandmother-in-law." Her May wedding ensemble did indeed pay homage to the Commonwealth, with the national flowers of all 53 Commonwealth countries hand-embroidered on her delicate veil. Givenchy designer Clare Waight Keller revealed later that, though she was the one to suggest the embroidery, Meghan was fully on board and loved the idea of "all of those countries walking with her through the ceremony."