This Apparent Meghan Markle and Kate Middleton Drama, Explained
The Duchesses aren't to be blamed.
---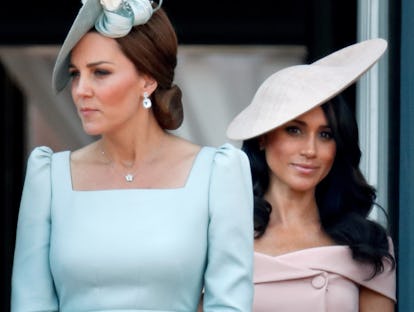 Max Mumby/Indigo/Getty Images
Considering how rare it is for royals like Meghan Markle and Kate Middleton to speak about anything private, it's no wonder that royal rumors pile up. The latest batch, however, is a lot to wade through—even for anyone who keeps up with The Crown. Apparently, there's less tension between the Duchesses than there is between their husbands. Prince Harry and Prince William have reportedly been feuding on their own, which has in turn contributed to any visible distance between Markle and Middleton.
The brothers' issues with each other are allegedly why Harry and Markle are moving away from Kensington Palace to Windsor's Frogmore Cottage. Harry's main issue with William? The throne heir wasn't welcoming enough to the actress-turned-royal, apparently. "Kate and Meghan are very different people and they don't have a lot in common but they have made an effort to get along," a source told Vanity Fair royal reporter Katie Nicholl. "Any issues are between the brothers." The source went on to say that "Harry felt William wasn't rolling out the red carpet for Meghan and told him so."
It was Prince Charles who helped smooth out the situation, according to the source, which included inviting Markle to celebrate her first royal Christmas last holiday season. "They had a bit of a fall out which was only resolved when Charles stepped in and asked William to make an effort," the source said. "That's when the Cambridges invited the Sussexes to spend Christmas with them."
Oddly, more than six moths after Harry and Markle's wedding, rumors just surfaced that there was secret royal drama. Middleton allegedly left a dress fitting for Princess Charlotte while crying—but it reportedly was not because of any bad blood with Markle. It was apparently more due to her own body. "Kate had only just given birth to Prince Louis and was feeling quite emotional," a source told The Daily Beast.
So what about Prince Harry and Prince William? According to another source, Harry and Markle's move is due less to fighting than it is convenience. Their move to Frogmore is all about Harry "spreading his own wings," per royal correspondent Richard Palmer. Another source echoed that at the Daily Mail, saying, "The truth is that they have both just grown up. They are rare in that they live together and work together, but there has been a stepping back. They are still incredibly close, closer than most siblings, but now Harry has married and is about to become a father, so it's a good time for him to be planning his own future. There is no acrimony." Whatever the case, there would be talk about Prince Harry and Prince William regardless of Meghan Markle and Kate Middleton's presence. Where there are royals, there are rumors.