Meghan Markle Reportedly Has to Pay for Her Expensive Designer Wardrobe in Full
She's reportedly not allowed to accept free clothes.
---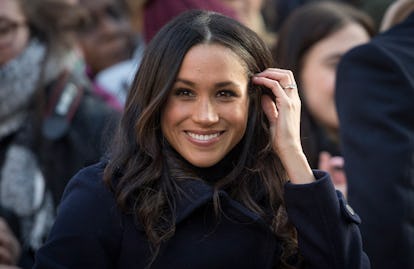 Getty Images
Since announcing her engagement to Prince Harry, Meghan Markle has made many public appearances in a variety of elegant ensembles. As an actress, Markle would have been able to borrow these pieces from designers, free of charge, but as a future member of the royal family, she's not allowed to accept clothing for free, according to People. Instead, it's reportedly all paid for out of pocket.
That's not to say that Markle, Prince Harry, and the rest of the gang don't get the royal treatment, so to speak. Royal assistants like Natasha Archer, Kate Middleton's stylist, call in clothes, orchestrate fittings, and send back options that don't work, just as most Hollywood stylists do. However, the royals reportedly foot the bill for any pieces they do decide to keep around. For now, items like the $1,000 white coat by British designer Amanda Wakeley that Markle wore for her first official public event alongside Queen Elizabeth earlier this week and the $78,000 Ralph & Russo gown Markle wore in her engagement photos are seemingly billed to Markle alone, who was reportedly paid $50,000 per episode of Suits. However, after her May 19 wedding to Prince Harry, the official clothing budget will reportedly come from money Prince Charles allots to Prince William, Kate Middleton, and Prince Harry from the income from the Duchy of Cornwall (a private estate managed by the Duke of Cornwall), which currently totals about $28 million, according to Yahoo! Finance. In 2016 and 2017, the trio reportedly received nearly $9 million from the Duchy alone.
Naturally, no expense will be spared for the royal wedding this spring, which could end up costing more than $33 million, with a good portion possibly going to security, according to E! News. By comparison, Will and Kate's 2011 nuptials cost a reported $34 million, with $32 million alone allocated to security, according to CBS News. The bride's dress rang up to nearly $500,000. Undoubtedly, Markle's own choice of wedding gown will make just as much news.
Related: Prince Harry and Meghan Markle Will Invite Members of the General Public to Their Wedding