Meghan Markle and Prince Harry's Rebrand Is Officially Underway
Shrugging off their Sussex Royal stamp, Meghan Markle and Prince Harry have rebranded with a new nonprofit called Archewell.
---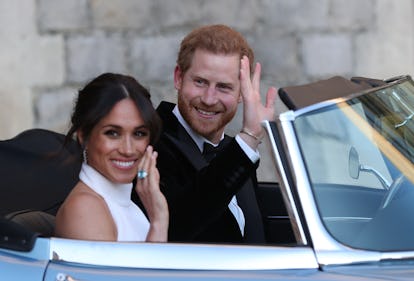 WPA Pool/Getty Images
As of April 1, Meghan Markle and Prince Harry have been officially removed from their positions as senior royals.
Since announcing their split from the House of Windsor, the two have moved to Canada, then moved again to Los Angeles (where they are currently quarantined), gotten Markle a job narrating a Disney documentary about elephants, and logged out of their @SussexRoyal Instagram account.
While quite thorough, the official split (colloquially referred to as "Megxit") has left many questions. For example, is it okay to refer to Prince Harry as "Prince" or should he just be called by his first name? What will happen to their official brand that they worked so hard to curate over the past two years?
Well, we have an inkling of an idea of the direction they're heading, and it all starts with their new nonprofit called Archewell. Speaking to the Telegraph, Meghan and Harry announced their plans to launch a nonprofit "to do something of meaning, to do something that matters."
And no, Archewell is not actually named after their son, Archie Harrison. In fact, derived from the Greek word "arche," which means "source of action," it was confirmed that Archie's parents had this branding idea in their heads way before the baby was even a twinkle in their eye.
"Before SussexRoyal, came the idea of 'Arche'—the Greek word meaning 'source of action'. We connected to this concept for the charitable organisation we hoped to build one day, and it became the inspiration for our son's name," they told Telegraph. "Archewell is a name that combines an ancient word for strength and action, and another that evokes the deep resources we each must draw upon. We look forward to launching Archewell when the time is right," they continued.
The word Archewell has been trademarked in the United States, which suggests they may be aiming to run something of an "empire" as working non-royals, according to The Guardian. An extensive trademark list associated with the name Archewell reportedly includes downloadable magazines, audio books, motion picture films and television shows, fiction and non-fiction books, calendars, posters, stationery, journals, socks, rainwear, footwear, and headwear.
There will also likely be an Archewell website dedicated to philanthropy-related content, so Meghan can finally get back in the blogging game.
Related: Meghan Markle and Prince Harry Are Quitting the Royal Family (Sort Of)