Meghan Markle and Prince Harry Will Get the Documentary Treatment
And baby Archie will be a major focus, too.
---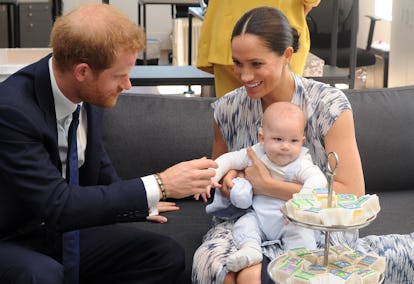 HENK KRUGER / POOL / AFP
After the rest of the world telling their story, Meghan Markle and Prince Harry will take the subject into their own hands with their own authorized documentary.
Their story is one that of course lends itself to the documentary narrative format, but it was their recent trip to South Africa that inspired ITV News anchor Tom Bradby to get started on the project. Bradby confirmed in a tweet on Thursday that he had "just finished filming a documentary on Harry and Meghan in Africa," and that he thinks "it will explain a lot when it airs."
The Duke and Duchess of Sussex's trip to South Africa has already become the subject of international intrigue and criticism. First, there were the rumors that Markle was donating used clothes to children in the country, which was of course confirmed to indeed be just that—an unfounded rumor. In fact, Markle donated clothes that were given to her and Prince Harry as gifts for their four-month-old son Archie, and per royal rules they cannot accept the offers so she gave them to those in need instead.
And speaking of young Archie, this trip to South Africa marks the child's first royal tour. He also met with Archbishop Desmond Tutu and his daughter Thandeka Tutu-Gxashe for the first time at the Archbishop's Legacy Foundation in Cape Town. During the meeting his mother called him "an old soul" as he bounced in her lap for the cameras. The baby will reportedly be featured prominently in the documentary as well.
Throughout the tour, Prince Harry traveled to Botswana, Angola and Malawi on his own to continue his work to raise awareness and end the stigma of HIV/AIDS, and also visited a minefield in Huambo that his mother, the late Princess Diana, visited over 20 years ago. News also broke during their royal tour that the Duke and Duchess would be suing a tabloid for the public treatment of Markle in a group of "select media outlets."
This particular documentary will of course not be the first (nor will it be the last) documentary that focuses on the royal family (indeed Bradby had previously filmed Harry for a documentary in 2016), but it is a first for this trio. The family has officially ended their tour of South Africa and landed back in London but suffice it to say, the documentary should cover plenty of material from the last few weeks once it airs.
Related: Prince Harry and Meghan Markle Are Suing a Tabloid: Why That's So Surprising And Why It's Sort Of Not