Meghan Markle and Prince Harry Have Been Brainstorming With Academics in California
After laying off their Buckingham Palace staff, Meghan and Harry are busy pursuing their new lives on our side of the pond.
---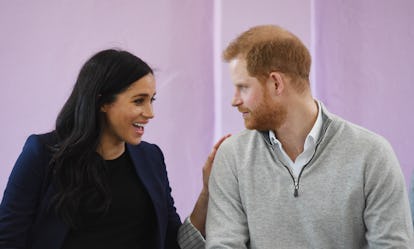 Facundo Arrizabalaga – Pool/Getty Images
When you move out of your grandma's house, there can be some loose ends to tie up. Just ask Meghan Markle and Prince Harry.
As the reluctant royals settle into their Canadian abode and shop for a place in Los Angeles, they've had to deal with practical matters like closing down their Buckingham Palace office and letting their U.K.-based staff go.
"While the details are still being finalized and efforts are being made to redeploy people within the royal household, unfortunately, there will be some redundancies [firings]," a source told the Daily Mail.
The news should not come as a huge surprise to anyone, especially the royal staffers themselves, who were reportedly informed that they would be let go last month, when Megxit was first announced.
Meanwhile, the couple have also been cutting themselves loose from public funds, at they promised when they stepped down from senior royal duties. They were spotted giving a speech at a JPMorgan event in Miami Beach last week, and while it hasn't been confirmed whether or not Meghan and Harry were paid for their time, it is typical of speakers at these sort of functions to receive some sort of compensation.
And just a few days ago, they were reportedly spotted on campus at Stanford University meeting with academic leaders about their charity organization. Will their next stop by Meghan's alma mater, Northwestern University, in Chicago?
Related: Is L.A. Ready for Meghan and Harry?