Meghan and Harry Are Once Again Everywhere
The pair have returned to London for one last round of royal duties.
---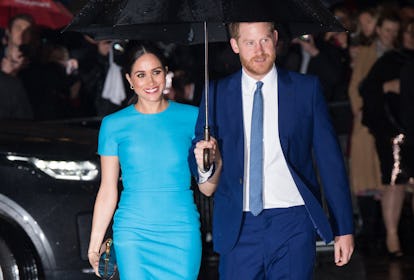 Getty Images
They may have already relocated to Canada, but Meghan Markle and Prince Harry haven't officially started the post–working royal stage of their lives just yet. Technically, the couple still have a few more weeks to go before their non-senior roles go into effect, which is why Thursday night saw them attend the Endeavor Awards, in London, as if things were perfectly normal.
It was Meghan and Harry's third year in a row attending the awards, but this year, of course, was different; the evening served as the couple's first official outing since announcing that they would be stepping back. Needless to say, Harry's efforts to remind his fellow guests that "this is all about you guys!"—the event honors the achievements of those injured in the military—were fruitless. All eyes were on the pair before they even stepped inside London's Mansion House, with enough camera flashes to essentially re-create the 2010s Instagram sensation known as the "Rain Room."
Inside, the evening was far from dreary. Thanks to a particularly bold honoree, Meghan and Harry ended up witnessing a surprise proposal and engagement within hours of their return to London.
Meghan and Harry also kept the crowd amused, both onstage and off. "It's very nice to be back," Meghan, who paired a Stella McCartney clutch with a cerulean Victoria Beckham pencil dress, said while she and Harry made the rounds. She also offered an update on their son, Archie, who stayed back in Canada: "He is 10 months now and is into everything," she was heard telling an inquiring fan.
The couple will continue to be out and about in the days to come. Harry spent Friday morning palling around with Lewis Hamilton at the opening of the Silverstone Experience, an immersive automobile museum, and Markle will soon make her own solo appearance in honor of International Women's Day. Over the weekend, both will attend a music festival at the Royal Albert Hall—a well-timed pick-me-up ahead of their reunion with the Queen at Westminster Abbey, which is set for Monday.