Actually, Meghan Markle Did Take a Secret Trip to Canada
Here's how Markle has been spending her royal hiatus.
---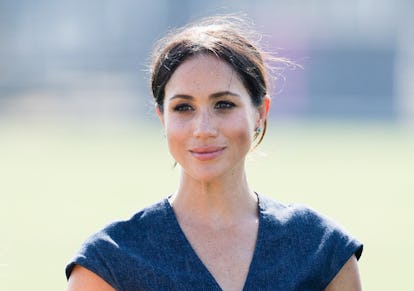 Samir Hussein/Samir Hussein/WireImage
Just what has Meghan Markle been up to this August? We now know. One day after the royal made her first public appearance since her August 4th birthday, a new report has shed light on how the actress turned Duchess of Sussex has been spending her hiatus. Markle is so low-key that she managed to travel across international waters undetected.
The former Suits star and humanitarian apparently flew to Canada on a commercial airplane, no less, in mid-August to visit her best friend and current stylist, Jessica Mulroney. (She was reportedly responsible for Markle's tuxedo dress from yesterday.) Her BFF's name also will ring a bell for close observers of the royal wedding, where Mulroney's three children adorably served as bridal party members. Royal commentator Omid Scobie confirmed Markle's trip on Good Morning America and on Twitter, writing, "Duchess Meghan quietly travelled to Toronto last Tuesday for a three-day stay at the family home of close friends Jessica and Ben Mulroney??."
The two friends did totally normal things together in Canada, where Markle lived while filming Suits, like spending time with Mulroney's family. "Meghan and Jessica spent their days catching up, lounging poolside and playing with children Ivy, Brian and John, who, adds a source, 'love seeing their Auntie Meg,'" Scobie tweeted. "There was also an evening out with friends."
Considering the timing of the trip—during August 19—their night out may have been documented by Mulroney, who shared a photo on that day of her and her children dressed up in all white. "Another day, another jumpsuit," she wrote on Instagram, without giving the slightest hint that she was with Markle. "That Brian face though."
Scobie called it "the perfect trip ahead of a very busy (and engagement-packed!) fall," referencing Markle and Prince Harry's Royal Foundation work engagements and, down the road, their reported upcoming U.S. tour.
The most fascinating part of Markle's Canada trip, though, is the fact that she got onto a regular plane like any other regular person—and still managed to go mostly undetected. There were reports, however, that surfaced on August 19 about it, with Express UK noting that Kensington Palace allegedly requested that Air Canada prevent any other passengers from snapping Markle's picture. At the time, the headline highlighted the fact that Markle was traveling without Harry. All of this is one more reason that Markle and Harry have been taking a break from the spotlight, with a source revealing that he "worries there is too much hysteria around Meghan and he wants to row back a bit." Considering even her secret trip has been exposed, Prince Harry's concern is a valid one.