Meghan Markle Is a "Princess for the People" According to Priyanka Chopra
The actress wrote a touching tribute to her friend for Time magazine.
---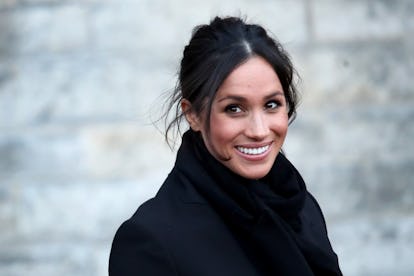 Chris Jackson/Getty Images
If writing an essay for Time on behalf of the bride qualifies you to be a bridesmaid, then sign Priyanka Chopra up for the royal wedding. In honor of Meghan Markle's spot on Time magazine's list of 100 Most Influential People, which was released Thursday, Chopra penned a touching tribute to her friend, calling the future royal "a princess for the people." A title, no doubt, meant to recall that of Princess Diana, known as the People's Princess.
In the essay, Chopra recalls the first time she and Markle met (it was at Elle's Women in Television dinner) and explains that as they bonded over "biryani, poutine, and endless conversations," Chopra soon realized "just how deeply Meghan Markle cares for the world."
"With her, what you see is real, and what you get is a relatable young woman with her heart and mind in the right place," the Quantico actress writes. "Her compassion, evident in the causes she supports, and her drive to break down stereotypes—obvious in her actions—will connect her to a generation in much need of kindness."
Chopra goes on to say that her "free-spirited" friend found her prince, and "made a cynical world believe in fairy tales again." Most importantly, though, she notes that Markle will be an important influencer in a world that needs someone like her to look up to: "Meghan, standing shoulder to shoulder with Harry, will be a princess for the people."
This isn't the first time Chopra has spoken so highly of Markle. "I don't think anybody else would be able to do it the way she will. She's just right for it," the actress told Harper's Bazaar Arabia last year of her friend's future royal role. "She's an icon, truly, that girls can look up to, that women can look up to. She's normal, she's sweet, she's nice, she thinks about the world, wants to change it."
Harry also landed a spot on Time's list of influencers, and was toasted by Sir Elton John, who's known him since he was a little boy. "What a joy it has been to see that young boy grow to inherit his mother's warmth, sense of humor, and courage to stand up and champion the causes he truly believes in," he writes, going on to list the many causes in which Harry is involved, including the Invictus Games, the global AIDS crisis, and mental health. "Prince Harry has that rare ability to walk into a room full of strangers and make everyone feel comfortable and at ease."
A match, it seems, that was made in Time mag heaven.