Melania Trump Reportedly "Checked Out" as Her Top Staff Resigns
As resignations rock the East Wing, Melania photographs rugs.
---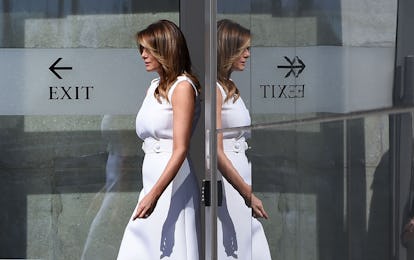 Photo by OLIVIER DOULIERY/AFP via Getty Images
Melania Trump was notably absent from a video her stepson Donald Jr. uploaded depicting most of the Trump family giddily dancing to Laura Branigan's song "Gloria" before the President's speech to his supporters on Wednesday, prior to the insurrection at the U.S. Capitol. She hasn't made a public statement or even a tweet since addressing the matter. Two of her top staffers were among the first to resign after Wednesday's madness. So where was the First Lady when everything went down? She was busy overseeing the photographing of a rug, according to a new CNN report.
"Photos were being taken of rugs and other items in the Executive Residence and the East Wing," a CNN source says.
News that Melania may be preparing a coffee table book showcasing the items she's collected or restored to decorate the White House broke last month. She apparently continued work on the project even as protestors stormed the nearby Capitol building.
Another source says that Melania is essentially "checked out" and "she just isn't in a place mentally or emotionally anymore where she wants to get involved."
First Ladies are often called on to ease times of distress, and Melania has done so in the past. She called for "peace" the morning after the Unite the Right Rally in Charlottesville and made a very similar statement after protests broke out in Minneapolis after the death of George Floyd last year.
There was no such message this time around, however.
Indeed, key members of Melania's own staff were among the very first to tender their resignations after Wednesday's violence. Her chief of staff Stephanie Grisham was the first to do so just hours after the event. Grisham was one of the longest-serving aides to the Trumps and one of the few who had stuck out almost the entirety of the campaign and the presidency. Apart from a few months' stint as the President's press secretary, Grisham has been Melania's most loyal aide (and often fiercest defender). The White House's social secretary, Rickie Niceta, who works under the First Lady's purview, also resigned.
Aside from a single Tweet on November 8th indicating that she believed some "illegal" votes may have been cast, Melania has almost completely steered clear of her husband's quests to overturn the election results. Instead, she's focused lately on matters of tradition, like decorating the White House for Christmas.
News that she's working on a book to commemorate her decorating efforts and her apparent undeterred effort to complete it suggest that, unlike her husband, Melania Trump has come to peace with the fact that her time in the White House is coming to an end.
Related: MAGA Is Imploding, But Could It Morph Into Something Else?