Melissa McCarthy, Nominated for Best Actress at the 2019 Oscars, Won the Razzie for Worst Actress
She could win both awards within 48 hours.
---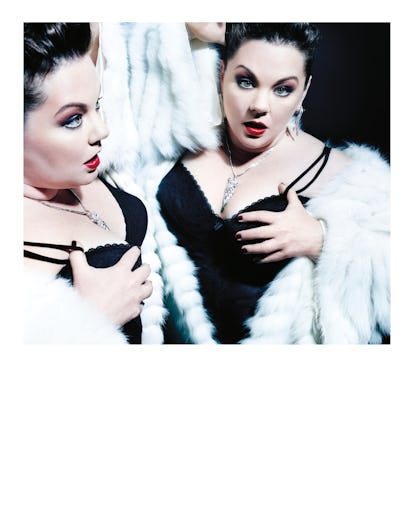 The Golden Raspberry Awards, honoring the worst in big-budget filmmaking and presented the day before the Academy Awards, are a sly satire of the self-congratulatory film industry, especially evident on the rare occasion when the two nights' nominees overlap, as they did this year, thanks to Melissa McCarthy's wide-ranging oeuvre. Nominated for her roles in both The Happytime Murders and Life of the Party at the 2019 Razzies, McCarthy "won" Worst Actress on Saturday, and could make it a topsy-turvy, back-to-back weekend if she also takes home Best Actress for her work in Can You Ever Forgive Me? at the Oscars on Sunday.
In a way, it's a testament to her versatility and willingness to take risks. Not many actresses can claim they led a farcical campus comedy, bizarre puppet noir, and scammer biopic all in quick succession, and all to very mixed reactions.
As The Hollywood Reporter notes, this isn't the first time that a star has received these career best and career worst nods at the same time. Jack Nicholson, Alec Baldwin, Sandra Bullock, and Eddie Redmayne have all been nominated for both Razzie and Oscar awards in the same year. Bullock is the only one to have actually won both awards back-to-back: In 2010, she won the Razzie for All About Steve and then, just a day later, the Oscar for The Blind Side.
The Razzies have been an annual tradition for nearly 40 years. And while at first they might seem like an unnecessarily mean tradition—do we really need a day dedicated to making fun of people's hard work?—there's a little more to it than that. For starters, they actually aren't about the art, at all. The awards go to actors who are big, big stars and whose careers won't be made or broken by the nomination, even if it is a little embarrassing (it's definitely, as they say, "punching up"). And by late February, aren't we all a little sick of watching the rich and famous hand one another trophies? Honoring the best in entertainment is fun, for sure, but let's not pretend that everything Hollywood touches turns to gold.
The Razzies are a good-natured break from the award season onslaught, and the nominations are, actually, kind of smart! For example: Eligible because he appeared in two documentaries in the last year, President Donald Trump won the award for Worst Screen Couple at this year's Razzies. No, not him and Melania—the winners were "Donald J. Trump and his self-perpetuating pettiness," per CNN.
We bet McCarthy, one of the funniest stars on the planet, can take the joke. And hopefully, on Sunday, the Oscar.
Related: Give Melissa McCarthy the Golden Globe for Can You Ever Forgive Me?
Oscars Red Carpet: The 21 Most Memorable Dresses of All Time 

Speaking of Galliano: At the 69th Annual Academy Awards in 1997, Nicole Kidman would forever change red carpet dressing by sporting one of his designs for Dior, a flawless, devastating silk gown in iridescent chartreuse that immediately appalled Joan Rivers and upstaged Tom Cruise.
Cher at the 45th Annual Academy Awards in 1973 wearing a bedazzled crop top.
Anjelica Huston at the 58th Annual Academy Awards in 1986 wearing a one-sleeve emerald green dress.
Madonna at the 63rd Annual Academy Awards in 1991 wearing Bob Mackie and $20 million worth of Harry Winston diamonds.
Sharon Stone at the 70th Annual Academy Awards in 1998 wearing a Gap shirt paired with a Vera Wang skirt.
Cate Blanchett at the 71st Annual Academy Awards in 1999 wearing a sheer John Galliano dress with an open back.
Celine Dion at the 71st Annual Academy Awards in 1999 wearing a Dior tuxedo backwards.
Halle Berry at the 74th Annual Academy Awards in 2002 wearing a sheer Elie Saab gown.
Marion Cotillard at the 80th Annual Academy Awards in 2008 wearing Jean Paul Gaultier couture.
Charlize Theron at the 82nd Annual Academy Awards in 2010 wearing Dior.
Angelina Jolie at the 84th Annual Academy Awards in 2012 wearing Atelier Versace.
Gwyneth Paltrow at the 84th Annual Academy Awards in 2012 wearing a Tom Ford cape.
Lupita Nyong'o at the 86th Annual Academy Awards in 2014 wearing Prada.
Barbra Streisand at 41st Annual Academy Awards wearing sequin see-through bell bottom pants with a matching top.

ABC Photo Archives
Diane Keaton at the 76th Annual Academy Awards wearing three-piece menswear-inspired suit with bowler hat.
Hilary Swank at the 77th Annual Academy Awards wearing backless Guy Laroche gown.
Penelope Cruz at the 79th Annual Academy Awards wearing an Atelier Versace gown.
Jennifer Lawrence at the 83rd Annual Academy Awards wearing a red Calvin Klein Collection dress.

Jeffrey Mayer
Lady Gaga at the 88th Annual Academy Awards wearing new designer Brandon Maxwell.
Jennifer Lopez during The 75th Annual Academy Awards, donning an unexpected mint hue.

J. Vespa/Getty Images
In 2018, Rita Moreno walked the Oscars red carpet in the same black and gold gown she wore to the Oscars in 1962.

Dan MacMedan