Melissa McCarthy Goes Back to College in Life of the Party Trailer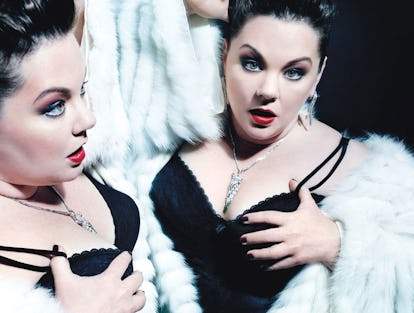 Photographer: Mario Sorrenti Stylist: Edward Enninful
In retrospect, it's really a shame that Hollywood didn't give Melissa McCarthy her big break until she was already a mother of two, but this isn't going to stop her from making a classic college comedy. Her next film, Life of the Party, finds McCarthy as Deanna, a single mother who grows to regret the fact that she never finished her college degree as she prepares to send her only daughter off to school. After literally trying to set fire to her old life, she naturally decides that going back to school alongside her daughter is a better decision.
After a bumpy start, there's a classic makeover sequence that takes her look from "PTA Mom who thinks Lula Roe is a little too fashion forward" to "Yes, I am a confident, mature woman who only goes to European-owned hair salons" (and, then, briefly, to "'80s soap opera power queen"), Deanna starts really getting a hang of the college grind and stars showing the kids what years of hard won wisdom can do for a person.
The project reunites McCarthy with a few past collaborators: Her husband Ben Falcone wrote and directed the film; Bridesmaids costar Maya Rudolph appears as her fellow suburban mom friend; and Ghostbusters co-star Matt Walsh appears as the father of her daughter. There's also some new co-stars as well: Former Community star Gillian Jacobs goes back to her college roots as a sorority girl; Oscar nominee Jacki Weaver plays Deanna's mother; while Modern Family's Julie Bowen appears as McCarthy's rival. Most interestingly is the fact that Christian Aguilera is credited as "herself," though she doesn't appear in the trailer.
The film is set to premiere on May 11, 2018. Melissa McCarthy also has several other projects in the works, including things in her comfortable bizarre realm of comedy like the The Happytime Murders (it's about puppets from a kids tv show who start to get murdered one by one). Though, later this year she'll also take a surprisingly dramatic turn in Can You Ever Forgive Me? as the real life celebrity biographer Lee Israel.
Related: Disobedience Trailer: Rachel McAdams and Rachel Weisz Are Orthodox Jewish Lovers