How Meryl Streep Ended Up Joining Big Little Lies
"Ask and you shall receive."
---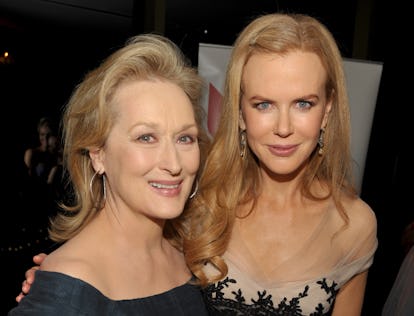 John Shearer
So how did Meryl Streep wind up joining the cast of Big Little Lies? We finally have the answer. And no, it wasn't the idea of some prestige-hungry HBO executive. No, Streep did not run into Reese Witherspoon in the bathroom at the Golden Globes and joke, "Hey, if you have a role for me next season…" Finally, no, it was not caused by unknowable cosmic forces tapping into the collective deep down desires we didn't even know we had and turning them into reality, even if in some ways that's what yesterday's monumental announcement felt like.
It turns out, the idea to cast Streep was a bit of genius from the woman who started the whole Big Little Lies adventure in the first place: novelist Liane Moriarty. The Australian writer penned Big Little Lies as a stand alone book, so when fans and press started openly wondering about the possibility of a sequel series even though a sequel book didn't exist, stars Nicole Kidman and Witherspoon were quick to hint that they'd be open to it, but only if Moriarty herself felt there was more life in her characters. Moriarty, in fact, did, and penned an outline for the story, which she then gave to series writer David E. Kelly.
It was during that process that Moriarty realized she was writing the role of Kidman's character Celeste's mother-in-law with Streep in mind, and ended up broaching the idea with the producers, as crazy as it may have seemed
"I was about half way through [writing] and I was talking to the producers and I said, I've got this role of Perry's mother and … not quite believing my own audacity, I'd like Meryl to play this character," Moriarty told Australian newspaper The Daily Telegraph.
In fact, she even named the character "Mary Louise," which is Meryl's real name. Yes, "Meryl" is just a contracted nickname.
"And the producers were laughing at me because they were saying, 'You've become so Hollywood,' as in, picking up the phone and saying, 'Get me Meryl,'" she continued. "They were teasing me… but then they were saying, it's not beyond the realm of possibilities because Nicole and Meryl are friends."
Indeed, Streep and Kidman did co-star in The Hours (with Kidman winning her Oscar for her prosthetic-enhanced portrayal of poet Virginia Wolff), but the two played characters who lived during different times, and never actually shared the screen. Still the pair struck up a friendship, as evidenced by the numerous instances of them hanging out you can find when simply taking to Google Images and searching "Nicole Kidman and Meryl Streep."
"Nicole sent me an email saying, 'Ask and you shall receive,'" Moriarty said.
Please take this moment to imagine something you probably have never imagined before: Nicole Kidman sending an e-mail.
Moriarty also gives a few small hints of what to expect. We know that Streep's character will come to Monterey both concerned with the wellbeing of her grandchildren and seeking answers about her son's death, but she won't be coming with an empathetic understanding of the situation.
"She deeply loved her son … as much as any mother can love her son," she said. "She had a slightly fraught relationship with her daughter-in-law, so it's a very complicated, difficult time."
So, yes, we will get very tense scenes between Streep and Kidman, as we deserve.
Streep has also worked with some of Lie's other leading ladies before as well. Streep and Witherspoon starred in 2007's you're-excused-if-you-don't-remember-it film Rendition, in which Streep plays a villainous character and Witherspoon stars as a concerned wife, but the stars only shared a little bit of screen time. Streep and Robin Weigert, who played Celeste's therapist, also both appeared in another milestone HBO miniseries, Angels in America. No word on whether Weigert will return, but here's hoping. She quietly slayed that role, and Nicole Kidman probably has her e-mail.
Related: Reese Witherspoon and Nicole Kidman Will Earn $1 Million Per Episode for Big Little Lies 2