A History of Meryl Streep Acting Her Heart Out in Kitchens
On her birthday, a celebration of Meryl's many, many movie scenes in kitchens.
---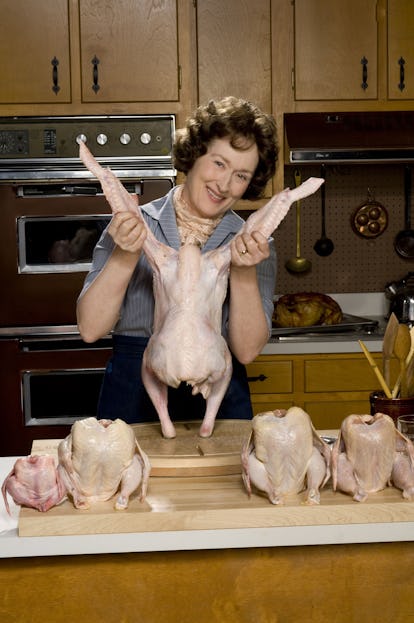 Rudin Prods./REX/Shutterstock
Today is the 67th birthday of Mary Louise "Meryl" Streep, a woman who is so deified in the popular imagination that we have decided to collectively forget that The Giver ever happened. She is of course considered the best actress of her generation, slipping on an accent as easily as the rest of us put on a pair of socks, and known far and wide for an ability to conjure an Oscar nomination every year she appears in a movie, even if the movie is just not that great.
But when I think of Meryl Streep, it is not on the red carpet, at a Hollywood premiere, or kissing her mysterious and little-seen husband Don Gummer. It is among the pots and pans, the refrigerator and the immersion blender, the food processor that is collecting dust and the dish towels that were a gift and can't be thrown away no matter how ugly they are. It is Meryl in the kitchen, which is such a thing that there is a single-serve Tumblr about it.
Yes, Meryl Streep, at least in her movies, always seems to be creating a scene in the kitchen. So today we celebrate Meryl, not by giving her another bloody award, but for being the most consummate onscreen hostess there is.
As in life, there are many phases of Meryl's relationship to the kitchen. Look at her in Manhattan, making dinner for her and Woody Allen's son while ignoring her ex's problems. This is the scraggly New York kitchen of youth, complete with experimental lesbian phase. We see more of these kitchens in Kramer Vs. Kramer and Silkwood—a woman who doesn't have much, but has mastery over her space. She can't afford to leave her home, so she's trying to make the most of it there, even though it's a struggle. In her sad deliberate kitchen in A Cry in the Dark, things are so desperate that she doesn't even notice when a dingo eats her baby.
But as Meryl and her characters climbed in success, notoriety, and a bit of age, they venture out into the world. In She-Devil she was exactly the kind of woman who would never spend even a moment doing such pedestrian chores as baking. The same goes for Death Becomes Her, where she literally gets a hole blown through her before she would be caught dead boiling an egg. In The River Wild she's too busy fending off Kevin Bacon in the wilderness and saving her son's bacon amid those rapids to actually cook literal bacon.
Slowly, though, she is reintroduced to her favorite interior setting starting in movies like One True Thing, The Hours, and Bridges of Madison County, but the context is different this time around. She's not in her kitchen because she has nowhere else to go, or nothing else to do. She has conquered the world and is back in the kitchen by choice. Now we see the Meryl in a beautiful room full of expensive appliances, copper cookware, and a family to care for. Julie and Julia, for one, falls squarely in this period. Meryl is not only situated in the most elaborate kitchens of any of her movies, but she's playing Julia Child, master French cook and American icon.
This is the Meryl that we all love now—the one standing amid the Nancy Meyers kitchen porn of It's Complicated. To us, she so fully inhabits the image of the upper-middle-class suburbanite that at times it feels like like every movie she's in is a Nancy Meyers movie, but in fact there is only one. Even when Meryl is playing a loser, as she does in Ricki and the Flash, she can still be found backgrounded by the floral wallpaper of someone's breakfast nook, sipping orange juice and tussling with family trauma. She would look out of place anywhere else.
This is what draws us in about Meryl. She's the warm host who is as quick with a song from Mama Mia! as she is a monologue from Doubt. She laughs, she scolds, she entertains both in the theatrical sense and the Martha Stewart sense. She is everyone and at the same time she is the best of all of us.
Let's be clear: None of this is to suggest that Meryl belongs in the kitchen. It just happens to be where she's at her best. And we all want to gather with her there, and maybe never leave.
Meryl Streep Deserves Yet Another Award for All Her Eye-Catching Eyewear Through the Years
Meryl Streep at Fox Searchlight's 2007 Golden Globes After-Party, January 2007.

Alberto E. Rodriguez/Getty Images
Meryl Streep at the opening night of Shakespeare in the Park's *Mother Courage And Her Children in New York, August 2006.

Bruce Glikas/Getty Images
Meryl Streep and Lily Collins at the 74th Annual Golden Globe Awards in Beverly Hills, January 2017.

Michael Kovac/Getty Images
Meryl Streep and Julia Roberts at the 19th Annual Critics' Choice Movie Awards in Santa Monica, January 2014.

Lester Cohen/Getty Images
Meryl Streep while filming New York and the Movies around New York, February 2002.

Arnaldo Magnani/Getty Images
Meryl Streep backstage at the 89th Annual Academy Awards in Hollywood, February 2017.

Christopher Polk/Getty Images
Meryl Streep at the Mentor's Walk: Creating the New Girls Network in New York, April 2005.

Jemal Countess/Getty Images
Meryl Streep at the USA Network's Tribute to Meryl Streep in Hollywood, June 2004.

L. Cohen/Getty Images
Meryl Streep receiving the lifetime Donosti Award at the Kursaal Palace in San Sebastian, Spain, September 2008.

Fotonoticias/Getty Images
Meryl Streep at the Venice Film Festival for The Devil Wears Prada, September 2006.

Venturelli/Getty Images
Meryl Streep at Vassar College's 150th Anniversary Celebration in New York, February 2011.

Charles Eshelman/Getty Images
Mamie Gummer and Meryl Streep at the 19th Costume Designers Guild Awards in Beverly Hills, February 2017.

Christopher Polk/Getty Images
Meryl Streep at the 71st Annual Golden Globe Awards in Los Angeles, January 2014.

Michael Kovac/Getty Images
Meryl Streep at the One World One Child in Beverly Hills, October 2002.

Frazer Harrison/Getty Images
Meryl Streep at the White House Project's 2010 Epic Awards gala in New York, April 2010.

Jamie McCarthy/Getty Images
Meryl Streep delivering the 2010 commencement at Barnard College, May 2010.

Bobby Bank/Getty Images
Meryl Streep at the 40th AFI Life Achievement Awards in Culver City, June 2012.

Kevin Winter/Getty Images
Meryl Streep promoting The Iron Lady in London, November 2011.

Mark Cuthbert/Getty Images
Meryl Streep at the International Jury photo call during the 66th Berlinale International Film Festival in Berlin, February 2016.

Dominique Charriau/Getty Images
Meryl Streep at the American Film Institute's 45th Life Achievement Award Gala Tribute to Diane Keaton in Hollywood, June 2017.

Stefanie Keenan/Getty Images
Meryl Streep at the 2012 Made In NY Awards in New York, June 2012.

Taylor Hill/Getty Images
Meryl Streep at the 16th Annual Screen Actors Guild Awards in Los Angeles, January 2010.

Jeff Kravitz/Getty Images
Meryl Streep at the 25th Annual Palm Springs International Film Festival Awards Gala in Palm Springs, January 2014.

Jeffrey Mayer/Getty Images
Meryl Streep at the premiere of August: Osage County in Los Angeles, December 2013.

Kevin Winter/Getty Images
Meryl Streep at the 2015 Women in Film Pre-Oscar Cocktail Party in Los Angeles, February 2015.

Jason Kempin/Getty Images
LOS ANGELES, CA – JANUARY 18: Meryl Streep attends 20th Annual Screen Actors Guild Awards at The Shrine Auditorium on January 18, 2014 in Los Angeles, California. (Photo by Kevin Mazur/WireImage)

Kevin Mazur
Meryl Streep at the world premiere of Florence Foster Jenkins in London, April 2016.

Anthony Harvey/Getty Images
Meryl Streep at a New York screening of India's Daughter, March 2015.

Noam Galai/Getty Images
Meryl Streep at the 2017 Human Rights Campaign Greater New York Gala in New York, February 2017.

Jim Spellman/Getty Images
Meryl Streep at the 70th British Academy Film Awards (BAFTAs) in London, February 2017.

Barcroft Media/Getty Images
Meryl Streep and Emily Blunt confess their crushes: