See Inside Meryl Streep's NYC Penthouse, Selling for $24.6 Million
Fit for a queen, and now on the market.
---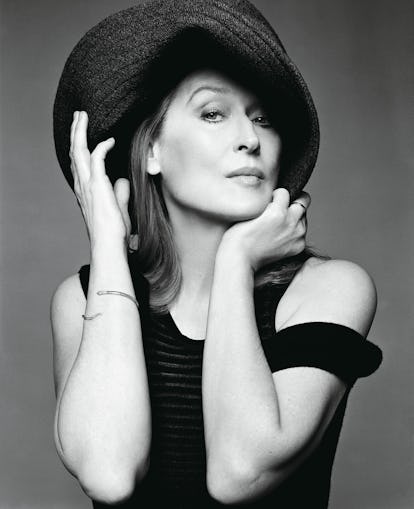 Thompson Michael
Meryl Streep is one of the more private people in this world—she's still a social media holdout, after all—but today brings a rare glimpse into her home life. That's because Streep is unloading her New York City penthouse, offering the world a chance to see inside one of her dwellings. By the looks of the listing photos for her nearly 4,000-square-foot apartment, including the giant, empty master closet, Streep has already moved out. But her furnishings are still intact.
Not surprising, the apartment is fit for a queen, with its jaw-dropping views of Manhattan, the Hudson River, and even the Statue of Liberty. Those sights can be seen from nearly every room in the Tribeca penthouse, though the lushly landscaped wraparound terrace has the best vantage points.
In addition to the views from the floor-to-ceiling windows, the apartment has a generous four bedrooms. The master bedroom, situated on a corner with the best views, has a clawfoot tub surrounded by fiddle-leaf fig trees, the plant of the moment. Meanwhile, the three other bedrooms all have en suite bathrooms.
The kitchen is also a focal point, as it's built for a chef with gourmet appliances and lots of countertop space, including an island. No doubt, Streep got into her role as Julia Child in that very kitchen.
Streep and her husband, Donald Gummer, purchased the house back in 2006 for $10.13 million and stand to make quite the profit if they obtain their listing price of $24.6 million.
Like many other New Yorkers, Streep is trading in city life in the Big Apple for a different kind of lifestyle out west. The actress recently made headlines when she purchased a historical midcentury stunner in Pasadena, California, just outside Los Angeles. The 3,000-square-foot home was designed in 1959 by Whitney Smith and Wayne Williams, and serves as an excellent example of post-and-beam architecture. Streep paid $3.6 million, getting somewhat of a bargain for the home, which was originally listed at $4.75 million. You can take a look inside of it here, after scoping out photos of her New York penthouse below.