Meryl Streep Once Recommended a Priest to Exorcise Steven Spielberg's Home
The pair worked together on A.I. Artificial Intelligence and The Post
---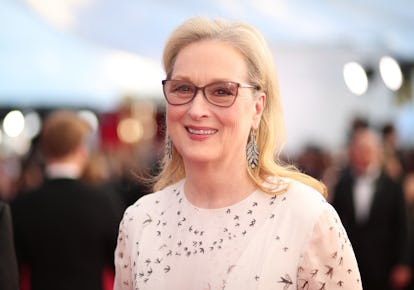 Christopher Polk/Getty Images
If your house is overrun with unwanted spirits, it turns out that the best person to call is not, in fact, the Ghostbusters, but Meryl Streep.
On Tuesday, The Hollywood Reporter published a round-table interview with Meryl Streep, Steven Spielberg, and their collaborators to discuss their new film, The Post, in which Streep plays former Washington Post publisher Katharine Graham. While the actress spoke at length about her preparation for the role and the First Amendment, buried amid all of the shop talk was one curious tidbit: In 2000, while providing one day's worth of voice work for Spielberg's film A.I. Artificial Intelligence, Streep and Spielberg got to talking about Spielberg's home.
"Most of the time, we talked about how his property was haunted, and did I know anybody who did exorcisms?" Streep told THR. "And of course, I did. I got him a priest." The Oscar winner does not elaborate on this story, and it is not mentioned again in the duration of the interview. This leaves quite a few unanswered questions: Exactly how does Streep know people who do exorcisms, and why is it "of course" that she does? Was the priest Streep hired successful in ridding Spielberg's home of ectoplasmic pests? And which of Spielberg's then-residences is the haunted property in question?
The answer appears to be his Mediterranean-style mansion in the Pacific Palisades. Back in the '80s, Spielberg purchased the originally Spanish-style residence, intending it to be his family's primary residence. The place, according to a 1989 story in AD, had an "exotic past." Its previous owners included Douglas Fairbanks Jr., David O. Selznick, Cary Grant and Barbara Hutton, and Bobby Vinton. "The history of the house attracted me instinctively," Spielberg told AD back then. "It was important for me to know that David Selznick had lived there during the time he produced Gone With the Wind." Spielberg added that the house had "good bones."
Now, of course, the home is stunning, thanks to architect Harry Newman and designer Frank Pennino. But back then, the director had to completely overhaul the place, since it had been built at the turn of the century and was "relatively dilapidated." With such a long and colorful past, it's no wonder that Spielberg's house came with a pesky ghost or two. The question now, was it David Selznick or Cary Grant?
Inside the Giga-Mansions of Beyoncé and Jay-Z, Calvin Klein, Avicii, and More
This new McClean house in the Bird Streets, at 1822 Marcheeta, is for sale for $19,950,000.

Jim Bartsch
At 1822 Marcheeta, over-the-top wine storage, skylights, and massive fireplaces are all McClean hallmarks.

Jim Bartsch
The Bird Streets mansion purchased by Calvin Klein for $25 million in 2015.

Jim Bartsch
Another view of the Bird Streets house purchased by Calvin Klein.

Jim Bartsch
A Blue Jay Way mansion which McClean estimated as going for as much as $30 million.

Jim Bartsch
The staircase into the basement of the not-yet-listed home on Blue Jay Way.

Jim Bartsch
A view of McClean's first Bird Streets mansion, which sold for $10 million in 2009.
His first Bird Streets home, on Blue Jay Way, was purchased by Aviici in 2014.

Brian Thomas Jones
A Beverly Hills mansion on Carla Ridge that sold for $20 million in 2015.
The Carla Ridge mansion in Beverly Hills was developed by Nile Niami, and has six bedrooms, eight bathrooms, a two-story water feature, and an olive tree courtyard.
The Bel-Air home that was purchased by Jay-Z and Beyoncé boasts bulletproof windows and a helipad.

Jim Bartsch
Jay-Z and Beyoncé's 30,000-square-foot compound also features a minimal design and multiple pools.

Jim Bartsch
A Beverly Hills home features the terracing and glass walls common to McClean's projects.

Jim Bartsch
Another view of the same Beverly Hills house.

Jim Bartsch
Arclinea, a Beverly Hills development project designed by McClean.

Jim Bartsch
Another view of Arclinea.

Jim Bartsch
Originally listed for $100 million, this Trousdale mansion is now $85 million.

JIM BARTSCH
Originally listed for $100 million, "Opus," a Trousdale mansion developed by Niami and designed by McClean, is now $85 million.

Jim Bartsch
The "Opus" property features a basement-level pool, billiards room, champagne room, wine room, and a movie theater.

JIM BARTSCH
A Bel Air mansion by McClean that sold for just shy of $30 million in 2012.

Jim Bartsch
The house is 30,000 square feet, with six bedrooms and ten baths.

Jim Bartsch
This Laguna Beach McClean house sold for about $4.4 million in 2015.
McClean got his start in Laguna Beach, designing homes much like this 3,500-square-foot house.