Butts, Bumps and Beyoncé: The Met Ball 2016 Red Carpet Recap
Katy Perry and Beyoncé talk on the steps of the Costume Institute's annual Met Gala. There was lots of metallics, glow-in-the-dark, and skin. But you know what? "It was actually a lot easier than last year's dress," Bey said.
---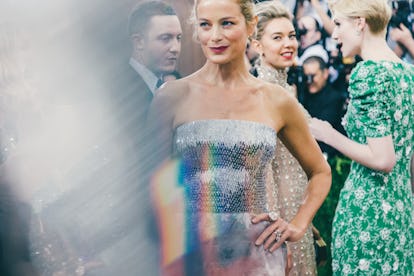 "Yes, Kendall, slay!" Hailey Baldwin was looking down the famous red carpet steps that lead to the Metropolitan Museum of Art as her friend Kendall Jenner arrived to much fanfare at the bottom of the stairs. It was the first Monday in May – now a major motion picture! – and that means the Costume Institute's annual gala was underway.
Jenner, in Versace, came with the entire brood – her younger sister Kylie in her gala debut; mom Kris; and big sis' Kim Kardashian – and together in Balmain, their combined star power was causing the biggest tizzy amongst photographers and the crowd of people lined up on Fifth Avenue.
This gala, the Anna Wintour Costume Institute's most important fundraiser of the year, is often called the Oscars of Fashion, but these days that includes reality TV celebrities and the teeny bopper set as often as it does Hollywood stars and New York socialites.
Bella Hadid, 19, arrived on the arm of The Weeknd, who would perform later that night. Seventeen-year-old Lucky Blue Smith escorted his sister, Pyper America Smith, 18.
Even Cameron Dallas, the 21-year-old "vine star" who just landed a Calvin Klein campaign, received an invite. And he had just come off the White House Correspondents Dinner to boot.
He wasn't the only one doing double duty from Washington D.C. – Gugu Mbatha-Raw attended both as well. "There's a little bit more of a calm vibe [here], if you can believe it, than there was in Washington," she said. Wearing Gabriella Hearst, she was nodding towards this years' theme "Manus x Machina: Fashion In An Age of Technology."
"It's actually analog, because [down the sleeves] we did Morse code hand beading that spells 'Love,'" explained Hearst.
Other guests weren't so subtle. Claire Danes' Zac Posen dress glowed in the dark, while Zayn Malik accessorized with metal arm plates (and his girlfriend, Gigi Hadid in Tommy Hilfiger). Silver sequins were the go-to: Brie Larson in Proenza Schouler, Nicole Kidman in Alexander McQueen, Mackenzie Davis in Altuzarra, and Cindy Crawford in Balmain.
Meanwhile, Naomi Watts in silver Burberry admitted, "I need a robot to get out of this dress." But perhaps most on theme was Elizabeth Debicki, who wore a Prada dress that was actually featured in the "Manus x Machina" exhibit.
Others weren't all that concerned with robot-dressing. "Who's to say there's no nature in the future?" asked Zoe Salanda, explaining how her sweeping floral Dolce & Gabbana gown was on-theme.
Also in Dolce, Kate Bosworth said, "I look like the real life Grecian Snapchat filter."
"I did wear my Tomagachi from 1996. That's my tech contribution," said Katy Perry, in Prada and newly-bleached eyebrows.
It wasn't all Tinseltown stars though. At one point Michael Bloomberg powwowed with Harvey Weinstein and Matt Lauer at the top of the stairs. New York social fixtures Lauren Santo Domingo, Marina Rust, and Julie Macklowe were also in attendance. Even Huma Abedin, busy trying to get Hillary Clinton elected, and Anthony Weiner skirted by the reporters and into the museum, holding hands.
Elsewhere, it was a battle of the bumps and butts. Olivia Wilde and Emily Blunt ascended the stairs arm-in-arm, both wearing Michael Kors and holding their every-so-slightly pregnant bellies. Earlier, Kerry Washington had arrived in Marc Jacobs hours after announcing that baby number two was on the way.
But more than a place for soon-to-be-moms, the Met Gala red carpet has become a game of how naked one can be without actually being, you know, naked. Beyoncé and Kim Kardashian may have taken the top honors last year, but this go-round both Madonna (in Givenchy Haute Couture) and Lady Gaga (in Versace) wore bum-bearing onesies and towering heels.
Predictably, Beyoncé was the last to arrive, though without Jay Z – perhaps stoking those rumors of infidelity hinted at in "Lemonade," which dropped last week. Though her Givenchy dress looked rubber-glued to her body, she seemed to move with ease.
"It was actually a lot easier than last year's dress," she said.
Watch W's most popular videos here:
Met Gala 2016: From Katy Perry to Claire Danes, See the Best Photos from the Red Carpet