Met Gala 2017: Jaden Smith Hit the Red Carpet Carrying His Own Hair
Did he just win the red carpet?
---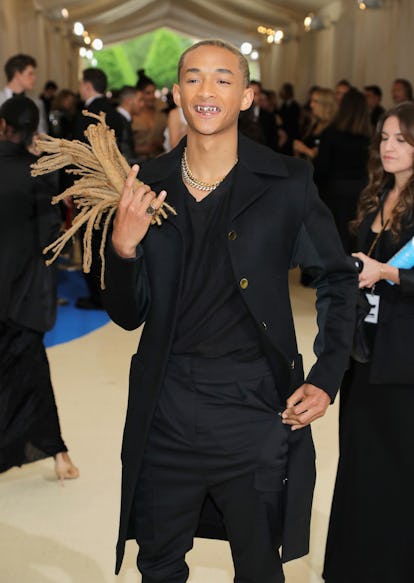 Neilson Barnard
Jaden Smith, always one for statement-making with his style (let's not forget the time he wore an all-white Batman costume to Kim and Kanye's wedding), showed up on Monday night's Met Gala red carpet clutching a handful of his own hair.
The actor shaved off his bleached dreadlocks and decided to use them as a handheld accessory to go with his black-on-black suit and metallic tooth jewelry. According to a tweet from @VogueMagazine, who hosted the event, Smith was also carrying a speaker and blasting his own music as he walked in. They say real heroes don't wear capes, but maybe they do carry their own dreadlocks.
The Met Gala, which is hosted by Anna Wintour as a fundraiser for the Metropolitan Museum's Costume Institute, is one of the most fashion-focused red carpets of the year. Because of this, many celebrities try to do something new, different, and unexpected with their look—take Katy Perry's LED-covered dress from 2010, or Beyoncé's full latex look, for example—as a means of standing out from the otherwise boring sea of gowns and tuxes. This year's Comme des Garçons theme lends itself well to major fashion statements, and Smith's decision to carry his hair in his hands may very well land him a spot on the best-dressed list.
The internet, which tends to be fashion's harshest critic, has applauded Smith for his avant-garde approach to the evening, which is on-theme with the museum's Comme des Garçons–inspired exhibit.
When he hits the dance floor later tonight, one thing is for sure: He'll be able to give an entirely new meaning to his sister's lyrics of "I whip my hair back and forth."
Smith is currently filming Life In A Year with co-star Cara Delevingne, who also shore her locks for the film, but, as of yet, has not showed up carrying her hair with her.
See What's Trending in W Video:
Jaden Smith Keeps It Fresh on the Streets and the Red Carpet
It seems Jaden Smith was born knowing what to do about the pesky paparazzi, as seen here, en route to The Late Show with David Letterman in New York, New York, June 2010.

FilmMagic
And he never forgets to include sister Willow in the shot — here, they arrive together to the BET Awards in Los Angeles, California, June 2011.

WireImage
Many of the actor-musician-artist's early forays into fashion involved embellished leather jackets — here, by MCM at the Kids' Choice Awards in Los Angeles, California, March 2012.

Getty Images
His style soon developed into a more street-ready aesthetic as he delved into adult films, like After Earth, which he premiered here in Seoul, South Korea, May 2013.

WireImage
A bit of a dandyish flair comes into play with an all-white suit for another After Earth premiere in New York, May 2013.

WireImage
Still, there's nothing like matching red carpet kimonos with your sibling. Willow and Jaden Smith at the Los Angeles premiere of The Hunger Games: Catching Fire, November 2013.

WireImage
Not to be outdone by his sister's constantly evolving style, Smith wore an oversized sweatshirt with slim track pants for Roc Nation's pre-Grammy brunch in Los Angeles, California, January 2014.

Getty Images
A Kid Super baseball cap, a pair of slender-fitting track pants and nd sneakers with a bit of neon duct tape over the toe. Smith tends towards an irreverent approach to fashion, here at a screening for Paper Towns in West Hollywood, California.

WireImage
More recently, Smith has started popping up in front rows at fashion week; his sister Willow was recently dubbed Karl Lagerfeld's ambassador for Chanel, while back in March, Jaden Smith (wearing Louis Vuitton, naturally) posed with Louis Vuitton designer Nicolas Ghesquière at the Fall 2016 presentation in Paris, France.

Getty Images
Like brother, like sister, Willow and Jaden rock coordinating Chanel ensembles for the Met Gala in New York, May 2016.

Getty Images
But, proving he won't be wedded to one designer alone, Smith returns to Louis Vuitton threads for the label's Cruise 2017 show in Niteroi, Brazil, May 2016.

Getty Images
Smith is also a budding designer in his own right — here, he wears a baseball cap from his MSFTS collection, combined with a black hoodie (a staple of his sartorial diet) for the launch of OUE Skyspace LA in Los Angeles, California, July 2016.

WireImage
Jaden Smith has never played by the rules of the runway — here, he wears an overcoat from Louis Vuitton's womenswear line, a piece originally modeled by Lineisy Montero in the Pre-Fall 2016 lookbook, for the premiere of Suicide Squad in New York, August 2016.

WireImage
Fitting for someone whose aesthetic has defied the conventions of gender both on the red carpet and in his street style, Smith most recently cultivated a relationship with Gucci's Alessandro Michele, here wearing one of his designs for a premiere of The Get Down in the Bronx, New York, August 2016.

Patrick McMullan via Getty Image
Combining his own MSFTS label with a floral, embroidered leather jacket by Gucci (a throwback to his younger days, when embellished leather was his red carpet go-to), Smith steps out with girlfriend Sarah Snyder for a Young Hollywood party hosted by Variety in Los Angeles, California, August 2016. NB: Always accessorize with a water bottle.

GC Images