The Met Gala 2020 Has Been Postponed Indefinitely
Meryl Streep will have to wait just a little longer to attend her first one.
---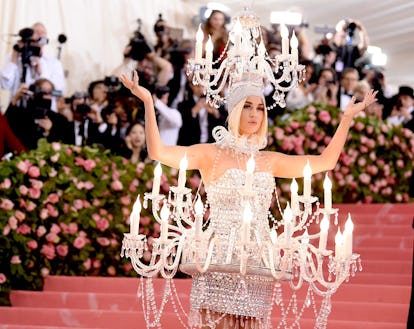 Getty Images
It looks like Meryl Streep will have to wait a while longer to attend her first Met Gala. In news that seemed all but inevitable, the 2020 edition of the ball, which was set to take place May 4, has been postponed indefinitely. The news comes less than a week after the Metropolitan Museum of Art announced that two of its staffers had come down with flu-like symptoms, and would be closing down all three of its museums—the Met Breuer, the Met Cloisters, and its main branch on Fifth Avenue—"until further notice." (As of Monday, it appears that the museum plans to reopen on April 5.)
According to a spokesperson, the Met made its decision regarding the Costume Institute's gala "in deference" to the CDC's recent recommendation against gatherings of 50 or more people for the next eight weeks amid the coronavirus outbreak. Out of caution, the museum is going a step further; all programs and events will be canceled through May 15.
The timing may have changed, but it seems that this year's Met Gala is sticking with its original theme: "About Time: Fashion and Duration." "It's a reimagining of fashion history that's fragmented, discontinuous, and heterogeneous," Andrew Bolton, the lead curator of the Costume Institute, said when making the announcement in November. On the bright side, future attendees now have more time to figure out what exactly all that means—not to mention to study up on Orlando, the 1928 Virginia Woolf novel and Sally Potter's 1992 film adaptation of it, which Bolton cited as one of his key inspirations.
Related: The 2020 Met Gala Theme Is… Time?
Met Gala 2019: See the Outrageous Looks Up Close and Personal
Kim Kardashian on the red carpet at the Met Gala in New York City on Monday, May 6th, 2019. Photograph by Amy Lombard for W Magazine.

Amy Lombard
Janelle Monae on the red carpet at the Met Gala in New York City on Monday, May 6th, 2019. Photograph by Amy Lombard for W Magazine.

Amy Lombard
Naomi Campbell on the red carpet at the Met Gala in New York City on Monday, May 6th, 2019. Photograph by Amy Lombard for W Magazine.

Amy Lombard
Julianne Moore on the red carpet at the Met Gala in New York City on Monday, May 6th, 2019. Photograph by Amy Lombard for W Magazine.

Amy Lombard
Gwen Stefani on the red carpet at the Met Gala in New York City on Monday, May 6th, 2019. Photograph by Amy Lombard for W Magazine.

Amy Lombard
Bella Hadid on the red carpet at the Met Gala in New York City on Monday, May 6th, 2019. Photograph by Amy Lombard for W Magazine.

Amy Lombard
Emma Roberts on the red carpet at the Met Gala in New York City on Monday, May 6th, 2019. Photograph by Amy Lombard for W Magazine.

Amy Lombard
Ella Balinska on the red carpet at the Met Gala in New York City on Monday, May 6th, 2019. Photograph by Amy Lombard for W Magazine.

Amy Lombard
on the red carpet at the Met Gala in New York City on Monday, May 6th, 2019. Photograph by Amy Lombard for W Magazine.

Amy Lombard
Sophie von Haselberg and Bette Midler on the red carpet at the Met Gala in New York City on Monday, May 6th, 2019. Photograph by Amy Lombard for W Magazine.

Amy Lombard
Gigi Hadid on the red carpet at the Met Gala in New York City on Monday, May 6th, 2019. Photograph by Amy Lombard for W Magazine.

Amy Lombard
Kacey Musgraves on the red carpet at the Met Gala in New York City on Monday, May 6th, 2019. Photograph by Amy Lombard for W Magazine.

Amy Lombard
Karen Elson on the red carpet at the Met Gala in New York City on Monday, May 6th, 2019. Photograph by Amy Lombard for W Magazine.

Amy Lombard
Katy Perry on the red carpet at the Met Gala in New York City on Monday, May 6th, 2019. Photograph by Amy Lombard for W Magazine.

Amy Lombard
Cole Sprouse and Lilie Reinhart on the red carpet at the Met Gala in New York City on Monday, May 6th, 2019. Photograph by Amy Lombard for W Magazine.

Amy Lombard
Elle Fanning on the red carpet at the Met Gala in New York City on Monday, May 6th, 2019. Photograph by Amy Lombard for W Magazine.

Amy Lombard
On the red carpet at the Met Gala in New York City on Monday, May 6th, 2019. Photograph by Amy Lombard for W Magazine.

Amy Lombard
Hari Nef on the red carpet at the Met Gala in New York City on Monday, May 6th, 2019. Photograph by Amy Lombard for W Magazine.

Amy Lombard
Lili Reinhart on the red carpet at the Met Gala in New York City on Monday, May 6th, 2019. Photograph by Amy Lombard for W Magazine.

Amy Lombard
Michael B. Jordan on the red carpet at the Met Gala in New York City on Monday, May 6th, 2019. Photograph by Amy Lombard for W Magazine.

Amy Lombard
Rosie Huntington Whitley on the red carpet at the Met Gala in New York City on Monday, May 6th, 2019. Photograph by Amy Lombard for W Magazine.

Amy Lombard
On the red carpet at the Met Gala in New York City on Monday, May 6th, 2019. Photograph by Amy Lombard for W Magazine.

Amy Lombard
Miley Cyrus on the red carpet at the Met Gala in New York City on Monday, May 6th, 2019. Photograph by Amy Lombard for W Magazine.

Amy Lombard
Shawn Mendes on the red carpet at the Met Gala in New York City on Monday, May 6th, 2019. Photograph by Amy Lombard for W Magazine.

Amy Lombard
Shawn Mendes on the red carpet at the Met Gala in New York City on Monday, May 6th, 2019. Photograph by Amy Lombard for W Magazine.

Amy Lombard
Jared Leto on the red carpet at the Met Gala in New York City on Monday, May 6th, 2019. Photograph by Amy Lombard for W Magazine.

Amy Lombard
On the red carpet at the Met Gala in New York City on Monday, May 6th, 2019. Photograph by Amy Lombard for W Magazine.

Amy Lombard
Anja Rubik on the red carpet at the Met Gala in New York City on Monday, May 6th, 2019. Photograph by Amy Lombard for W Magazine.

Amy Lombard
Amber Valletta on the red carpet at the Met Gala in New York City on Monday, May 6th, 2019. Photograph by Amy Lombard for W Magazine.

Amy Lombard
Cody Fern on the red carpet at the Met Gala in New York City on Monday, May 6th, 2019. Photograph by Amy Lombard for W Magazine.

Amy Lombard