The Metropolitan Museum of Art Will Charge Admissions in 2018
The 147-year-old taxpayer-funded institution is suddenly changing its policy, and the public isn't happy about it.
---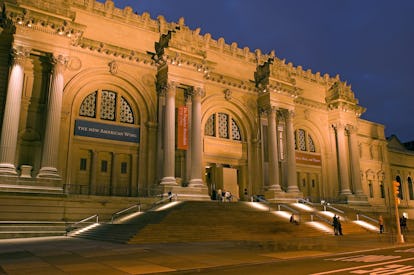 Photo: Getty Images/Rudi Von Briel
For the first time in nearly 50 years, New York's Metropolitan Museum of Art will end its pay-as-you-wish admission policy. Since 1970, visitors to the museum were asked, but not required, to pay $25 for entrance. Beginning March 1, that fee will become mandatory for some—specifically non–New York residents.
The $25 admission fee that tourists (with the exception of students from Connecticut and New Jersey) will soon be forced to pay will be the same amount paid at the door of New York's Museum of Modern Art and the Guggenheim. Unlike the Met, however, the two aforementioned institutions are not supported by taxpayers' money. The reason for the sudden policy shift is due to the fact that the number of museumgoers willing to pay the recommended amount of $25 had sharply declined over the past few years—added to the fact that the museum is still in turmoil after a period of financial turbulence and coupled with leadership woes at the very top of the institution.
The new policy will also add a slight inconvenience for New Yorkers, as the suggested donation fee will continue with one caveat: Locals will be required to show identification proving they live in the state. The news has been met with criticism from those who believe publicly funded institutions should be universally open to the public. "What we're trying to do is find the right balance in generating revenue to support this enterprise, and admissions income has fallen behind," said Daniel Weiss, the Met's president and CEO, in an interview with The New York Times. "Everybody who benefits from this institution is being asked to contribute to its well-being because we are fundamentally a community resource." (Consider that the new admissions policy will only account for two to three percent—equivalent to $6 million to $11 million each year—of the museum's annual operating budget of $300 million, though, and it begins to feel not so worth the PR nightmare it is currently causing—"why not find the money somewhere else…?" asked the Times's chief critic Roberta Smith in an opinion piece today.)
Ultimately, the Met believes there should be a small price in witnessing some of the most celebrated works of art, such as Van Gogh's Self-Portrait with a Straw Hat (1887) and Picasso's Seated Harlequin (1901), among others. "Most folks expect to pay when they attend an attraction or museum," Weiss continued in speaking with The New York Times. "When you look at the landscape of attraction pricing, the Met is an incredible value at $25."