From Bikinis to Bellinis: Highlights from Miami Swim Week
The four day-long extravaganza took over the city.
---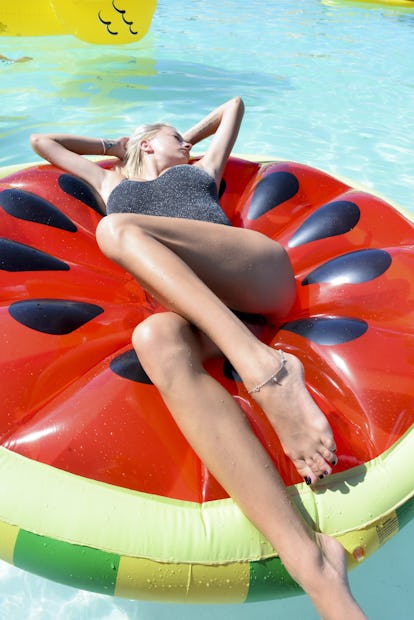 The quip that Miami is where dreams go to diet is never more apt than during the city's annual Swim Week. The four-day (and night) long celebration of sex, sun and surf (and of golden lithe bodies that bring to mind greyhounds with questionable tan lines), includes countless runway shows, presentations, pop-up shops, dueling dinners and more parties than there are drunk tourists on South Beach.
Just as there is no official umbrella venue for the actual shows (the Funkshion Sunset tent on Collins Avenue was used by several emerging designers), events are scattered over South Beach and Brickell, the burgeoning area in Downtown Miami.
Fledgling LA-based brand Lee+Lani effectively kicked off the festivities on Thursday with a standing-room-only fete at table-service Euro haunt Bagatelle. Elsewhere, venues like the 1 Rooftop, Hyde at SLS and The Basement at the Edition battled for the attention of P. Diddy, Jamie Foxx, Scott Disick, rapper Zoey Dollaz, Hannah Bronfman, French Montana and a host of other bafflingly ubiquitous celebutantes who were in town for the weekend.
From Bikinis to Bellinis: Highlights from Miami Swim Week
Rick Ross at the Beach Bunny Swimwear after party at SoBe club Rockwell.
From the Beach Bunny Swimwear after party at SoBe club Rockwell.
Rodrigo Aldorino and friends at the Beach Bunny Swimwear after party at SoBe club Rockwell.
Dos Gardenias presentation at The Standard.
Araks Yeramyan and Anna Laub.
Thaddeus O'Neil at The Standard Hotel.
Emilio Estefan, Belkys Nerey, Gloria Estefan, and Lisa Petrillo at the Ondademar cocktail party.
Juan Carvajal and Juana Espinal of OndadeMar.
Daniela Botero and Camilla Franks.
Roxy Ruiz Roca and Ali Nugent at the Ford Models Miami Swim Party.
Mara Hoffman gets a tarot reading.
Mia Moretti and Mara Hoffman.
Later that night, French soccer stars Paul Pogba and Romelu Lukaku were kicking it at the after party for Beach Bunny Swimwear at SoBe club Rockwell, with a champagne parade including a French flag delivered to their table. (Miami's DJ Irie was also in attendance, at one point grabbing the mic to emcee before rap legend Rick Ross performed for 30 minutes.)
The following day, Rosie Ward Densen and Alicia Whillas of Ward Whillas went for the outdoor route with a divine little Gilligan's Island-like set-up in the sandbox out back of the Miami Edition hotel. Unfortunately, minutes after it began an uncooperative afternoon thunderstorm put a dampener on the event, which had to be moved inside; ditto the poolside presentation at Freehand for nascent NYC label Chromat. Over at Faena Hotel, designer Camilla Franks sat out the rain in a penthouse she had commandeered for the week and showed her gypset print collection to a host of beautiful people consisting mainly of bilingual bloggers and social media mavens.
By early evening the sun had come out as had the city's party faithful. Standout events on Saturday night included the OndadeMar cocktail party and runway show at the sprawling new East hotel in Brickell, and the raucous bash at Soho Beach House to celebrate the 70th anniversary of the Ford modeling agency and the bikini. (Who knew?) On hand was a full house of suitably half naked models, including local stars Soa Denise, Aubree Rivera and Candice Franqui, and the men who love them.
On Sunday, Mara Hoffman eschewed her usual runway spectacular in favor of an intimate poolside BBQ and party at The Standard Hotel where the mediagenic designer tirelessly mugged for photos before receiving a poolside tarot reading. (The hotel also staged chic, little events for PRISM by Anna Laub, Orlebar Brown, L.A.-based Dos Gardenias, and Thaddeus O'Neil over the weekend.)
There were definitely some questionable moments during the week—an event with non-Native American models wearing Indian headdresses on the runway, a "beach to bar" collaboration with Jose Cuervo, and The Fat Jewish wearing only a Speedo at the Edition springs to mind—but the unabashed glamour and dazzle that Swim Week brings to Miami makes the place anything but a basic beach.
Watch W's most popular videos here: