Ambra Medda's Top 10 Miami Must-Sees
The creative consultant and cofounder of Design Miami offers her guide for visiting aesthetes.
---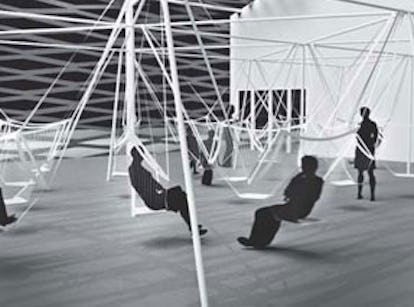 1. Konstantin Grcic's Netscape The Munich-based Grcic—whose disciplined, architectural, and boundary-expanding approach to industrial design continues to set his work apart—will be honored as designer of the year at Design Miami, which runs December 1 to 5. To mark the occasion, Grcic has created Netscape, an outdoor installation of hammock-like seats made from polypropylene netting. Suspended at the fair's entrance, they provide prime people-watching opportunities.
2. Les Lalanne at Fairchild Whimsical art by Claude and François-Xavier Lalanne will be on view at the Fairchild Tropical Botanic Garden (November 30 to May 31, 2011). Set among some of the rarest plants in the world will be more than 20 sculptures, including works never before publicly exhibited in the U.S.
3. Jim Drain's Small Reprieve Drain collaborated with students from Miami's Design Architecture Senior High to transform a vacant lot in the Design District into a public artwork. By wrapping the perimeter fence in a vinyl scrim, he evokes majestic stained glass. Head to the corner of N.E. 41st Street and N.E. First Avenue to take a look.
4. Soho Beach House This new club, on the site of the historic Sovereign Hotel in Miami Beach, has an amazing view of the water and is sure to be the next cool hangout in town.
5. Stiltsville A collection of wooden houses a mile out in Biscayne Bay, these structures stand on concrete pilings 10 feet above the water and were built beginning in the Thirties. The area is reachable only by boat but is worth the trip.
6. Frank Gehry's New World Symphony Building The arrival of this starchitect-designed music hall, set to open on January 25, cements Miami's status as a 21st-century cultural destination.
7. Historic Miami Beach The Art Deco area in South Beach is chockablock with great little architectural gems from Miami's heyday. I particularly like Meridian Avenue, which abuts Flamingo Park and is lined with big, beautiful trees.
8. The Wolfsonian Museum With a focus on decorative arts, material culture, and design, the Wolfsonian stages thought-provoking exhibitions throughout the year. Check out "Seduce Me," a video installation by Isabella Rossellini, Andy Byers, and Rick Gilbert, on view December 1 to 5 in the lobby and auditorium; or just sip coffee and read in the excellent museum shop–café.
9. Royere at Patrick Seguin Designed by India Mahdavi, dealer Patrick Seguin's booth at this year's Design Miami will feature the work of the legendary Jean Royère. My favorites include a to-die-for 1949 sofa set with two armchairs and a 1939 iron and marble table.
10. 1111 Lincoln Road This traffic-stopping Herzog & de Meuron structure, which debuted this past spring, is definitely the most glamorous parking facility ever. The boutique on the fifth floor, Alchemist, is a glass-and-mirror jewel box that carries brands like Rick Owens and Chrome Hearts.
Rubell: Jason Schmidt; All others: Greg Clark