A Miami Vice Reboot Is in the Works (So Break Out Your Vintage Versace)
Vin Diesel is rebooting the iconic TV series.
---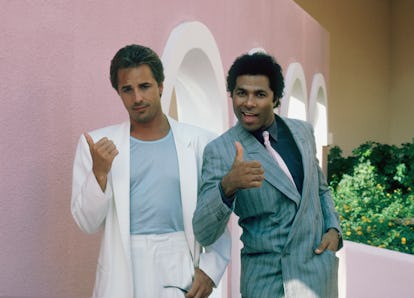 NBC
Can you feel it coming in the air tonight? (Oh lord). Vin Diesel certainly can (oh lord). The action star is reportedly spearheading a reboot of Miami Vice, the iconic '80s drama that foretold our era of prestige television, turned South Beach into an international destination, helped push songs to gold record status, and minted Gianni Versace as a household name fashion designer in America. NBC, the home of the original program until 1989, will host the proposed new series.
Though the series aired for a relatively short run of just five seasons, its visual influence continues to have staying power. The show centered on two vice squad detectives who roamed Miami-Dade County in Italian sports cats while battling everything from drug runners to terrorists all while dressed in signature, loose-fitting pastel suits — often design by Versace — that have become almost a visual shorthand for '80s menswear style in general. Episodes often featured some of the biggest hit songs of the day, and while executive director Michael Mann never directed an episode himself he managed to imbue his signature aesthetic on the show. It marked one of the first times a film auteur so successfully translated his style to series television, something that is increasingly common today.
The show also turned South Beach — once a chintzy retirement community that had fallen into crime-ridden disrepute at the time — into a jet set hotspot that attracted movie stars, models and fashion designers during its '90s heyday.
Which is all to say, that any reboot has a lot to live up to.
Yet, Diesel is ready for the challenge. The Hollywood Reporter helpfully points out that it was the actor "who came up with the idea to revive Miami Vice and made a personal appeal to NBC Entertainment president Jennifer Salke."
He'll have some help though in the form of The Fast and the Furious producer Chris Morgan and former Fox executive Shana Waterman. Peter Macmanus, who has credits on shows like Satisfaction and The Mist, will write the pilot. Missing from the team, so far, is the presence of a director, which might come in hand for a franchise that relies so strongly on visuals.
It's still early in the process, however, and the show is being developed for a debut during the 2018-19 season. It should be noted as well that Diesel appears to have no plans to star in the show.
It is also not the first time someone has tried to revive Miami Vice. Mann himself attempted to reboot the series as film in 2006 with stars Colin Farrell and Jamie Foxx. It was neither a total disaster nor an unheralded success by both critical and commercial measures at the time, but it has since earned a cult appreciation among film geeks. As way of example, Harmony Korine was heavily inspired by the film when he made Spring Breakers.
Here's hoping the new series finds a director to influence the visuals (has Diesel thought of giving Korine a call?), some signature songs for the soundtrack, and maybe a young up-and-coming fashion designer it can help turn into an icon.
In any event, it is good that they're remaking Miami Vice when they can. South Beach is one of America's most vulnerable to climate change towns and was left flooded yesterday after a bit of rain.
Related: Penélope Cruz Will Play Donatella Versace in the Newest American Crime Story
See What's Trending in W Video: