Micaela Erlanger Loves Celine Sneakers, Loathes Mermaid Gowns
The stylist shares her style notes—and red carpet tips—just in time for awards season.
---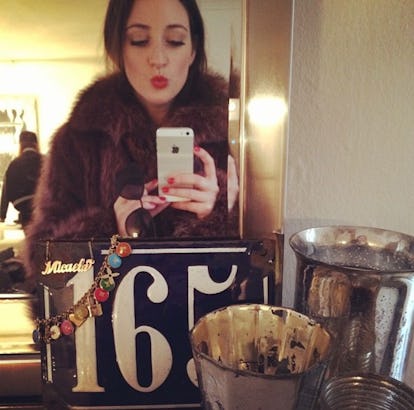 Micaela Erlanger is responsible for some of the most memorable red carpet looks in recent years. Who could forget Lupita Nyong'o in that red Ralph Lauren gown at the 2014 Golden Globe awards? Erlanger was recently named the third most powerful stylist by the Hollywood Reporter and became the brand ambassador for Maidenform. Here, a rundown of her fashion philosophy.
Define your style in three words: Elegant, modern, playful
Daily uniform: Leather leggings, sneakers, a cozy sweater, gold jewelry, red nails. I keep it simple and functional, yet still stylish.
Preferred footwear: Chanel ballet flats or my Céline sneakers.
Finishing touches: Currently in love with my new fur hat from Yves Solomon—it adds just the right kind of cozy luxe glamour to any look. My favorite accessories always include my gold jewelry, my Calvin Klein box clutch, red nails, and a red lip.
Nighttime look: I love dresses—normally, I go for A-line shapes and killer heels.
Best recent discovery: Fabulous Fanny's in the East Village of NYC has the most amazing selection of vintage eyeglass frames—I just bought three pairs.
Favorite stores: I love Aedes de Venustas, it is this little perfumery tucked away in the West Village, and they have the most incredible and evocative scents.
Style pet peeve: Mermaid gowns and ill-fitting undergarments.
Style icons: Elizabeth Taylor, Brigitte Bardot, Steven Tyler, and Bianca Jagger.
Last purchase: A bar cart, a record player, and a photograph of Elizabeth Taylor's garbage by Rostain and Mouron.
Lusting after: These Hollywood Regency lucite chandeliers I found on eBay… must have.
Favorite haunts: When I'm in L.A., you can find me at Cafe Gratitude. When I'm in New York, I'm sitting at the back corner table at Buvette.
Best red carpet tip: Wear things that make you FEEL good.
Best red carpet accessory: A smile.
What's always in your bag during awards season: An extra cell phone charger, notebook, and my driver on speed dial.
Favorite red carpet look of all time: It's impossible to choose, but I would have to say Lupita Nyong'o in the Ralph Lauren caped gown. It was a powerful and iconic moment.
Photos: Micaela Erlanger Loves Celine Sneakers, Loathes Mermaid Gowns
Erlanger with a few of her favorite accessories. Courtesy of the stylist.
Lupita Nyong'o in Ralph Lauren at the 2014 Golden Globes. Courtesy of Micaela Erlanger.
Erlanger wearing her Yves Solomon fur hat. Courtesy of the stylist.
Aedes de Venustas. Courtesy of Micaela Erlanger.
The stylist at work. Courtesy of Micaela Erlanger.