Chow Wow Wow
Led by collector-restaurateur (and now artist) Michael and his formidable wife, Eva, the Chow family inhabits the intersection of art, fashion, and celebrity. Horacio Silva explains why the stylish clan is more relevant than ever.
---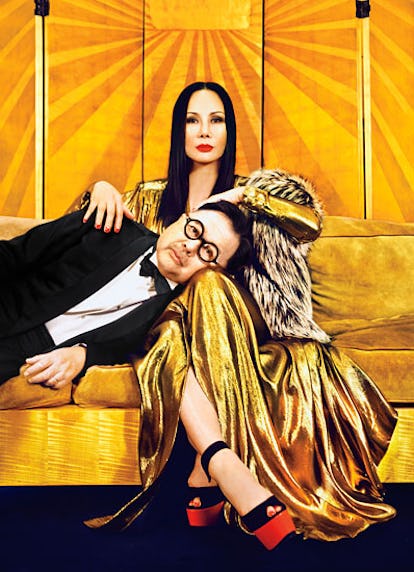 There was no shortage of dazzling personalities at the recent Los Angeles County Museum of Art (LACMA) Art + Film Gala honoring Ed Ruscha and Stanley Kubrick. In only its second year, the event, which was held in late October and raised more than $3.5 million, attracted an almost blinding galaxy of stars from the worlds of art, entertainment, fashion, and business. Artists John Baldessari, Doug Aitken, and Barbara Kruger rubbed shoulder pads with Hollywood heavy hitters Jack Nicholson, Steven Spielberg, and Tom Hanks. Long-standing luminaries Jennifer Aniston and Drew Barrymore shared the spotlight with heavenly young bodies like Victoria's Secret model Rosie Huntington-Whiteley and Twilight leading man Robert Pattinson. It was the kind of evening where no one would have been surprised to hear Leonard Nimoy broker an introduction between the artist Catherine Opie and Korean YouTube sensation Psy.
But even amid the celebrity wattage, the glittering Chow family—its impish paterfamilias, Michael; his Gucci-clad wife, Eva, who cochaired the evening with Leonardo DiCaprio; and the Chows' combined offspring, China, Maximillian, and Asia—stood out like one of Angelina Jolie's legs on the Oscar red carpet. And not just because at one point in the night Michael, dressed in a natty black corduroy tuxedo, started imitating his friend Mick Jagger's moves.
A 2012 portrait of China Chow by Richard Phillips.
Eva Chow led a merry dance throughout the night, owning the floor in a dizzying social waltz with the deep-pocketed potentates, starlets, and artists who inhabit her speed-dial orbit. (DiCaprio, Barrymore, and Sean Penn are among the A-listers for whom Eva serves as a godmother of sorts.) Judging from her deft ability to work the room, Eva is the reason the Chow family is more current than ever in the art and entertainment axis, why so many funds are pouring into LACMA, and why there are so many new Asian faces at their events.
A formidable perfumed steamroller of a woman with a producer's gift for making things happen, Eva is the ideal social and business complement to Michael—an imperturbable source of calm in designer heels. Quips friend Mickey Rourke: "She is unflappable. They should change the restaurant's name to Mrs. Chow." (In addition to the new Mr. Chow, opening in Malibu this month, there are, in fact, plans to eventually launch a Mrs. Chow bakery.)
"The Chows are unique," said Michael Govan, the chief executive of LACMA, who had the idea to create an annual fundraiser for the museum to bring together the often bifurcated universes of film and art. "They are extremely worldly, and not because he is Chinese and she is Korean and they live in Los Angeles and travel a lot. They themselves are creative and move seamlessly between the business and creative worlds—food, art, fashion, and film—in a way that's very rare, particularly for Los Angeles."
Michael Chow with then wife Grace Coddington, 1969.
MICHAEL CHOW HAS been playing with the markers of art and commerce since he hung out the shingle on the first Mr. Chow restaurant, in London in 1968. From the time it opened, the chic Knightsbridge eatery—and the subsequent outposts in Los Angeles, New York, Las Vegas, and Miami—has become the last word in scene cuisine: the champagne-fueled place for the bon ton to go for a wonton. Presciently anticipating the convergence of the culture and lifestyle industries, Michael hitched his wagon to the fashion and art worlds from the outset. (His first wife, Grace Coddington, a top model in the '60s who is now the creative director of Vogue, no doubt made entrées into the fashion milieu a little easier.)
In the tortuous decade prior to opening Mr. Chow, Michael left architecture school to train as a painter. He wound up at the swinging Robert ­Fraser Gallery in Grosvenor Square, a beau monde salon of sorts where the debonair blade, who by then was sporting shoulder-length hair and Yves Saint Laurent suits, met the leading artists of the day, like Peter Blake, Allen Jones, Jim Dine, Patrick Caulfield, Paul Huxley, and Clive Barker—many of whom swapped art for a generous tab at Mr. Chow.
As a result, the paintings on the walls (and the artists who dined there) became as much of a draw as the restaurant's storied Beijing Duck. Michael is wont to remind people that every major artist has signed his guest book, which is also full of drawings by a slew of luminaries including Andy ­Warhol, Francesco Clemente, Francis Bacon, and Jasper Johns—"everyone except Picasso," he says. A proto-meta-celebrity for the pre-Internet age, Michael Chow became famous for being famous among the famous.
"In some ways, my father has been very lucky," says his eldest daughter, China, 38. "He is incredibly hardworking, has a great eye, and has mastered the art of running a restaurant down to the tiniest detail. But he also has a knack for popping up in the right places at the right time—London in the '60s and '70s, when that city was the cultural center of the world; New York and L.A. during the art and showbiz booms there. It's uncanny."
MICHAEL CHOW OPENS the imposing wooden front doors to his mansion in Holmby Hills, a discreet enclave in Los Angeles nestled between Beverly Hills and Bel-Air. The affable lord of the manor greets me not in his signature dapper threads (his suits are all custom-made by Hermès) but in ­knee-length shorts, long black socks, and a T-shirt; his paint-splattered moccasins bring to mind the Jackson Pollock–esque men's runway offerings of recent seasons.
From top: Michael and Tina with daughter China on vacation in Hawaii, 1970s; Nick Rhodes, Tina Chow, and Andy Warhol at Warhol's 58th birthday, 1985.
They're not. After having effectively put down the paintbrushes when he launched his first restaurant, Michael has begun painting again in earnest. Though initially reticent to discuss the matter, he later shows me the large sculptural canvases he has been working on (in parts painted with sheets of silver for added texture) and reveals that he is contemplating an exhibition. ("I don't know how much he is letting on, but he has been so invested in his painting and is working really hard, like, well into the night," says his youngest daughter, 18-year-old Asia.)
We retire to his ground-floor library, a Macassar ebony–lined tribute to Emile-Jacques Ruhlmann, the French master of Art Deco design, to whom he often refers as his god. Michael, who has designed all of his restaurants, as well as outside commissions like the Armani boutique on L.A.'s Rodeo Drive, says that from the time he was an art student, he has admired Ruhlmann. Michael rejected the reigning Bauhaus orthodoxy, which dismissed Art Deco as dated display and ostentation. "Ruhlmann, to me," he says, fidgeting with a pen, "is the finishing of Versailles, so to speak: the culmination of the great 18th-century tradition of decorative arts, architecture, and furniture."
Michael certainly appears to have taken to heart the sayings of his idol (a voluptuary if ever there was one), especially the tenet that there is no luxury without fantasy. On one wall of the aristo-looking library stands a fireplace sourced from a Scottish castle; above it hangs an Ed Ruscha painting from 1973 titled Mr. Chow L.A. and rendered in organic substances like egg yolk and soy paste. Behind two handsome desks is a commanding 16th-century Belgian tapestry depicting David going to battle against Goliath. "What can I say? I take collecting very seriously, and I am very obsessive," he offers flatly.
True to his word, his obsession extends to religiously amassing everything from prestige cars to door hinges, Lloyd Wright–designed houses to ice buckets. An asthmatic since childhood, he is also threatening to start collecting wheezy friends like Martin Scorsese, with the view to forming an asthma club. "I collect the lot, including the greatest Ruhlmann collection of all time—of all time…I sound like Muhammad Ali, right? King complex, you know. Doesn't mean I'm a bad person."
A cineast with an impressive below-ground screening room, Michael has a Socratic memory when it comes to recalling opening scenes from movies. "Name me a film," he taunts me, "and I'll tell you the opening shot." Modesty Blaise, by Joseph Losey, I suggest, after he rejects Chinatown for being too easy. "Modesty Blaise?" he asks incredulously. "Also too easy. Opening scene is of me!"
The party scene at Mr. Chow's in the '80s.
Though he is an inveterate prankster (Maximillian remembers his father once stumping British Prime Minister Tony Blair at a party by asking him, "So, Tony, what is it you do?"), Michael is not cracking wise this time. Over the years, he has appeared in numerous movies, usually as a walk-on, including as the Asian butler in Modesty Blaise and a turn as himself in the Julian Schnabel–directed Basquiat. Tellingly, the only concession to kitsch in his library is a novelty director's chair with his name printed on the back—a gift from China.
If Michael has his way, he may well be putting the director's chair to use. Earlier this year, he finally completed a script for a hard-boiled-genre movie, tentatively called Pulse—a labor of cinematic love he also plans to direct. "I think it's in a good place," he says. "It's a classic noir film with European sensibilities and—I know it's a dirty word—a 'message.' It's a thriller about racism."
The conversation inevitably turns to Voice for My Father, the autobiographical script he completed two years ago with the help of Maximillian, 34. In the deeply personal and moving story, Michael, who was born in Shanghai in 1939, ruminates on his Chinese ancestry and the vicissitudes of fortune that resulted from being the son of arguably the most famous man in China at the time.
Michael's father, Zhou Xin Fang, whom he credits with his creative drive, was a highborn Chinese national treasure and a famed star of Shanghai's Peking Opera Theatre who went by the stage name Qi Li Tong (Unicorn Child). His mother, Lillian, was the daughter of a Scottish tea merchant who scandalized Chinese society when she ran off with the older, married performer. When government forces began to clamp down on Unicorn Child's increasingly nationalistic performances, Michael's parents sent him off to Wenlock Edge, a boarding school in England, when he was 13. He never saw his father again; his mother visited him once in England.
"I wish I could say I went kicking and screaming," Michael says of being banished to a school that he has described as Harry Potter without the magic. "But I was too dumb to do that. Basically, my mother wanted me to get out of there, period." (One of his sisters, Tsai Chin, a former Bond Girl who appears in You Only Live Twice, was also hurried off, to Europe.)
Of his parents, Michael says: "Terrible, terrible things happened to them. They were basically the first to be purged in the Cultural Revolution, but I didn't find out about their deaths till much later." His life, he says, has been an attempt to reconcile his love for them and their fate with his extant love of China, which he visits occasionally. "It sounds corny, but everything I do is to make China great to the West. But, of course, I have mixed feelings about my homeland because there are some things I can never forget."
It's time for Michael to get back to his painting, but before he does, he admits that he has lost hope of ever making Voice for My Father. "Too political, too sensitive," he says. Besides, having honored his past, it's time to celebrate the present. "Now is a very exciting time for my family. We have a great foundation here, and all of us are very fortunate to be able to work in a creative field—whether it's music, art, food, or whatever."
IN THE SCRIPT THAT IS MICHAEL CHOW'S LIFE, the part of the narrative arc that can't be excised is the 1992 death from AIDS of his second wife, Tina Chow, the mother of China and Maximillian.
Tina was an internationally renowned beauty, businesswoman, collector, jeweler, and a member of the International Best-Dressed Hall of Fame. Her incomparable style, at once devil-may-care and considered, was a magpie mix of androgyny, high fashion, and Eastern touches that inspired designers and photographers alike. Karl Lagerfeld credits Tina with having ushered in minimal chic, and Kate Moss has said that Tina Chow is her style icon.
Even before they married—in London in 1973, where they lived in an envy-inducing double townhouse with an indoor swimming pool—­Michael and Tina were the Brangelina of their day. The media valentines to them continued when, accompanied by their two young children (5-year-old China and baby Maximillian, who had been born the year before), the Chows moved to New York in 1979 to open Mr. Chow on 57th Street. The family lived above the restaurant, which quickly gained a reputation as a hedonistic den where the tables were reserved but the company wasn't. And with Michael becoming increasingly reclusive and focused on his Art Deco collection, Tina was front and center at the restaurant—a position she would maintain until the couple began to drift apart, in the mid '80s. They eventually divorced in 1989.
UNLESS THE CHOW FAMILY movie were to be made by Disney, it's unrealistic to think that no growing pains would be part of the plot—­particularly, one assumes, when Michael marries the fashion designer Eva Chun in 1992 and she inherits two teenagers. But if tensions within the family exist now, you wouldn't know it from talking to the Chows, who, to an outsider, scan as a creative and unexpectedly functional family. "I'd say we're about as functional as any family," China says, in early October, when we meet in the Marlborough gallery in New York. "We're all fiercely protective of one another and are very old-fashioned that way. You have to remember there is a lot of tragedy in our past. It's made a huge impact on who we are."
China is talking in between takes at a fashion-and-art shoot she's styling for Pop magazine starring supermodel Liya Kebede. The location she has chosen is an immersive installation by her artist friends Justin Lowe and Jonah Freeman that features a complex warren of surreal interconnected rooms, which are due to be dismantled the following day. Time is of the essence, and she routinely screams out to the photographer in her mouselike voice, "Francesco, I need you now!" Despite the uncomfortable deadline she set for herself, China, a judge on the stalled reality-TV show Work of Art, insists she really enjoys doing magazine work, particularly when the job intersects with fashion and art.
It's almost too neat a theory, given China's fashion pedigree and her lifelong exposure to art. She remembers sitting on the floor as a child, coloring in elephants with Jean-Michel Basquiat: "It seemed perfectly normal to me and Max. The thing about Jean-Michel is that he was very comfortable with children, possibly more than he was with adults—and we obviously had no idea of his celebrity. He was just a friend."
That easy peace with her privileged childhood is shared by her brother, Maximillian, the least visible member of the family—which he likes to joke is the key to his happiness. An avid photographer, writer, and foodie who helps run the restaurants under his father's aegis, Maximillian recalls living above Mr. Chow in New York. He says that although he and China were not allowed to look down on the restaurant from the top of the spiral staircase that led to their apartment, they found a way to ogle the crowd below. "My dad was one of the first people to have a video camera in a restaurant," he says. "It was set up like a Bond-villain camera that you could control with a joystick. So I would sit up there and mess around and pretend I was launching missiles at people. Every once in a while, I'd pan across, and my father would be looking directly at the camera. You knew then that it was time to go to bed." The trick, adds China, was "to move the camera ever so slowly, so he couldn't hear it."
Despite the fact that Maximillian shares his dad's passion for cinema, he says that the collaboration on the Voice for My Father script will most likely be their last. "We have figured out that working creatively together is probably not the best idea," he says, with what sounds like diplomatic understatement. "We butt heads a little too much. When it comes to art or film, it's difficult for us to back down from each other. It's the same with jokes at dinner: Neither one of us will ever laugh at the other one's joke. We sit there stone-faced."
EVA CHOW IS RECLINING on a Pierre Chareau sofa in the family's gold-leaf-paneled living room, which is dominated by a towering John Chamberlain sculpture that all but reaches the 28-foot-high ceiling. Works by Sir Peter Blake and a Roy Lichtenstein interpretation of Monet's Haystack share pride of place above the mantel.
The LACMA gala that has consumed Eva's life the past few months is only weeks away, but if she is stressed, she masks it well. A former designer with a successful namesake label in New York that she shuttered after the birth of Asia, in 1994, Eva looks the picture of comfort in an inky Lanvin peplum top, tapered black jeans, and ballet slippers—an image that brings to mind a comment her good friend Alber Elbaz, the Lanvin designer, made about her fashion sense never seeming de trop.
Not that clothes stand much of a chance of imposing their will on the most protective, take-charge member of the Chow family. "Eva always makes you feel like she is in control—like the restaurant or the car or whatever it is you need is being taken care of," Elbaz says. He also knows the other side to someone who is so fiercely solicitous. He recalls with laughter an incident a few months ago when he asked Asia to model for the Lanvin show in Paris: "I thought I had reserved the most beautiful dress in the collection for Asia to wear, but Eva had different ideas and she made me change it."
According to the Tao of Mrs. Chow, there's no point doing your head in over little complications that arise (if you could call trying to coordinate Leonardo DiCaprio and Ed Ruscha's schedules a small matter). "What's the point?" Eva asks, redundantly. I put it to her that her existence would appear to be one long war between the sublime and the mundane.
"Well, I've always led my life in a creative way," explains Eva, a former child-protégée painter in her native Korea, which she left at age 17. "When I moved to California, I worked in film; then I became a fashion designer in New York. And I think whatever is inside of us creatively always comes through in whatever we do, whether it's throwing a gala or a small gathering, making floral arrangements, or running a house this size or even a ­restaurant. I really think it's in the heart."
It certainly would also appear to be in the genes. Asia, who recently moved to New York to study at Columbia University, is as scarily talented, grounded, and socially agile as anyone her age has a right to be. At a dinner not long ago at Mr. Chow's downtown branch in TriBeCa, the youngest member of the Chow clan, who had recently sat for Julian Schnabel, introduced her new college suitemates to her naturally inquisitive parents. In the middle of the meal, Katie Holmes, who was in the restaurant, dropped by the table to say hello to the Chows. While the starstruck students picked their jaws up off the ground, Asia smiled at the actress, then continued to serve her friends food, as is the Chinese custom.
A budding musician, Asia has performed in front of half the industrial entertainment complex at the family home, sung along with Stevie Wonder at the dinner table, and interned for George Harrison's son, Dhani, the lead singer of the band Thenewno2. "Dhani calls me his Padawan," says Asia, referring to the Jedi apprentice in Star Wars. "I'll take that."
AT THE IMPROMPTU PARTY chez Chow after the LACMA gala—a late-night get-together ostensibly held for friends of the Chows who were visiting from South Korea—Asia humored her mother and agreed to sing for a room that had grown to include family friends like Hedi Slimane, Cameron Diaz, Sean Penn, and Robert Pattinson, among others.
Michael and Eva—both in person and as rendered in herculean-size portraits by Basquiat and Schnabel, respectively—loomed large. So too did the specter of Asia's opening acts: the actress Evan Rachel Wood, who had also performed a few torch songs at the beginning of the LACMA gala, and the singer Florence Welch, whose band Florence + the Machine headlined the event. Seemingly undaunted, Asia sat down, briefly tuned her guitar, and proceeded to sing two Bob Dylan songs, including a hauntingly beautiful version of "Mama, You've Been on My Mind," which she later revealed she had learned only a few days earlier. Mama and Papa Chow were beaming.
Around 3:30 a.m., after the black-tie crowd appeared sufficiently primed to continue partying unattended ("You guys all know where the guest house is?" Eva asked) and after Kristen Stewart arrived dressed in jeans and a T-shirt to pick up her on-again beau, Michael and Eva, who had not eaten all day, decided it was time for them to go to a late-night Korean tofu place they had been meaning to try.
Michael rallied his brood, and the Chows made a subtle retreat, leaving the revelers to their own devices. An artful exit in the movie that is their life.
Art Basel Miami Dispatch: Day One
Eva Chow wears Adrienne Landau fox-fur collar; Kenneth Jay Lane cuff; and her own vintage Yves Saint Laurent dress and Céline shoes. Michael Chow wears his own clothes.

Photographer: Erik Madigan Heck
Asia Chow wears Diane von Furstenberg cotton jumpsuit. Kentshire, New York necklace; Giuseppe Zanotti Design sandals. Maximillian Chow wears Tom Ford wool and silk tuxedo, cotton shirt, bow tie, and shoes. Eva Chow wears Vivienne Westwood silk taffeta dress. Michael Chow wears his own clothes. China Chow wears Tom Ford silk dress. Roger Vivier sandals.

Photographer: Erik Madigan Heck
Michael Chow poses underneath an artwork he recently made, wearing his own clothes.

Styled by Patrick Mackie. Hair by Laini Reeves for Nahona Products at Tracey Mattingly; makeup by Ashleigh Louer at the Magnet Agency; manicures by Lisa Jachno for Sephora by OPI at Aim Artists.

Photography assistant: Jeff Brown. Digital capture: Versatile Studios. Fashion assistant: Jennifer Austin

Photographer: Erik Madigan Heck
Chow, Coddington: Bryan Jobson/Rex Usa; Rhodes, Chow, Warhol: Getty Images; Phillips Portrait: courtesy of Richard Phillips Studio and Gagosian Gallery; all others courtesy of China Chow