W Movie Club: Michael Clayton Getting Married
Michael Clayton, Rachel Getting Married, First Wives Club, and more of W's picks of what to watch this week.
---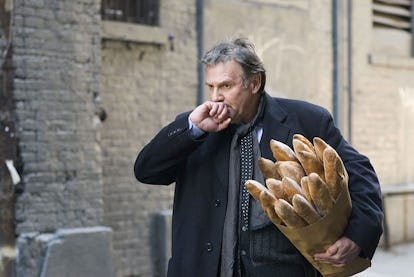 Welcome to the W Movie Club, a new series in which W magazine's editors pick five films they'd recommend you watch while in quarantine. This week, staff writer Stephanie Eckardt chooses her go-to's, some of which are downers (but worth it).
Michael Clayton (2007)
George Clooney is the least best part of Michael Clayton. That should give you an idea of how satisfying—and perhaps even perfect—this movie is. Written and directed by top screenwriter Tom Gilroy, the film stars Clooney in the titular role of a highly esteemed fixer. "I'm not a miracle worker; I'm a janitor," he quips of his gig doing the dirty work for a major law firm. In this case, the dirty work is getting a litigator-turned-whistleblower named Arthur Edens under control—a job made all the more difficult when Edens (Tom Wilkinson) suffers a mental breakdown. (Trust me: You'll never forget the image of Wilkinson skittishly going about his business while toting a paper bag full of more than a dozen baguettes.)
Oh, and there's also Tilda Swinton. A diehard corporate villain, her one and only goal is to stop a class-action lawsuit from holding a chemical company accountable for poisoning scores of people. Like Wilkinson, Swinton has her unforgettable moments—at one point, she hides in a bathroom stall to sniff her armpits, sweating profusely from stress. The role won her a Best Supporting Actress nomination. If that isn't enough to convince you to watch, know that the film's total number of Oscar nods was seven.
BlacKkKlansman (2018)
In hindsight, I would not have watched BlacKkKlansman for the first time while on an airplane. I also would not have watched it seated next to an astute journalist I'd just spent several days with on a press trip, because by the end of it, I was in full-on tears. This 2018 Spike Lee joint closes out with a horror show of real-life footage from the 2017 white supremacist rally in Charlottesville—a car running over Heather Heyer, Trump blaming "both sides," and the Klan's "grand wizard" giving a speech. You don't have to suffer through it; the film hits hard enough on its own. And on a lighter note, it's what finally got me to stop thinking of Adam Driver as real-life Adam from Girls.
Can You Ever Forgive Me? (2018)
Please join me and W's associate digital editor, Brooke Marine, on our quest to correct society's oversight of this Melissa McCarthy performance. Would Can You Ever Forgive Me? have gotten more buzz if it starred Julianne Moore in a fat suit, as originally planned? Yes. But it would have been memorable for all the wrong reasons. This movie is heartbreaking, and all the more so because the suffering of McCarthy's Lee Israel—a celebrity biographer with a talent for forging letters "written" by famous Dorothy Parker types—reflects the actual life of Lee Israel. This movie sounds like a downer, and it is. But it's also deeply, darkly funny, thanks in large part to the little devil on Israel's already slumped shoulder: another drunken queer outsider, played by Richard E. Grant. Both he and McCarthy were nominated for Oscars; they deserved to win.
Rachel Getting Married (2008)
As you can probably tell, I'm a sucker for a depressed woman. In Rachel Getting Married—another dark argument against typecasting—Anne Hathaway subverts her usual theater-kid energy into a tornado of self-loathing, addiction, dry humor, and grief. The actress even developed a handwriting style to play Kym, who never writes on-screen. Perhaps because she's too busy causing mayhem, which begins the moment she leaves rehab to attend the titular wedding. (Rachel is Kym's sister, played by Rosemarie DeWitt.) Weddings tend to mix hilarity and sadness, which is why they make such good cinematic fodder. That's especially true here. Stream it for free, and thank the lord this family isn't stuck together in quarantine.
The First Wives Club (1996)
At my mother's urging, I'm including a lighter option: the Goldie Hawn, Diane Keaton, and Bette Midler triple threat that is The First Wives Club. On-screen, the trio only has one thing in common: They're all unhappy wives. At least, until the moment they all toss their wedding bands into flutes of champagne, and toast to becoming recent divorcées. The quest for sabotage that follows is pure fun. The cast, with Maggie Smith, Sarah Jessica Parker, Marcia Gay Harden, Victor Garber, Gloria Steinem, and even Ed Koch, sweetens the deal that much more.
Related: The Best Movies to Stream For Free