Michael Kors' Front Row Was Stacked with the Next Generation of Hollywood Scions
With vintage supermodels like Carolyn Murphy and Amber Valletta on the runway and fresh-faced scions in the front row, Michael Kors is catering to the next generation.
---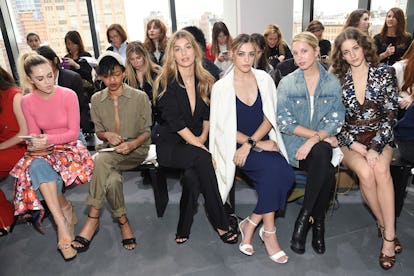 Jamie McCarthy/Getty Images
Though fashion week can stress out even the most seasoned models and front-row stars, Sistine Stallone was just getting started when she arrived at Michael Kors Collection one chilly Wednesday morning, the second-last day of New York Fashion Week. It was her first outing during the Fall 2017 shows, and she was drinking it all in.
A relative newcomer, Stallone shared front-row real estate with fellow Hollywood and music-industry scions like Rose Gilroy, the daughter of Rene Russo; Selah Marley, the daughter of Lauryn Hill; Laura Love, the daughter of fashion editor Lisa Love; Delilah Belle Hamlin, the daughter of Mad Men actor Harry Hamlin; and Alexandra Richards— Keith's daughter— though she came with mom Patti Hansen in tow. Though they don't quite match the social media reach of the Hollywood offspring crowd that walked the runway at Dolce & Gabbana—with its collective 15 million followers—Kors wasn't lacking for Instagram capital; Hamlin and Stallone approach 600,000 followers between them.
But if Stallone had the front her way? "My crew," she said. "I think Kate Moss, because she's so cool to me."
Though Moss didn't put in a front-row appearance, the show did have its share of vintage icons: Carolyn Murphy and Amber Valletta both walked the runway alongside a varied cast with quite the Instagram following, including Ashley Graham, Bella Hadid (who has been more ubiquitous this season than last), Sora Choi, and Lineisy Montero. Edie Campbell opened and Kendall Jenner closed.
Hadid and Frederikke Sofie scooted down the corridor, their hair still held flat with clips, as the front-rowers, already immaculately pressed, stepped onto the red carpet. Blake Lively rolled in at 10 a.m. on the nose, accompanied by her sister Robyn—and, newly pregnant with her second baby with husband Ryan Reynolds, incubating the next generation of Hollywood scions. She and Kors go way back, she explained as she moved down the press line, clutching her sister by the hand; he was one of the first fashion people to take her under his wing in the early Gossip Girl days. Then there were models like Jourdan Dunn and Soo Joo Park, both of whom have previously worked with Kors—either on the runway or in campaigns—and opted instead to take it all in from the sidelines this season.
Many of Kors's scions, too, bridged the divide between front-row and runway. Marley, for example, had appeared in the Rag & Bone Fall 2017 exhibition and presentation (coming full circle, Amber Valletta also starred in the brand's 15th anniversary show) before heading off to Haiti to work on a relief project, providing free sexually-transmitted disease testing and sexual education classes to just more than 100 young women. Upon her return, she stopped by Coach 1941 before Kors, and she had plans for Marc Jacobs on Thursday. Then, back to the grind: "Sleep, catching up on school work, just getting back on track," she said.
Marley wore a simple camel-toned jumpsuit, cuffed at the ankles and undone nearly to the waist, styled with a baseball cap and stilettos, and on the runway, the clothes also had an edgier bent, drenched in fringe and luxurious furs you'd want to drown in, including one particularly decadent look sported by French cool girl Aymeline Valade. Drapey metallics and leopard prints and three-dimensional embellishments appeared throughout. There was something for the veteran Kors girls, and, more importantly, something for those new faces.
"I love it. I don't want it to ever stop—I don't want to recover," Stallone said as she entered the gallery, awaiting the start of the show. "I want to live in fashion week forever. It's amazing." Spoken like a true rookie.
Michael Kors Cast the Most Diverse Models for His Fall 2017 Show
A scene from Backstage at Michael Kors Fall 2017

Photo by Nick DeLieto
A scene from Backstage at Michael Kors Fall 2017

Photo by Nick DeLieto
A scene from Backstage at Michael Kors Fall 2017

Photo by Nick DeLieto
A scene from Backstage at Michael Kors Fall 2017

Photo by Nick DeLieto
A scene from Backstage at Michael Kors Fall 2017

Photo by Nick DeLieto
A scene from Backstage at Michael Kors Fall 2017

Photo by Nick DeLieto
A scene from Backstage at Michael Kors Fall 2017

Photo by Nick DeLieto
A scene from Backstage at Michael Kors Fall 2017

Photo by Nick DeLieto
A scene from Backstage at Michael Kors Fall 2017

Photo by Nick DeLieto
A scene from Backstage at Michael Kors Fall 2017

Photo by Nick DeLieto
A scene from Backstage at Michael Kors Fall 2017

Photo by Nick DeLieto
A scene from Backstage at Michael Kors Fall 2017

Photo by Nick DeLieto
A scene from Backstage at Michael Kors Fall 2017

Photo by Nick DeLieto
A scene from Backstage at Michael Kors Fall 2017

Photo by Nick DeLieto
A scene from Backstage at Michael Kors Fall 2017

Photo by Nick DeLieto
A scene from Backstage at Michael Kors Fall 2017

Photo by Nick DeLieto
A scene from Backstage at Michael Kors Fall 2017

Photo by Nick DeLieto
A scene from Backstage at Michael Kors Fall 2017

Photo by Nick DeLieto
A scene from Backstage at Michael Kors Fall 2017

Photo by Nick DeLieto
A scene from Backstage at Michael Kors Fall 2017

Photo by Nick DeLieto
A scene from Backstage at Michael Kors Fall 2017

Photo by Nick DeLieto
A scene from Backstage at Michael Kors Fall 2017

Photo by Nick DeLieto
A scene from Backstage at Michael Kors Fall 2017

Photo by Nick DeLieto
A scene from Backstage at Michael Kors Fall 2017

Photo by Nick DeLieto
A scene from Backstage at Michael Kors Fall 2017

Photo by Nick DeLieto
A scene from Backstage at Michael Kors Fall 2017

Photo by Nick DeLieto
A scene from Backstage at Michael Kors Fall 2017

Photo by Nick DeLieto
A scene from Backstage at Michael Kors Fall 2017

Photo by Nick DeLieto
A scene from Backstage at Michael Kors Fall 2017

Photo by Nick DeLieto
A scene from Backstage at Michael Kors Fall 2017

Photo by Nick DeLieto
New York's Best Street Style Gets a Technicolor, Electrified, Animated Treatment