Michael Kors' Spring Show Was Surprisingly Political Thanks to Rufus Wainwright
"This is really a matter of national security," the singer said backstage after his pro-Hillary Clinton performance.
---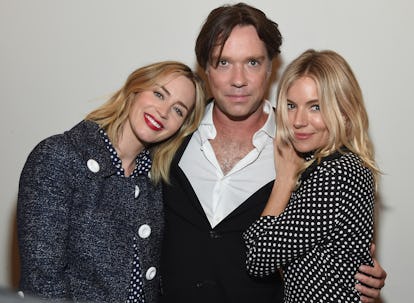 Getty Images for Michael Kors
Fashion week is exhausting. By the time Wednesday, the second-last day of New York Fashion Week, had rolled around, Nina Agdal was ready for a break.
"I can't wait to just be able to go to sleep at 10 p.m. and wake up at 5:30 a.m. and do my workout and drink my juice," the model sighed before Michael Kors's Spring 2017 show. "I think everybody is ready for that."
Model Soo Joo Park, who joined up with Agdal for Kors's smartwatch launch earlier in the week, echoed this: "Sleep!" she said of her fashion week recovery plan. "I just need a lot of sleep."
But in an upper-floor gallery of Tribeca's Spring Studios, a wake-up call. Light poured in from floor-to-ceiling windows as the conductor presiding over the six-piece ensemble at the center of the room announced a surprise performer: Rufus Wainwright. The singer, who recently revived his staging of Judy Garland's 1961 legendary performance at Carnegie Hall for a two-night exclusive on the concert's 10th anniversary, strode onto the stage, smiled out with a tilt of his head, and launched into a series of selects from the classic American songbook (Garland's "Get Happy," Nat King Cole's "Almost Like Being In Love") as models filed out onto the runway.
Joan Smalls, Bella Hadid, Kendall Jenner, Lineisy Montero, Taylor Hill, and Romee Strijd all powered across the catwalk in Kors's bold florals and flouncy swimwear, punctuated by a few nightlife-ready black shimmery looks — "romantic, but strong," as Kors described the collection backstage after the show.
Kendall Jenner, Joan Smalls, and Bella Hadid Anchor Michael Kors's Parade of It Models
Hadid took an extremely graceful tumble, popping back to her feet with a slight smile. The atmosphere was almost jubilant, and Wainwright seemed to feed off the energy. Towards the end of his set, as the models did their final lap of the room, he let out a giddy cry: "I'm with her!" — a reference, of course, to Hillary Clinton's campaign slogan.
"Being springtime, and a somewhat gloomy period in American history with all that's happening politically, it was nice to sort of just have a second to celebrate," Wainwright said after the show. He'd called out his support for Clinton at Rufus Does Judy at Carnegie Hall (where Kors was in the audience). Then, just last week, he performed at the Barbra Streisand-hosted LGBT fundraiser for Clinton — "I really got to listen to her speak and think about what was at stake and spend some time with her, and I'm incredibly supportive now."
"It wasn't that I wasn't before," he added, echoing a common criticism of the former Secretary of State: "She's not the warmest person — and that's fine. I'm tired of warm."
It was a brief unscripted moment amid the planned rigor of a runway show — and one that took Kors by surprise. "He's an individual," the designer said after the show. "We want him to do what he feels."
And it was a more optimistic take on what's been a darkly political fashion week. Pyer Moss, never one to shy away from a political statement, offered capitalist critique, staging models slumped over cash registers in front of an audience that included Black Lives Matter activist DeRay McKesson. At VFiles, designer Rushemy Botter sent a model down the runway with a banner suspended over his head that read "enemy of terrorism." And Opening Ceremony staged a show in which celebrity guests mingled with models, answering pageant-style questions on subjects ranging from immigration to workplace inequality. (Though Opening Ceremony's 'Pageant of the People' had a humorous bite, it also served as a reminder of a somber occasion: the 15th anniversary of the 9/11 terror attacks.)
"I think everybody's got to speak out in whatever world," Wainwright said of fashion's role in the political process. "If the fate wasn't so impossibly dire, maybe we could pick and choose, but this is really a matter of national security, world security." Fashion week might be tiring, but Wainwright delivered an effective wake-up call.
See W's most popular videos: