Meet Michael Xufu Huang, the College Student With His Own Museum
He is 22, a brother at Zeta Psi, and has become an ubiquitous, globe-trotting and hyper-connected art collector with big ambitions.
---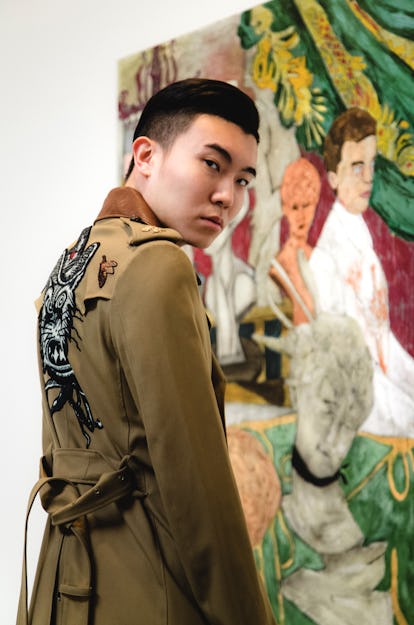 In April, Michael Xufu Huang turned up at the Young Collectors gala at the Guggenheim in a double-breasted, cobalt blue bespoke suit with a lime green Lulu Guinness handbag swinging coyly off his wrist. The "bag" was the size, color, and dimensions of expertly blown bubblegum, with room only for a few essentials: keys, a credit card, and not much more. Plus, it was transparent. I asked if he could carry, say, a condom in there.
"No!" he replied.
Two nights later, Huang's signature swoop of hair made another appearance, this time in a crowded private room at MoMA P.S. 1, in Queens. He worked the crowd of assembled curators, VIPs, and entourage attending the opening of a solo exhibition by the Chinese artist Cao Fei. As the party began to ebb, he helped corral a group into cars that whisked them to an unofficial, impromptu, and seemingly improbable dinner for about 35—at a Manhattan restaurant, without a reservation.
At dinner, I asked Huang what he planned on wearing to the New Museum gala the following night, which he was co-chairing.
"I don't know," he said, suddenly miserable. "I'm still deciding if I should go back to Philadelphia tonight."
Philadelphia?
"I have class in the morning," he replied, nonchalantly.
The latest young, ambitious, hyper-connected collector of note on the international art scene, and its most fabulous new street style star, is in fact an undergraduate at the University of Pennsylvania. Huang, 22, even lives with his frat brothers, at Zeta Psi. "A lot of Europeans," he later explained, by way of reassurance. "Not very bro-y."
It's fair to say the rising senior's summer plans are very different from those of his roommates, even the European ones: In May, I ran into Huang again at Frieze New York, where he was ogling the Soylent booth; then he flew to Havana, for a series of studio visits; on to Berlin, where he was sponsoring the artist Amalia Ulman's project at the Berlin Biennale; an art-filled interlude through Italy, via Turin, Rome, and Sicily, where he squeezed in some beach time; a mandatory stop in Switzerland, at Art Basel; and a detour to London, where he resurfaced at a buzzy exhibition curated by the designer Duro Olowu at the Camden Arts Centre.
All this, and it has been hardly a month since Huang's semester ended. (He's an art history major, naturally.) Eventually, at some point, he will need to return home to Beijing, where he is helping to organize a major Andy Warhol exhibition in collaboration with Pittsburgh's Warhol Museum. Not your run-of-the-mill show of Mao silkscreens, the multimedia installation will feature Warhol's films and open in August at M Woods, the trendy private museum in Beijing where Huang is one of three co-founders.
Did I mention he also has his own museum?
"I definitely feel a lot of pressure," Huang said when we met in late April at Trestle, a New York restaurant near the Chelsea galleries. "But I always take this attitude where while I'm young, I should do as much as I can."
Huang started collecting when he was 16, after his parents sent him off to London for high school. "I developed this habit of going to the Tate Modern on the weekend," he recalled. It was his first real exposure to art, and the art world. The first piece he ever bought was a lithograph by the great Color Field painter Helen Frankenthaler, from a dealer in London. It was a learning experience, wherein he discovered that the art market is a little different from the markets in China. "My parents told me that when I buy things, I should always bargain," Huang said. He laughed. "So I was like, 'Half price?'" (The haggling was not for naught; he got $1,500 knocked off the $6,000 asking price.)
It didn't take long for Huang to become a vastly more seasoned collector. At his first major fair, the ADAA in New York three years ago, he walked away from the Pace Gallery booth with a James Turrell hologram for around $100,000. "That really kicked off my collecting," Huang said. "Which I'm now trying to focus."
Although Huang tends to buy freely, his parents do keep an eye on his collecting allowance. "Sometimes they tell me to slow down," he said. But they needn't worry that he act like many of the current, older wave of collectors in China, who tend to be dazzled by big names and bigger prices—see the staggering $170.4 million Liu Yiqian paid for a Modigliani at auction last November. Huang only buys what he truly feels an affinity for. "In the beginning, you buy with your ears," he said. "You get really excited when people sell you stuff. Now, I'm very careful."
"Although Michael's surface aura is of a fashionable, hip young thing, he more than achieves credibility thanks to his deeply studied relationships to the work and artists that he collects," said the Warhol Museum's director Eric Shiner, who first met Huang at the Venice Biennale last summer.
These days, his eye is trained upon the younger post-Internet artists whose work represents his generation, the likes of Amalia Ulman, Petra Cortright, Simon Denny, Austin Lee, and Sarah Meyohas. (Huang's finals project last semester was a virtual group exhibition he curated called "Michael's Internet Search History.")
M Woods was founded as a nonprofit in 2014 by the collector couple Wanwan LeiandLinHan, who are in their late 20s, before Huang was brought onboard as a co-founder last year. Elsewhere, Huang has spoken of their ultimate desire to make M Woods the "MoMA of China," but when we met he described their programming—which tends to revolve around curator-driven group shows that unite contemporary Chinese art stars with their Western counterparts—as more along the lines of the New Museum's, where he serves on the International Leadership Council. "We're very experimental, and we want to make changes and pose questions," he said. "My focus is very much on things of the moment."
M Woods' young and dynamic reputation has brought in a growing audience—"the museum culture is still developing in China," Huang said—and perhaps just as importantly, a number of luxury brands dying to capitalize on their cool. Huang is not one to complain; the likes of Hublot has helped subsidize some expensive group shows. Huang had to jet to Beijing during his finals in order to co-host a party at the museum with J.W. Anderson. "Loewe is relaunching their image in China," Huang said matter of factly. "They like us."
If this seems all very heady for a college student, rest assured that Huang, who is about as soft-spoken and unassuming as one could hope for of someone in his position, is still capable of showing his age. His generally beatific disposition hasn't been beaten down yet. At one point during our meal, he declared, without irony, "I'm just really into making my dreams come true."
Later, when our waiter arrived with our Riesling, he asked, "Do you mind if I take a picture of the bottle? I love sweet wine." He smiled. "But I can't have too much. I have to go home and write an essay."
Photos: Meet Michael Xufu Huang, the College Student With His Own Museum