That's so Tru
In his new furniture collection, designer Michael Young channels the spirit of Nicola Trussardi.
---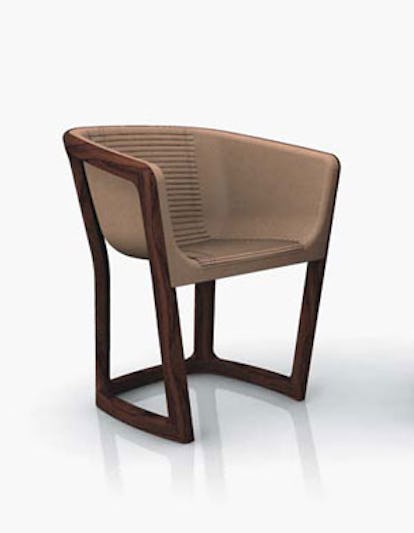 A few months ago, to celebrate Trussardi's centennial, the label staged a men's fashion show during the Pitti Uomo fair in Florence. Looking at the collection—which consisted exclusively of leather, from the coats and supple T-shirts down to the shearling sneakers—I was reminded of my youth in Milan. The Eighties was a decade in which Italy came out of years of terrorism and economic depression into a new age of hedonism—but the focus on pleasure seeking was not just about cheap thrills. It brought about a renaissance of creativity, and Milan emerged as Italy's arts capital, a modern counterpoint to Rome's historical classicism. One driving force behind this phenomenon was Nicola Trussardi.
The house of Trussardi was founded as a glove manufacturer in 1911 by Nicola's grandfather Dante. In the late Sixties, Nicola took over and set about transforming the business into a global luxury brand, and in the early Seventies, he kicked off the now ubiquitous logo trend, choosing a greyhound as the company's symbol. More significant, he began marketing "lifestyle" before the concept even existed. First, he created Inside, a range of pens and office accessories. Then, in 1981, he introduced the Trussardi bicycle, which was quickly adopted as the embodiment of elegance by a new class of affluent yuppies cruising the streets of Milan. Over the next two decades, Nicola went on to reimagine the interiors of Alitalia airplanes and Alfa Romeo sports cars; design Olympic uniforms, telephones, and helicopters; and even build his own amphitheater, the Palatrussardi.
Today, 12 years after Nicola's death in a car crash, the brand, helmed by his daughter Beatrice, continues to expand its purview. The Ristorante Trussardi Alla Scala, which opened in 2006, is one of only three restaurants in Milan awarded two Michelin stars. The Fondazione Nicola Trussardi, which Beatrice founded in 1996, has hosted world-class art exhibitions with contemporary stars including Urs Fischer, Maurizio Cattelan, Fischli and Weiss, Paul McCarthy, and Tacita Dean. And now the company is launching a furniture line, created by industrial designer Michael Young.
"Trussardi has a very rich history, so I have a lot to work with," says Young, who worked for Tom Dixon in the early Nineties before founding his own atelier and designing for such companies as Cappellini and Magis. Seven years ago he moved his design practice to Hong Kong to pioneer newer, more sophisticated manufacturing processes, and he's eager to combine his technical fluency with the label's tradition of craftsmanship. The first grouping from his collection—chairs, tables, and sofas that just premiered at Milan's Salone Internazionale del Mobile—was inspired, he says, by the detail and leatherwork in the seats Nicola designed for Alitalia. Going forward, says Young, he hopes to build upon Nicola's legacy of collaboration even more literally: "I would like to design some green cars and motorbikes, be it with Fiat or Vespa. Italy has the greatest design heritage in the world—we will do some exciting things."
Photos: Courtesy of Trussardi Archive; courtesy of Trussardi