Michaela Coel's New Series Is Nothing Like Chewing Gum—But That's a Good Thing
I May Destroy You is also based on Michaela Coel's life, but tells a more somber story that spotlights the thorny conversation surrounding sexual assault.
---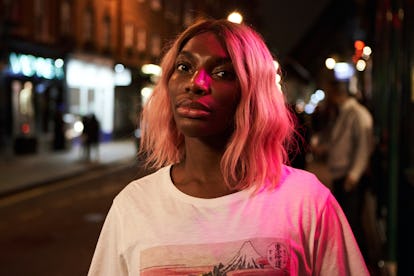 Image courtesy of HBO.
Fans of Chewing Gum, Michaela Coel's honest, carefree, and delightfully irreverent comedy series based on her own sexual discovery, can rejoice because the actor and writer has returned with a new series called I May Destroy You, which will premiere on HBO in June.
However, unlike Chewing Gum, this "fearless, frank and provocative" series takes on a more somber tone as it addresses what sexual consent means in contemporary society after the main character Arabella (played by Coel) discovers a date-rape drug has been slipped into her drink and she must piece together the events of the night before.
Chewing Gum only lasted for two seasons, and the BAFTA-winning creator and star confirmed early last year that, though she initially planned for the show to have a third season, she would not be writing one. Instead, an event occurred that caused Coel to turn her attention towards creating I May Destroy You.
In 2018, the actor gave a lecture at the Edinburgh TV Festival, where she revealed she had been sexually assaulted while in the midst of writing the second season of Chewing Gum. "I had an episode due at 7 A.M. I took a break and had a drink with a good friend who was nearby. I emerged into consciousness typing season two, many hours later," she said. "I was lucky. I had a flashback. It turned out I'd been sexually assaulted by strangers."
At the time she opened up about her assault, Coel was cast as the lead in a series she would helm, co-produced by BBC and HBO, which was then called Jan 22nd. The show would tackle the thorny subject of consent and be partially based on Coel's real-life experience as a survivor of sexual assault. Eventually, the series evolved into I May Destroy You, the teaser for which was just released by HBO today.
"Like any other experience I've found traumatic, it's been therapeutic to write about it, and actively twist a narrative of pain into one of hope, and even humor," she went on in her lecture. "And be able to share it with you, as part of a fictional drama on television, because I think transparency helps."
Related: Michaela Coel Wasn't So Into Star Trek Before Starring in Black Mirror's Space Episode