Western Promises
Michele Maccarone is the latest New York gallerist to open big in Los Angeles.
---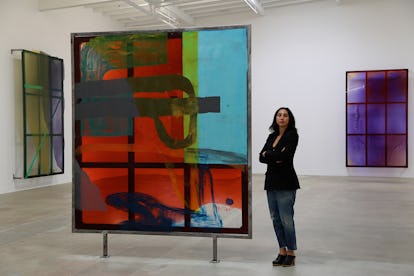 Despite a bit of an inferiority complex as the second American art city, Los Angeles does offer an abundance of three things that New York sorely lacks: space, light, and time.
Those are the reasons why, two years ago, with the encouragement of the artist (and fellow gallerist) Laura Owens, the New York dealer Michele Maccarone signed a lease on a 50,000-square-foot complex in what's known as the Arts District, the sprawling tract of former warehouses flanking the concrete L.A. River. On Saturday, it opened as the westernmost outpost of her namesake West Village gallery, except the ceilings are higher, the exhibitions last longer, and the artwork can spread its wings outside.
"I'm so excited," she says, looking out on the gallery's 10,000 square-foot courtyard, where she plans to have rotating shows of outdoor sculpture. "It really accesses what makes L.A. so special. I could never do this in New York."
The inaugural show, Alex Hubbard's "Basic Perversions," runs through December 20, taking advantage of another added bonus. "You can't do long-lead shows in New York," Maccarone explains. In L.A., she plans to put on only two or three shows a year. It allows her artists, including Hubbard and Oscar Tuazon, who both have studio space within the complex, more ample time develop their work. Overall, the vibe is just much less cutthroat.
"When Oscar and Alex moved here, they said they felt they'd been welcomed into a community," Maccarone says. "L.A. has a lot less anxiety, and artists feel really nurtured." They also have a growing list of neighbors, including Owens's 356 Mission, Night Gallery, and the upcoming Hauser Wirth & Schimmel. And although she'll remain based in New York, Maccarone says the new outpost "gives a nice counterbalance to the stress."
"Basic Perversions" runs through December 20, at Maccarone in Los Angeles, 200 South Mission Road.