Michelle Branch, Back With Her First Album in 14 Years, is Everywhere and Happy Now
The singer, who just released Hopeless Romantic, shares her current obsessions as she prepares to go back out on tour.
---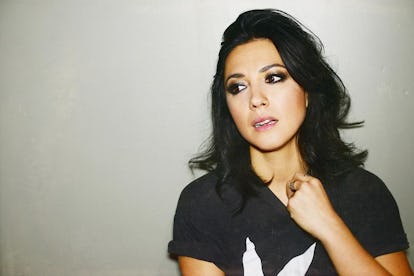 Courtesy of @michellebranch
"I am so f—ing happy right now," Michelle Branch said on Friday night in New York, after performing "Are You Happy Now?", her hit early aughts song, at the record release show for her first album in 14 years. "It's been a long time coming," Branch said of Hopeless Romantic in the days leading up the gig. Branch has been trying to release an album ever since 2003's Hotel Paper, but has been caught up in the prison of her former record label—one she finally escaped thanks in part to a chance encounter with the Black Keys drummer Patrick Carney, who offered to produce Branch's fourth record and foot the bill. Now that it's out, Branch, who's kept busy with a move to Nashville and Trump protests with her 11-year-old daughter, is back to fielding marriage proposals from her legions of devoted fans. Before heading back on the road on tour, Branch shared what she's been into lately (_Big Little Lie_s, check) with her culture diet, here.
What's been most striking about putting an album out now, versus 14 years ago?
I have this fantastic group of hardcore fans who've been waiting for this album for so long, and to know that they're actually going to have music in their hands is probably the most exciting thing for me. Of course, to be on tour and play and be out again is really exciting, but it's different—radio has definitely changed. I used to have to go out on a national radio tour for, like, six months before an album came out. Now I don't have to travel the country to set up a record anymore and you can just stream everything. It's really nice be able to have music out there quickly.
What's the first thing you read in the morning?
The first thing I usually do is get up at six to take my daughter to school. I'm usually looking at my phone to make sure I don't have any pressing work things, and then I scroll through Instagram as I'm drinking my coffee.
What are the books on bedside table right now, or that you brought with you on tour?
Kelly Oxford, who's a friend of mine, sent me her new book [When You Find Out the World Is Against You]. I'm a couple chapters in and it's cracking me up. I have another book, London: A Travel Guide through Time, by Dr. Matthew Green, that's a history of London, which I picked up because I'm an Anglophile. I just love England. It's all factual, but the way it's written it almost feels like you're traveling back in time.
What TV shows have been keeping you up at night?
Big Little Lies. I'm not caught up; I have two episodes left. I couldn't go on the internet the other day because everybody was like, Oh my god. Like, Don't tell me! Don't ruin it. I have to say, I really like Shailene [Woodley]'s character—she's pretty intriguing. But other than that, any period-piece drama, I'm all over. I devoured The Crown. I loved Victoria. I watched To Walk Invisible, the PBS show on the Brontë sisters. I'm so into all that stuff.
What's the last movie you saw in theaters?
Beauty and the Beast, with my daughter. She's 11. I liked it, but it was hard for me not to sing along to all the songs. [Laughs.]
What's the last thing you saw at the theater?
Probably Newsies, which I saw with my sister and my daughter. When we were growing up, my sister and I loved that movie, so when it came through we saw it at the Pantages in L.A., and we were so looking forward to it. If you couldn't tell between Beauty and the Beast and Newsies, when I was younger, I had this dream that I was going to move to New York and be on Broadway, because I just loved musicals. Then, when I got older, I realized that I can't really act. [Laughs.] That dream has died, but I still am a sucker for musicals. I really want to see Waitress with Sara Bareilles, and I hear the The Great Comet with Josh Groban is fantastic.
Do you buy art? What's the last piece that you bought?
I do buy art—I'm actually pretty passionate about it. I was lucky enough recently that I got a little Basquiat piece, which is part of this series he drew on envelopes. I heard a rumor that he was drawing on them to get money for drugs, basically—he would just doodle on envelopes and give them to people. So I have an envelope that I'm very happy to have. I'm big fan of his, and I'm a huge, huge Raymond Pettibon fan. So I'm hoping there's time this week for me to see this exhibition he has at the New Museum.
Have you seen any museum exhibitions that you loved recently?
The last one I really loved and freaked out over was an exhibition at the Victoria & Albert Museum on different wedding dresses, from early ones to Kate Moss's wedding dress. It was really fun, and different from seeing an art exhibition.
What upcoming release are you most excited about, other than your own album?
Karen Elson has a new record coming out the same day as mine, which my boyfriend Patrick [Carney] also worked on a tiny bit. I love Father John Misty, the new Spoon record, and my friends Tennis have a new great one, too.
What's the last song you had on repeat?
I was in the gym yesterday, and I had the new Spoon record on when I was running. [Laughs.] Or trying to run.
What's the last concert you saw, besides one of your own?
It might have been the Kills in Nashville—I'm a big fan of theirs. I moved to Nashville in May, and we try to get out and see shows as often as we can. It's an easy town to see music in—any given night of the week, there's a show going on.
Is your daughter into music? Do you ever bring her along?
I haven't yet. She's at that age where I'm like, When are you going to find that band that you completely fall in love with and have to see live? But lately, she's been asking a lot about Declan McKenna, that younger British artist. I remember when his song was on the radio, I told her that he's only 17 or 18, and she was like, "Oh, really?", and she asked for my phone and she googled him. [Laughs.] So maybe this is the beginnings of falling in love with bands.
How do you get your news?
Online, mostly. I have to be honest—as of late, the news just depresses me so much, so I've totally downed how much I watch. At the beginning of the year, after the election, I was, like, glued, and then finally, for my mental health, I had to just not watch the news as much. [Laughs.] But my boyfriend constantly has CNN on in the background and is usually updating me with stuff.
What are your favorite social media accounts to follow?
On Instagram, I follow Kelly Oxford, who I find hilarious. I tend to follow a lot of food people—there are these two sisters who have cookbooks, Helmsley and Helmsley, who always have really good recipes. And on Twitter, the Astro Poets, who do astrology, kill me. They're so funny.
Do you read your horoscope?
Oh yeah. I'm from Sedona, Arizona, which is like the most hippie-dippy, new-age town. People get aura readings and psychic readings and birth charts, so growing up there, it's just something I've always been aware of since I was a kid. And actually, my grandma on my dad's side was a fortune teller, and actually read people's palms. So my dad, when he was over at his grandma's house, sometimes people would show up for meetings and all the kids would get pushed out in the yard. It's funny, we've always kind of had that in our family.
What's your sign?
I'm a Cancer—a Cancer sun, Aries moon, and Libra ascendant. So any astrologers out there reading this, please, tell me all the advice. [Laughs.]
Last thing: what's the last thing you do before you go to bed?
I wash my face, I take my vitamins, and I set my alarm. But that's usually the time of day I catch up on TV—it's my favorite guilty pleasure. I know they say it's not good to watch TV in bed, but it's the biggest luxury.
See W's most popular videos: