Michelle Obama Is Dropping a Surprise Documentary on Netflix
Michelle Obama's Becoming memoir tour was filmed as a documentary that will premiere on Netflix in May.
---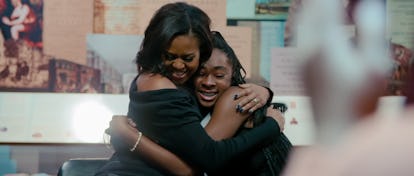 Photo courtesy of Netflix.
If you haven't read the copy of Becoming you received as a gift two years ago, you have a couple of weeks to finish it before watching the documentary based on Michelle Obama's memoir.
Becoming was directed by Nadia Hallgren and produced under the Higher Ground Productions banner, which is the name of the production company founded by Michelle and Barack Obama.
The documentary will chronicle the book tour the former First Lady embarked on last year, traveling to 34 cities across the United States, and examine her life as a public figure. The trailer boasts appearances from some of her tour's guest interviewers, such as Phoebe Robinson.
Becoming comes just two years after the Obamas announced their deal with Netflix, in which they will produce various documentaries, a series about fashion, and a few others. Their first Netflix release, American Factory, debuted last summer and won the Academy Award for Best Documentary Feature earlier this year.
"Those months I spent traveling—meeting and connecting with people in cities across the globe—drove home the idea that what we share in common is deep and real and can't be messed with," Obama said in an official statement on the documentary. "In groups large and small, young and old, unique and united, we came together and shared stories, filling those spaces with our joys, worries, and dreams. We processed the past and imagined a better future. In talking about the idea of 'becoming,' many of us dared to say our hopes out loud."
"As many of you know, I'm a hugger. My whole life, I've seen it as the most natural and equalizing gesture one human can make toward another—the easiest way of saying, 'I'm here for you.' And this is one of the toughest parts of our new reality: Things that once felt simple—going to see a friend, sitting with someone who is hurting, embracing someone new—are now not simple at all," she went on. "But I'm here for you. And I know you are here for one another."
Becoming will premiere on Netflix on May 6.
Related: Michelle Obama Playfully Roasted Barack Obama During Oprah's 2020 Vision Tour