Michelle Phan Breaks Her Social Media Silence About Her Comeback to Beauty
The influential beauty blogger is relaunching her brand Em Cosmetics, and has broken her social media detox after a hiatus.
---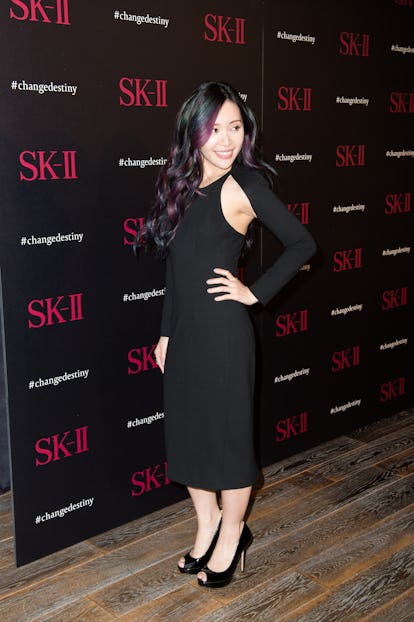 Photo by Emma McIntyre/Getty Images
When the second most influential beauty blogger disappeared from YouTube, her beauty fans were left to wonder—where in the world was Michelle Phan? As one of the original YouTube makeup bloggers with her almost 9 million subscribers, over 2 million Instagram followers and her successful beauty sampling company, Ipsy, Phan was at the top of her game when she suddenly disappeared from social media.
As it turns out, Phan's digital detox was not only a crucial step for her mental health, but a necessary step in relaunching her cosmetics line.
Revealing in an interview to Racked, Phan "peaced out" after the failed collaboration with L'Oréal during the original launch of Em Cosmetics back in 2013 due to high price points and a narrowed market demographic. After investing almost 3 years in the makeup line, the stress of the missed mark took a toll on the beauty blogger. "I think I reached that limit where [I thought], 'You need to resolve all this, you need to figure it out, you need to heal yourself, you need to reflect,"' she said.
In 2015, Phan took ownership of the line, buying it back from L'Oréal and has been working to revive it under wraps ever since. After nearly a year hiatus, Phan broke her social media silence with the relaunch of her new line, and it's safe to say that the beauty world is itching for her return. She still commands nearly 9 million of her YouTube subscribers, after all.
The brand's innovative new brand design, which will only feature liquid eyeliners and liquid lipsticks, has been revamped to cater to her ever-growing fan base. By listening to her subscribers' requests, Phan has created an intimate makeup line that has reconnected her to her unwavering fans, many of them followers since her start in 2007. And as one the most beloved beauty bloggers in the world, we have no doubt that this is just the beginning for her big comeback.
The 10 Best New Moisturizers To Try This Spring
Watch Wonder Woman Star Gal Gadot Was a Very Reluctant Pageant Queen