Michelle Williams Is the Most Recent Actress to Attempt a Janis Joplin Biopic
It seems that almost everyone in Hollywood wants to play Janis Joplin, but no one has actually had the chance.
---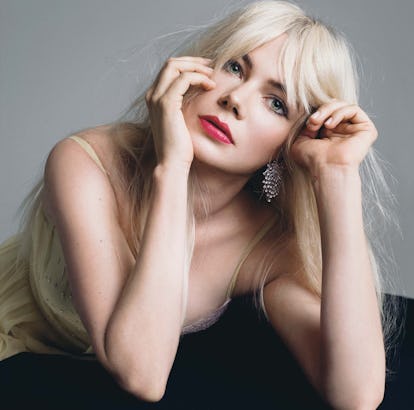 Here's a perhaps incomplete list of woman that have reportedly been connected to play the lead in a Janis Joplin biopic at one point or another: Amy Adams, Renée Zellweger, pop star Pink, Lili Taylor, Zooey Deschanel, the late Brittany Murphy, actual rocker Melissa Etheridge, Tony winner Nina Arianda, and, perhaps too obviously, Courtney Love. Actresses Juliette Lewis and Evan Rachel Wood have also expressed Subtweet interest in playing the legendary musician. The point is various powers that be in Hollywood have been trying to make a Janis Joplin biopic and various actresses have been angling for the part for a long time with no results.
Now it appears however that Hollywood may have finally found the white girl who will actually sing them blues, and her name is Michelle Williams.
Yes, the woman behind one of the more memorable fictional portrayals of Marilyn Monroe is set to star as Monroe's polar opposite Janis Joplin, according to Variety.
Simply entitled Janis, the flick is set to be directed by Sean Durkin, the director whose debut film Martha Marcy May Marlene received critical acclaim. The film will focus on the last six months of Joplin's life, after she rose to fame in 1967 as the lead singer of Big Brother and the Holding Company. Three years after that breakthrough, Joplin would die at the age of 27 as a result of a heroin overdose.
Joplin has remained a popular icon in the worlds of music and style ever since. In fact, most recently she served as the muse for Rodarte's Spring/Summer 2017 collection.
The film will be produced by Peter Newman, who Variety notes holds the rights to several of Joplin's songs and some of her written material.
Interestingly, a competing Joplin biopic, the one Adams is still apparently still attached to, is also still in the works.
Adams originally signed on to a film tentatively titled Get It While You Can all the way back in 2010. Various directors, including Lee Daniels, Fernando Meirelles and Catherine Hardwicke were attached to that project at one point, but Dallas Buyer Club's Jean-Marc Vallee signed on in 2014. Though, production of the film was halted in 2015 when the producers of the film sued the writers.
Adams however has publicly discussed her version of the film as recently as August.
"When people first brought the project to my attention, I said, 'I can't do this; people would judge me and tell me all the reasons that I am not like her,'" Adams told New York. "And then when I started reading about her, I realized that she was this beautiful human plagued by things which are so common. She had a need to find something."
So it appears we've got a case of dueling biopics on our hands. It wouldn't be the first time. In recent years, two separate film versions of the life stories of people as varied as Yves Saint Laurent, Steve Jobs, Truman Capote, and Alfred Hitchcock have been released within a year of each other. In 30 Rock, the fictional team at NBC helmed by Jack Donaghy (Alec Baldwin) attempted to create a Janis Joplin-inspired film titled Sing Them Blues, White Girl: The Jackie Jormp-Jomp Story, despite an official biopic starring existing in their universe.
While audiences are waiting for the film, starring either Adams, Williams, or someone else altogether, they can still enjoy Jackie Jormp-Jomp's "Chunk of My Lung".
Watch Michelle Williams take W's Screen Test: