Michelle Williams Secretly Married Indie Rock Star Phil Elverum
Michelle Williams revealed that she quietly wed Phil Elverum, the mastermind behind critically adored indie rock outfits Mount Eerie and the Microphones.
---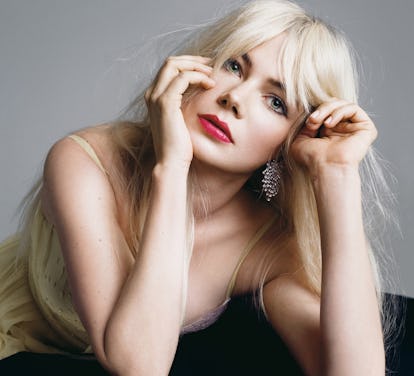 Michelle Williams has secretly married a man you didn't even know she was dating. According to her Vanity Fair cover story, Williams quietly wed Phil Elverum, the mastermind behind critically adored indie rock outfits Mount Eerie and, previously, the Microphones, in a secret ceremony in the Adirondacks sometime this year.
Williams, notoriously private about her personally life, at first struggled with publicly opening up about the relationship, but decided that to "take some heat and confusion" off when the subject inevitably became public, she might as well open up about it on her own terms, especially considering the conclusions some on the internet may jump to ("the Internet's an asshole," Williams says).
Elverum was married to artist and musician Geneviève Castrée until 2016, when she died of an inoperable cancer. She left behind the 13-month-old daughter she had with Elverum. Williams, of course, has a daughter of her own, Matilda, whose father, actor Heath Ledger, died when Matilda was less than two years old.
The couple met through a mutual friend, and recently Elverum relocated from his home base in Anacortes, Washington, to Brooklyn to be with Williams.
"Obviously I've never once in my life talked about a relationship," she told the magazine, "but Phil isn't anyone else. And that's worth something. Ultimately the way he loves me is the way I want to live my life on the whole. I work to be free inside of the moment. I parent to let Matilda feel free to be herself, and I am finally loved by someone who makes me feel free."
Williams's ability to keep the relationship private is quite surprising in this day and age, but it's not as if there were no clues. Elverum appeared in an Instagram with Williams's best friend Busy Philipps back in March when the two entertainers attended the March for Our Lives in Los Angeles.
Elsewhere in the interview, Williams also reflects on her very public battle for equal pay once it emerged that when she worked for scale to complete reshoots for All the Money in the World, costar Mark Wahlberg received a seven-figure payday. "You feel totally devalued," she says, but "a private humiliation…became a public turning point."
For her next project, a Lin-Manuel Miranda–produced miniseries for FX, she said that she was offered the same pay as costar Sam Rockwell from the very beginning of discussion.
Related: Michelle Williams on Reshooting "All the Money in the World" with Christopher Plummer