Did Michelle Williams Secretly Get Married to Thomas Kail?
Michelle Williams and her fiancé Thomas Kail were spotted in Brooklyn wearing what appeared to be matching wedding rings.
---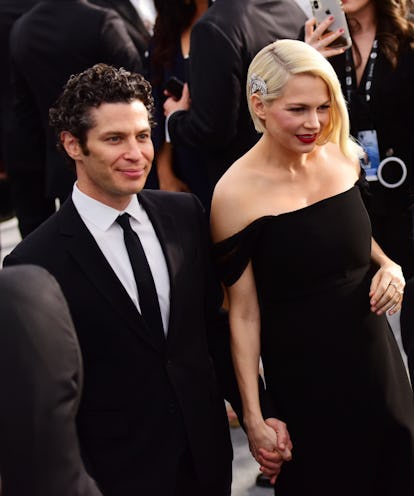 Photo courtesy of Getty Images.
While some questions about the future of celebrity weddings in the time of the coronavirus have been answered, one mystery remains: did Michelle Williams secretly get married to Tommy Kail this month?
It's kind of difficult to answer since neither Williams nor Kail have confirmed the news. Even Williams's best friend and usual red carpet date, Busy Philipps, has kept mum on the subject of the nuptials—or lack thereof.
When the two stepped out a few days before the city of New York went on lockdown to prevent the spread of the coronavirus, paparazzi caught them wearing what appeared to be matching wedding rings, leading to much speculation about whether they'd very quietly tied the knot. An under-the-radar wedding wouldn't be much of a surprise, considering the fact that they've mostly kept the relationship out of the press.
In January, the two did make an appearance on the Golden Globes red carpet together, a week after a "source" told People that Williams and Kail were engaged and she was pregnant with his child.
When Williams won the award for Best Actress in a Mini-Series or Motion Picture TV, for her standout performance as Gwen Verdon in Fosse/Verdon, she acknowledged Kail, who directed her in the series, in her acceptance speech. "Tommy and Matilda, I can't wait to come home to you," she said. A couple weeks later, the two appeared on the carpet at the SAG Awards, hand in hand.
Those who have kept tabs on Williams's romantic life know that she married musician Phil Elverum in the summer of 2018 and split with him by the following spring. She and Kail were linked shortly thereafter, when the press tour for Fosse/Verdon kicked off. Kail was an executive producer and director on the project.
Whether or not the couple got hitched, there's one thing to be thankful for: they didn't host a big ceremony in the midst of a global pandemic.
Related: People Keep Yelling at Michelle Williams (Singer) About Michelle Williams (Actress)